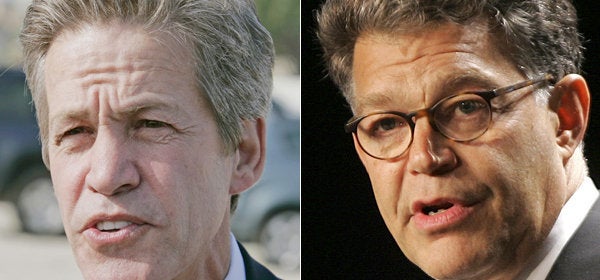 The plan they've submitted, which must be reviewed by the Minnesota Supreme Court, would count rejected absentees only if both sides agree they were wrongly cast aside.
The proposal draws out the process past the high court's end-of-the-year deadline. It could leave Minnesota without a decision on who won the race until after the new class of Senators is sworn in on Jan. 6.

Ritchie said concluding the work in time for the new session of Congress is not something he's at all concerned about.

"We've been really clear in saying our top priority is accuracy and transparency and the timing thing is just not our issue," [Secretary of State Mark] Ritchie said. "I want to put an underline, we don't care as long as it's accurate and we've done it in an accurate and transparent way. We don't care when it's done."
Coleman, meanwhile, lost a bid to have 16 discarded challenges reconsidered. His only current hope seems to lie in dubious legal maneuvers, such as using the Election Day results over the recount results in 25 specific precincts.
UPDATE: The Minnesota Supreme Court has granted a request from the Franken and Coleman campaigns to approve a framework for counting wrongly-rejected absentee ballots.
REAL LIFE. REAL NEWS. REAL VOICES.
Help us tell more of the stories that matter from voices that too often remain unheard.