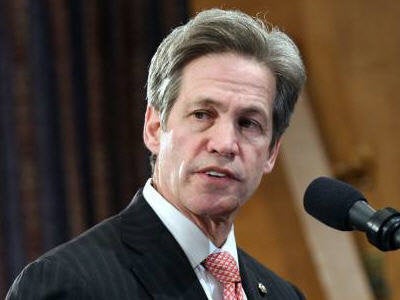 Sen. Norm Coleman may have violated congressional ethics law by taking a gift -- in the form of an extension on utility bill payments -- that well exceeded the legal limit, a good government group said.
On Wednesday, the Minnesota Republican acknowledged that he had not paid his utility bill in more than a year, claiming that he had a prior agreement with his landlord, a prominent GOP official, to cover the costs at the end of the year. The Senator subsequently provided a copy of a check for $532.88.
The check was written just weeks after the National Journal first reported on Coleman's cozy living arrangement. The Senator had been renting his Washington D.C. apartment for $600 a month -- a significant bargain for properties in the neighborhood.
The whole situation has raised the eyebrows of those well versed in ethics policies, who see the pseudo-advance Coleman was granted on his utility bill as a violation of the gift limit afforded to members of Congress.
"[The utilities] would constitute a gift because it is something that he, up until recently, was not paying," explained Melanie Sloan, executive director of Citizens for Responsibility and Ethics in Washington. "Now that he has paid it, he can't argue that it was included in the rent... Clearly, it was a gift at the time because he failed to pay. It adds to the issue that the ethics community should be looking at. The whole arrangement was inappropriate and violated ethics rule."
In early July, CREW filed an ethics complaint over Coleman's apartment arrangement. But the dispute over utilities may turn into one of semantics. Coleman's office has insisted that the Senator always intended to pay the utilities and denied any implication that he is merely covering up his tracks after they were exposed.
"Take the senator at his word... He's been remarkably transparent, open and honest about the entire situation," said Coleman's campaign manager, Cullen Sheehan. "Clearly, it would have been good to have a written lease, which is why they have one now."
But the law seems fairly clear that an "advance" on money must be disclosed by members of Congress. According to the Standing Rules, Senators are required to disclose the receipt of gifts "from any one source other than the U.S. Government." A "gift," meanwhile, is defined as "any payment, forbearance, advance, rendering or deposit of money, or anything of value, unless consideration of equal or greater value is received by the donor."
If Coleman was getting a pass on paying his utilities, Sloan noted, he should have made note of that in his personal financial disclosure form.
"If you have some kind of liability where you owed someone this much money -- which he is now saying because he paid it back -- then his liability could arguably have needed to be disclosed on the financial disclosure form. It was a debt and his debt needed to be disclosed," she said.
On his 2007 PFD file, Coleman said he did not have "any reportable agreement or arrangement with an outside entity." He also said that neither he nor his spouse or dependent child received "any reportable gift in the reporting period (i.e. aggregating more than $335 and not otherwise exempt)."
Coleman is already under heavy scrutiny over the arrangement surrounding the renting of his apartment. In addition to exposing the Senator's $600-a-month deal, the National Journal also reported in late June 2008 that Coleman had failed to pay two months rent and, for one month's payment, sold furniture to his landlord.
That landlord was Jeff Larson, a major GOP figure who has been paid more than $1.5 million by Coleman's political action committee and Senate campaigns. Coleman has also employed Larson's wife, benefited from Larson's fundraising and organizing efforts, and helped Larson landing a role on the host committee for the upcoming Republican National Convention. Both the Senator and his landlord have denied any foul play even as groups like CREW and Common Cause have called for ethics investigations.
"I am not trying to peddle influence or get more business out of him, curry favor with him," Larson told the National Journal. Coleman added: "Where's the benefit for me? ... What do I get out of this?"
Popular in the Community