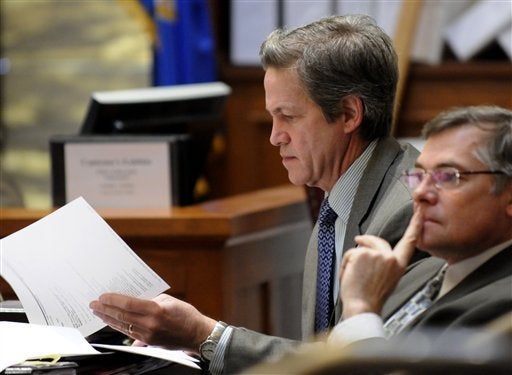 As expected, Norm Coleman formally appealed the results of the Minnesota recount election to the state's Supreme Court on Monday, adding another stage to an already lengthy electoral process.
The former Senator's legal team hosted a conference call late Monday afternoon to announce their much-anticipated move. They would not rule out the idea of taking the case even further: the U.S. Supreme Court.
"We are just thinking about the Minnesota Supreme Court for now," said lead recount attorney Ben Ginsberg.
As for how long the process could take, another Coleman attorney, Jim Langdon, said he expected the court to hear arguments sometime between two weeks and two months from today.
"In normal circumstances, with a typical civil case, the process could take anywhere from three to eight months," he said. "So this is -- whatever they choose will be very expedited."
Asked why he expected the state Supreme Court to come to a different conclusion than the lower appellate court -- which ruled Al Franken the winner of the most votes in the November election -- Ginsberg argued that the two venues had a different legal purview.
"Appellate courts generally have a broader view of the law and this court expressed its reluctance to get involved in the constitutional issues," he said. "The Supreme Court had said in other opinions that it has issued that it takes a much broader view of the law."
"There are lower court opinions reversed from time to time in all matters of the law," he concluded, "including recounts."
Coleman's legal strategy hinges on having the court order the reconsideration of roughly 4,000 rejected absentee ballots, which lower courts have ruled were rightfully removed from the official count (usually for being filed too late in the process).
That said, when absentee ballots have been reintroduced during the recount they have generally favored Franken. Ginsberg was asked why he thought the same wouldn't be true with the disputed 4,000.
"As we have said before, the ballots that were opened up in the canvassing board recount and really by this court came much more from precincts that were carried by Franken than by Sen. Coleman," he replied. "And if ballots that are left, they tend to be from precincts carried by Sen. Coleman. But what we have also said all along is you never know what any one ballot will hold... there is a principle at play here."
Al Franken's legal team is planning a conference call later on Monday to respond to the latest twist in the Minnesota saga.