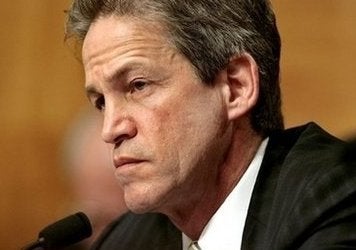 On the morning after the November 2008 election in Minnesota, incumbent Senator Norm Coleman prematurely declared victory in his long, hard-fought reelection bid against opponent Al Franken.
After stressing on national television the importance of a "healing process" and the costliness of a recount, the Republican tried to take the moral high ground by adding, "If I were trailing, I would step back." Well, Norm, it looks like you finally got your chance to do something right and good for Minnesota.
It has been nearly two months. After all legally cast votes were counted and then recounted by hand, after thousands of challenged ballots were adjudicated, and now that nearly 1,000 improperly rejected absentee ballots were opened and counted by agreement of both campaigns, Al Franken has not only reversed Coleman's unofficial election-night lead, he has surpassed it and widened his own lead to 225 votes. The contest, however, seems far from over.
Coleman's earlier admonishments about healing quickly and sparing taxpayer dollars, and his stated "confidence in the Minnesota [election] system," have given way to a stubborn refusal to be a man of his word. Considering his promise of "inevitable" legal contests (among the several lawsuits he already filed) and the threats by his GOP buddies to filibuster the seating of an imminently victorious Franken, Coleman-and-Friends seem destined to drag this out in the courts for weeks or even months. But to what avail?
Coleman's only conceivable bases for an election contest would rest on having to prove dubious assertions. The campaign contends the bipartisan canvassing board erred in their decision to revert to election-day totals for a single precinct that lost ballots during the recount--a decision that netted 46 votes for Franken. But Coleman ignores the fact that dismissing altogether legally cast votes from election-night due to a clerical error weeks later disenfranchises voters.
He also is hanging his hat on the tenuous allegation that slightly more than 100 votes for Franken were "double-counted"--despite the lack of clear evidence to substantiate the claim. The math, however, is abundantly clear: even if the Supreme Court is moved by both weak arguments, Al Franken still wins the election.
Of course, Coleman now wants to add nearly 650 more rejected absentee ballots to the count. But this strategy poses two major public-relations disasters for the campaign: the new ballots are overwhelmingly from cities and precincts that Coleman won on election night--making him seem like a disingenuous cherry-picker. And local election officials from these predominantly red precincts continue to stand by their original decisions to reject the improperly cast ballots--rendering his request legally shaky and seemingly desperate.
Embarrassing as it may be to to fall so far behind in votes on the very day his Senate seat expired, the (former) senator should stay true to his word from last November. With no votes left to count, he is "trailing" and it is time for him to "step back" and concede.
C'mon, Norm... start the "healing process."
Popular in the Community