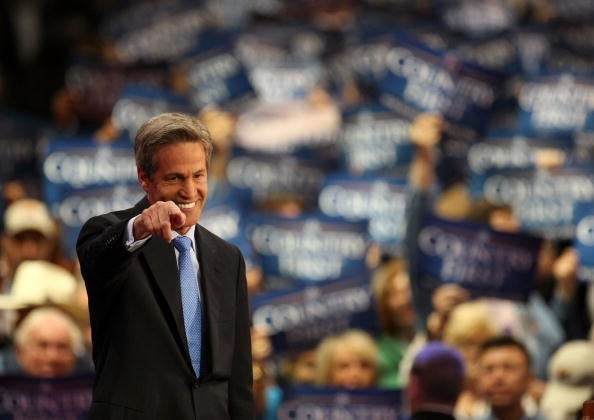 If allegations turn out to be true that Norm Coleman's wife received $75,000 of payments from a GOP benefactor interested in helping out the Senator's family, then the Minnesota Republican could be facing a whole host of political and legal troubles, Senate ethics experts say.
This past week, the CEO of the Texas-based Deep Marine Technology, filed a lawsuit that, tangentially, alleged that a shareholder in the company, Nasser Kazeminy, helped funnel three payments of $25,000 to the Coleman family. The payments were officially made as insurance purchases from the company at which Laurie Coleman is employed. But an affidavit from Paul McKim, the Republican head of DMT, states that no such services were rendered.
Experts in Senate ethics law said the situation, while hardly settled, spelled myriad problems for the Senator and his family, including - in a ways-away hypothetical - criminal charges. One Democratic lawyer said that the best legal remedy for Coleman would be simply losing his reelection bid on Tuesday.
"If he doesn't go back to the senate than the Ethics Committee goes away," said the attorney who has followed the issue closely. "So, in some ways, Norm's best legal move is to lose on Tuesday. But if he goes back then the ethics committee will almost certainly look at it."
At issue is the reporting of the $75,000 in payments. Under Senate Ethics rules, members of that congressional body are required to disclose gifts of a certain monetary value that are given with knowledge of their political positions. Coleman's personal financial disclosure forms never report the payments.
"Under the current ethics rule [the $75,000] is a gift to him if he knew about it and believed it was given to him because his position as a Senator," said Larry Noble a longtime expert on money in politics and currently a lawyer with the firm, Skadden Arps. "If those two are true, he would have reporting obligations and would have had to report it... And yes, we have seen people get in trouble with that before."
In fact, as another lawyer described it for the Huffington Post, much of what is potentially plaguing Coleman is reminiscent of what transpired with Sen. Ted Stevens- a disclosure violation that could result in jail time for the Alaska Republican.
Such comparisons are, of course, merely speculation. At this point in time, Coleman has not been investigated for any wrongdoing. And the main accusation involves Kazeminy (who asked for the money) and not the Colemans (who may or may not have been aware that the checks were being sent their way).
Asked about the issue, Coleman has offered no detailed denial. Rather he has attempted to turn the spotlight on what he claims to be attacks against his wife and political motivations - charging that the Al Franken campaign fed the information to the Minneapolis Star Tribune, charges the paper has adamantly denied.
But lawyers for the plaintiff insist that the allegation - which makes up only a part of the suit against Kazeminy and others - is based on facts. And, sure enough, late last week the Star Tribune posted evidence of the $25,000 payments made to Laurie Coleman's Hays Company in the form of a vendor report.
Even with this evidence established, however, Coleman may be cleared of any ethical wrongdoing. It could, for example, be determined that the Hays Company did complete the task for which it was paid. Theoretically, moreover, Laurie Coleman could have received the payments without telling her husband or, taking it one step further, knowing the political purpose behind them.
"Then he has the defense that he was not aware of the gifts and would not have had an obligation to report it," said Noble.
Then there is the Senate's notorious hesitance towards tackling these matters. Should Coleman be reelected, it is likely that the congressional body would wait for the current lawsuit to pan out before weighing into the matter. That could take months, if not years.
"They tend not to be very aggressive about these cases. They tend to wait for all the other processes to fall in place," said Noble, who added that if Franken wins on Tuesday, the issue is likely for naught. "If he does lose reelection than I think there is strong likelihood that the spotlight will go away."