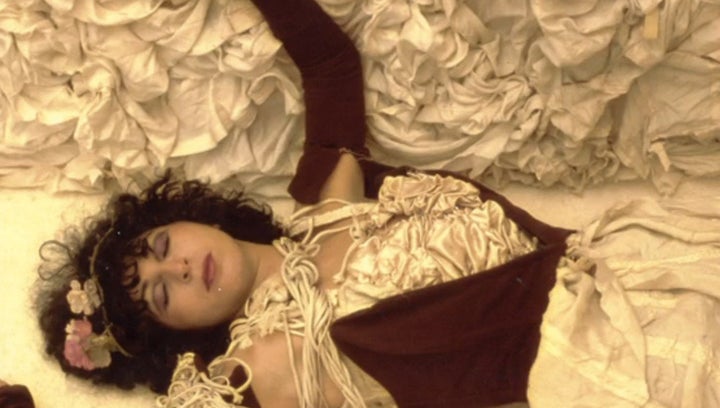 Colette Justine, the legendary downtown performance artist who often simply goes by "Colette," is accusing Lady Gaga of stealing her ideas in a new video titled, "Looking for Lady Gaga." In a video posted earlier today on Racked, the Tunisian-born artist is seen pacing up and down Madison Avenue in black platform shoes, holding up a sign reading, "Thanks A Lot!" in front of Barneys' Gaga-inspired windows. She later dips a brush into a hidden bucket of white paint and signs her name to the pavement in front of the store.
It may come as no surprise that on her eponymous website, Colette features an essay by Alexandra Spivy-Anderson that refers to the artist as "One of New York City's artistic Living National Treasures," but apparently this title escaped the notice of Barneys' staff and Team Gaga until now.
See for yourself if Colette's comparisons to her earlier work constitute a tribute or not. Artists: have you been ripped off before? What did you do about it?
CORRECTION: An earlier version of this story indicated that Colette referred to herself as "One of New York City's artistic Living National Treasures." This quote is actually from Alexandra Spivy-Anderson.
REAL LIFE. REAL NEWS. REAL VOICES.
Help us tell more of the stories that matter from voices that too often remain unheard.