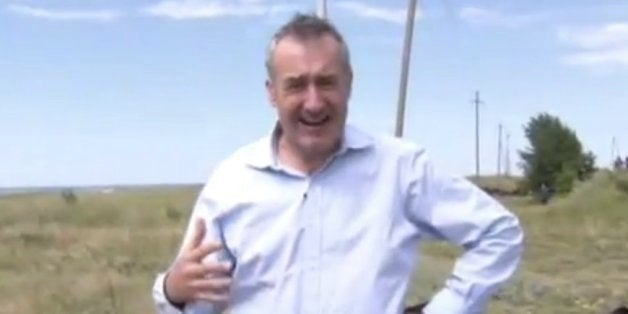 Sky News' Colin Brazier recently sparked outrage when he went through luggage at the crash site of Malaysia Airlines Flight 17, and now he is speaking out about why he did it.
In a piece for the Guardian on Tuesday, Brazier admitted that he made a "serious error in judgement" when he picked up and showed viewers items that belonged to a victim of the tragic crash. He said that the site was like no other disaster he had covered before, because the area wasn't regulated and reporters were free to roam around.
"Other journalists, some well known broadcasters, were handling belongings and speaking to camera. In a place without rules, I foolishly took that as a precedent," he continued. Brazier said he recognized a pink water bottle similar to one his daughter has.
"I bent down and, what my Twitter critics cannot hear - because of the sound quality of internet replays of the broadcast - is that I had lost it. It is a cardinal sin of broadcasting, in my book anyway, to start blubbing on-air," he wrote. "I fought for some self-control, not thinking all that clearly as I did so."
All two hundred ninety-eight people aboard the plane died when it crashed in eastern Ukraine on July 17. Brazier stopped himself from going through the luggage on air, but not before being condemned by viewers on Twitter. Other journalists have also traveled to the crash site to cover the tragedy, and some were recently detained — and later released — by pro-Russian militants.

Popular in the Community