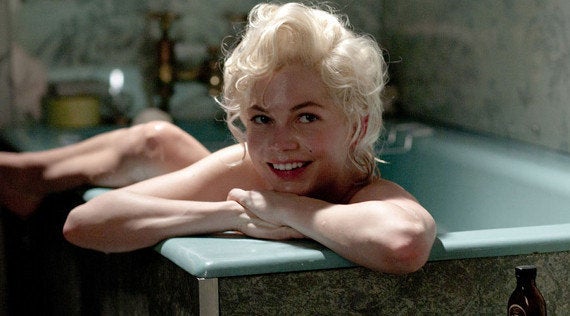 The new film "My Week With Marilyn" tells the story of a brief yet wondrous puppy dog love affair between Marilyn Monroe and a young gofer on the set of "The Prince and the Showgirl." Michelle Williams has drawn raves for total inhabiting of Monroe, but while her performance may ring authentic, there are new questions being asked about the truthfulness of the story on which the film is based.
A new article in the LA Times digs deep into the alleged affair between Monroe and Colin Clark, the then-gofer who would go on to write the two books that inspired the film: "The Prince, the Showgirl and Me," and "My Week With Marilyn." The latter describes the short fling between Clark and Monroe, who is portrayed as desperate for love in a foreign land and distraught by misgivings over her new husband, Arthur Miller.
Those that were on set don't quite remember it happening that way.
"I was there every day, and I knew what was happening. [Clark] was on the set, and he was a gofer -- 'Hey, I need a cup of coffee,' or whatever. No one regarded him as anything but a gofer," said Amy Greene, who is the wife of the late Milton Greene, one of the executives of Monroe's film company.
In the movie, Milton Greene is portrayed by Dominic Cooper, who warns Clark against falling for Monroe, saying that he had made the same mistake years earlier. He storms towards Monroe's home and tries to force Clark to stay away from Monroe, and is very much aware of the fling that is happening.
"When you read both of his books, you do get the sense that he's writing with the advantage of hindsight, and he's put some awfully big words in his own mouth," she said. "I think he says in the book that Marilyn wanted to make love, but he said, 'Oh, no!' And you're like, 'Oh, sure.' I'm sure that there was a relationship there. To what extent it was consummated, I don't know."
Clark's journals were excerpted by the Daily Mail earlier in the year, including his explanation of the events that he insists transpired, despite their omission from his first book, which gave very little evidence that he knew Monroe so well:
"But nine days during the middle of filming were missing from my account," he wrote. "During those days something happened that was impossible to include in my normal entries. I could not have written this account while Marilyn was alive. It is a tribute to someone who changed my life, and whose own I only wish I could have saved."
Ultimately, the debate over whether these events happened is almost helpful to the film, in that it proves that Monroe was and is such a legendary and mysterious figure that her flings and affairs can remain the stuff of rumor, nearly five decades since her death.
Calling all HuffPost superfans!
Sign up for membership to become a founding member and help shape HuffPost's next chapter
BEFORE YOU GO
PHOTO GALLERY
Marilyn Monroe(CLONED)