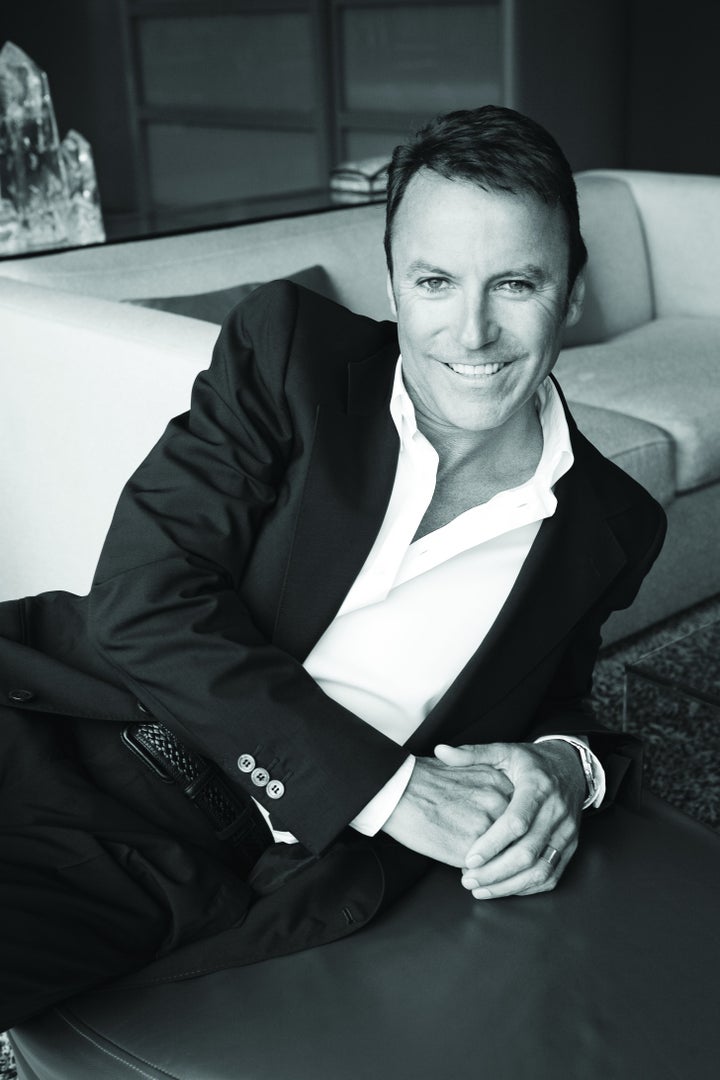 HuffPost Weddings has teamed up with Colin Cowie (yep, the bridal guru behind nuptials for everyone from Alyssa Milano to Jennifer Lopez) to bring you sage advice on every aspect of your Big Day.
Each week, Colin will be answering your questions right here on The Huffington Post.
This week, Colin answers your questions about wedding design.
The venue where I'm having my ceremony and reception is beautiful except for one truly ugly wall. Is there anything you recommend for hiding and/or decorating it (that won't cost a ton of money)? Or is that just going to draw attention to it?
The best way to hide an unsightly feature is to draw attention away from it by shifting the focus elsewhere. Use lighting to highlight what you've worked to hard to compile: your tables and flowers, the cake, the dance floor and entertainment. What is not lit will fade away into the shadows.
For more budget-friendly lighting ideas, click here. And for even more inspiration for your décor, check out our galleries.
We're getting married in a raw space, so we're bringing in all the tables. Do you have a recommendation for the perfect table width and shape? Something that's intimate enough to promote conversation, but still leaves enough room for arrangements, tapers, etc.?
This is such a great question! I love promoting intimacy and conversations at each table and in this case, size does matter. For round tables, I like to seat 10 people at a 60" or 66" round. 72" is too big and will leave too much distance between the guests, but 60" or 66" rounds are cozy enough to enable flowing conversation while still leaving guests with some elbowroom.
For banquet style seating, the table should be either 40" or 42" wide. A table wider than 42" leaves too much space between guests seated across from one another, which causes the energy to become diluted.
I love the idea of mixing round tables with banquets. It is a playful way to add texture and break up a raw space.
Once you've picked the shapes of your tables, these tips will help you dress them to the nines.
We're going to be DIY-ing our escort and place cards. Any thoughts on options that are elegant, but maybe a bit unexpected?
The best place to start is with your theme. If you are having a garden wedding, create a tree with the guests' names written on paper leaves. Use one color for the men and another for the ladies to help guests find their names.
If your wedding will be in the country, attach host cards to clotheslines of twine using small clothespins. Intersperse childhood images, family photos and pictures of the two of you together amongst the place cards. Decorate the area with a few bales of hay and potted fresh herbs to add to the ambiance.
For a more formal occasion, crisscross an upholstered board with satin ribbons. Slip the cards beneath the ribbons for an elegant presentation.
Click here for even more ideas for your wedding's printed materials.
I'm having a New England wedding, and I want it to have a nautical feel without being cheesy. Any ideas for what I can add to the tables at the reception?
I love a good nautical theme, and there is no place quite like New England for a nautical-themed wedding. Embrace the traditional navy blue and white color scheme while still being modern by mixing blue and white fabrics for tablecloths and napkins. Use striped, understated floral and old-world toile fabrics to create depth and visual interest.
For flowers, stick with tradition and cluster white hydrangeas in cobalt blue vases for a big impact. If you want to take the theme a step further, choose an anchor or a sailboat as the evening's motif, embossing it on everything from invitations to thank you cards.