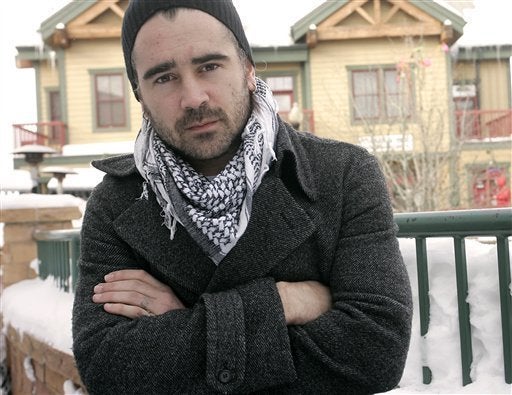 Colin Farrell is out right now doing press for "In Bruges," a darkly comic tale of two hit men exiled to the Belgian city of canals after a job gone wrong. The film opens Friday, but wasn't the only project on his mind.
During Monday's New York junket at the Regency Hotel, Farrell was asked about his other recent films including Woody Allen's current "Cassandra's Dream" and the endlessly upcoming "Pride and Glory," a gritty cop tale filmed in 2006. So what's to blame for the film's problems? The Nicole Kidman flop "The Golden Compass."
Farrell, who alternatively sipped from and ashed into a cup of water on the table in front of him, pointedly spoke to 'Pride and Glory's" holding pattern.
"They pushed it just now to 2009. [A reporter starts to speak, Farrell interrupts] I was going to say it's not because, there's this rumor going around that it's because it's a mess or it's a really bad film.

I feel the need to kind of speak up, not from my own end but genuinely for Gavin O'Connor because he wrote and directed it.


It's just a really really strong piece, but I think New Line lost the bollocks on "The Golden Compass," you know love, and they literally don't have enough money to market things.

"Pride" is a tricky one to market anyways. It's pretty dark... I've seen it. Gavin did a great job and you know, Jon Voight is brilliant in it, and Ed [Norton] is great in it and a really strong cast of supporting characters... It's a really strong piece."
So there you go. "Pride and Glory" is fantastic, the problem is that "The Golden Compass" was not. Farrell also had plenty to say about the joys of making "Bruges," more of which is to come.

Popular in the Community