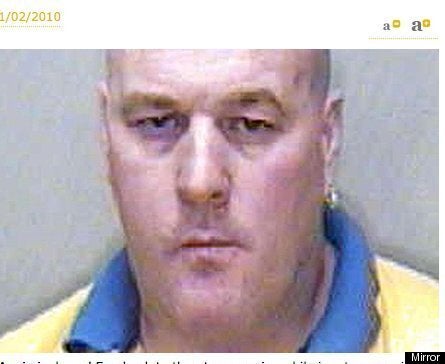 While serving a 35-year sentence for ordering the execution of two grandparents, the 'underworld godfather' was granted access to Facebook, and has used the social networking site for the past two months to correspond with his over 500 Facebook 'friends,' as well as intimidate others while in jail.
Britain has been plagued by Facebook-ing criminals. The new of Gunn's Facebook activity came to light just a week after it emerged that 'Jade Braithwaite, jailed for knifing to death Ben Kinsella, 16, used Facebook to taunt his victim's family,' notes the Times. Several months ago, an escaped prisoner, Craig Lynch, mocked police via Facebook, posting clues hinting at where he was hiding and descriptions of he was enjoying his life as a fugitive.
Although Gunn's Facebook account appears to have been deactivated around January 29, 2010, the Times was able to track down several of Gunn's postings:
I will be home one day and I can't wait to look into certain people's eyes and see the fear of me being there.
It's good to have an outlet to let you know how I am, some of you will be in for a good slagging, some have let me down badly, and will be named and shamed, f****** rats.
The Register wrote that Gunn also posted the following,
Good news from seeing the security governor, he said he had no problem with me blogging. I've provided him with all of the up-to-date laws on it. Unlike the security at HMP Whitemoor, it does not concern them here,
Justice secretary Jack Straw told the Times he would 'crack down on Facebook use by prisoners,' noting that the use of social networking sites is prohibited in jail. A Facebook spokesperson said in a statement given to the Mirror, "It's appalling. Our rules ban harassment.'
Popular in the Community