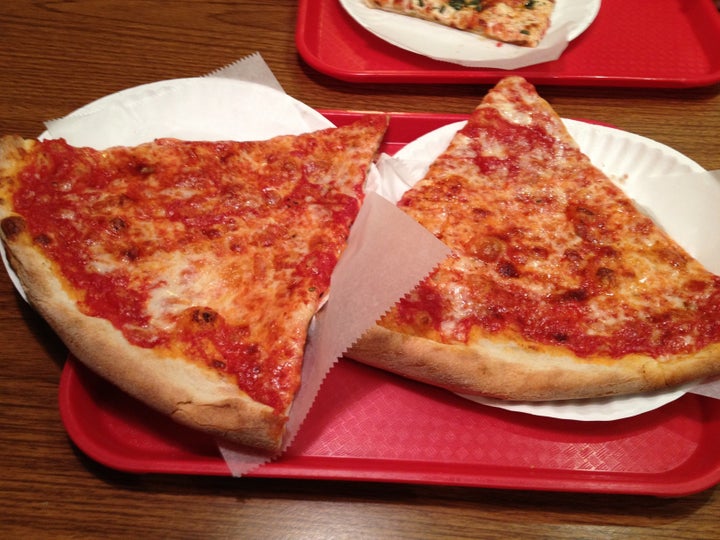 New York-native Colin Hagendorf stumbled across a pizza place in Colorado claiming to serve up a perfect New York-style slice.
"The pizza was really bad," he told The New York Daily News. "When I got back to New York I couldn't stop talking about how bad it was. My friend told me that he had never seen me care about anything as much as this slice of pizza, and we joked about me becoming a pizza consultant."
And Hagendorf, now 28, took the joke seriously.
In August of 2009 he set off on a quest-- to eat a slice from every pizza joint in Manhattan and to document the results on his blog "Slice Harvester." There were a few caveats to the mission- no slices from national chains, no pie-only joints, and only slices of plain cheese.
On November 30th, two and a half years and 362 slices later, our hero finished his journey with a tasty (6 out of 8 "slices") slice at Da Vinci's pizza in lower Manhattan.
Fellow New York pizza enthusiast and blogger, Adam Kuban, gushed at Hagendorf's feat:
I am in awe of Mr. Hagendorf and his quest. It is a hell of an achievement. How many times has someone joked about doing such a thing? Yet no one to my knowledge has ever actually gone and done it. As I said to the WSJ reporter, "A lot of the time I kick myself for not doing it first, but at the same time I'm glad I didn't have to endure it.
According to The Wall Street Journal, there are roughly 1,676 New york City restaurants classified as primarily selling pizza and of those roughly 494 pizzerias and 97 other restaurants listed under the joint category are in Manhattan--a compelling argument for crowning New York the "The World Capital Of Pizza" (take that HuffPost Chicago!).
And Hagendorf's favorite? A little place near Penn Station called "Pizza Suprema."
In an 8 out of 8 slice review of the joint, Hagendorf drooled:
"The ratios on this slice were superb, there was ample grease, and the whole thing was moist without being sloppy. The sauce, which [Big Brother Chris] thought might be the best part (though none of us could consense on a BEST part of this delectable slice), was integrated very nicely with the cheese, (which was absolutely delish), so that they were slightly discernible from one and other in flavor, but still totally enmeshed, creating a wonderful texture atop the crispness of the crust. And the crust's flavor, it was unstoppable!"
We'd like to salute Hagendorf on his accomplishment and enthusiasm, and thank him for not choosing more disgusting Manhattan-based restaurant adventures (we're looking at you, Mister PeePee).
Fore more, check out The New York Daily News' profile of the pizza-aficionado here.
REAL LIFE. REAL NEWS. REAL VOICES.
Help us tell more of the stories that matter from voices that too often remain unheard.