Colin Kaepernick remains a free agent, and Tony Dungy believes the quarterback's protest of the national anthem in the name of the Black Lives Matter movement is the reason. 
"Without that national anthem [protest], someone would have signed him by now," the former NFL player and coach told Newsday on Monday. "If you're seen as a distraction off the field, for whatever reason, you better have a lot of talent going for you. People will overlook it. They always sign talent if they think he's going to upgrade your team."
Dungy compared the response to Kaepernick to the likes of convicted animal abuser Michael Vick.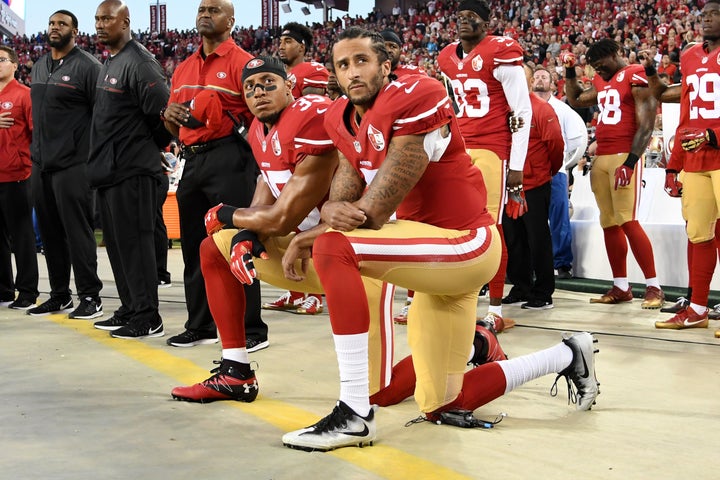 "I don't know what he can do at this point," he added. "He's pretty much told people he wants to play. It doesn't seem like there's anything negative with his work habits. I don't know what he can do to show people that he's just going to be a quarterback and play."
The 29-year-old Kaepernick joined the San Francisco 49ers in 2011 and helped the team reach the NFC Championship in his first year. His hot streak has since cooled, and some question if he is even still starting quarterback material. He opted out of his contract in March, making him a free agent. However, The Washington Post notes that the stats show Kaepernick ― dismal 2016 season or not ― is still better than half the NFL's backups. 
Whenever some team is desperate enough to sign a 29-year-old former Super Bowl quarterback who thinks beyond himself and is on a quest to try to make his community, and the world, a better place, it will be a business decision. Pure and simple. Whenever Kaepernick is extended a contract offer, it won't be because some organization has reached a point where it is now willing to send a signal to the rest of the league about what is right or wrong, or what should or should not be held against a qualified potential employee. It won't be because some owner now sees the inherent hypocrisy of teams welcoming in a stream of rookies with significant legal or criminal issues at a time when a quarterback with a lifetime rating of 88.9 with 85 combined total touchdowns to 30 interceptions can't get a phone call from a general manager.