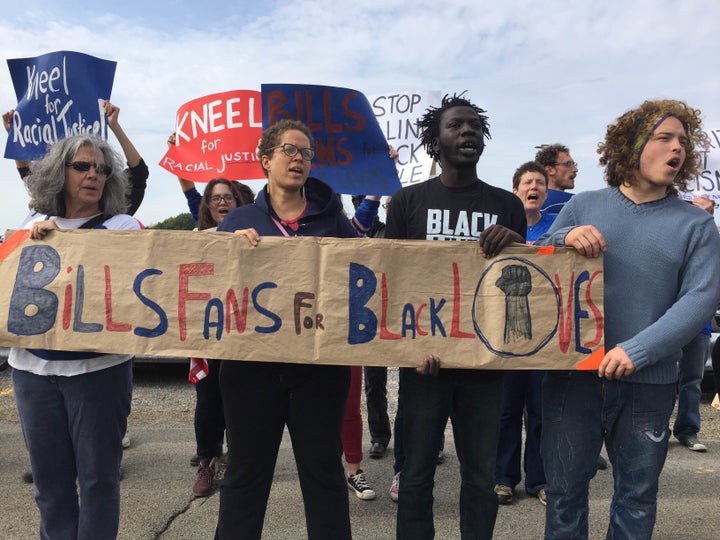 Dozens of Buffalo Bills fans gathered outside Ralph Wilson Stadium in Buffalo, New York, on Sunday and knelt during the playing of the national anthem before the team's game against the San Francisco 49ers, in a show of solidarity with 49ers quarterback Colin Kaepernick.
"We had been talking about doing this for a while even before we found out he was starting," Caitlin Blue, a 21-year-old from Buffalo, told The Huffington Post, speaking by phone from outside the stadium. "We want to show that we support him because what he's doing is very patriotic, and as Bills fans, we stand for racial justice."
The protest was organized by Just Resisting, a group of organizers of people of color, and a local chapter of Showing Up For Racial Justice, which seeks to organize white people to stand up for racial equality. There were more than 40 protesters involved an hour before the game began, Blue said, with the number expected to grow by kickoff.
The groups, which gathered in a parking lot near the stadium before the game, carried signs that read "Black Lives Matter" and "Protest is Patriotic," and others that bore the faces of famous athletes who have protested during sporting events.
The groups marched from the lot to the stadium, where they planned to kneel during the anthem as it played inside. Buffalo News reporter Nick Veronica posted a video of the march on Twitter:
The 49ers-Bills game took on political significance this week when San Francisco coach Chip Kelly announced that Kaepernick would start in place of the struggling Blaine Gabbert. Bills head coach Rex Ryan is a supporter of Republican presidential nominee Donald Trump, who has spoken out against Kaepernick and the Black Lives Matter movement during the campaign. Ryan introduced Trump at a Buffalo campaign rally in April.
Some Buffalo fans pushed back against Kaepernick's protests before the game, with T-shirts and signs telling him to "shut up and stand up." Some fans booed and chanted "U-S-A" before the game began, according to reports.
Blue said the protests received a mixed response from fans before the game.
"We expect there to be naysayers, we expect there to be people against us," Blue said. "We've also seen lots of people that say they love what we're doing."
"Rex endorses him, and continues to do so, even after Trump has talked about sexually assaulting women. We want people to know that's not what Buffalo stands for at all," Blue said.
"Some of the fans don't really care, and that's a problem," she continued. "They should care about who's representing them."
Related
Popular in the Community