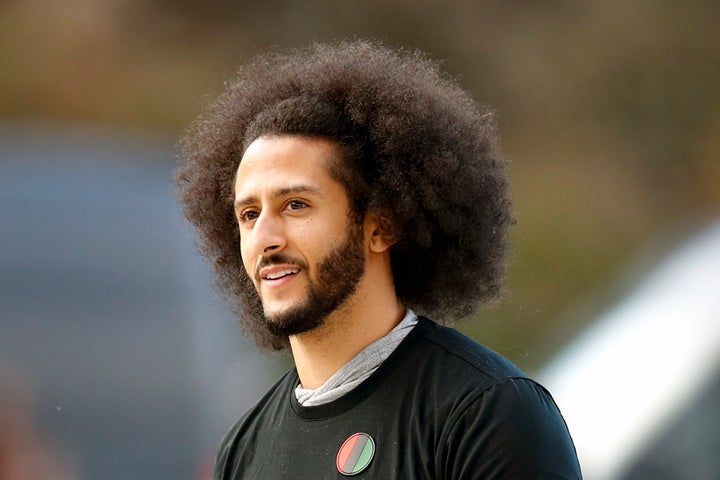 In a recent interview with Ebony, activist and former NFL player Colin Kaepernick spoke about growing up as a transracial adoptee in a white family, saying that he wished he'd had a mentor because there were certain conversations that he didn't feel comfortable having with his family.
This is an unfortunate reality for many children of color when they are adopted into white families who are not prepared to adopt a child of color. This is why it's past time that the adoption industry started emphasizing race in adoptions.
In the early days of the adoption industry, parents of transracial adoptees were often encouraged not to speak openly about race. Love was supposed to be enough. The idea was that if adoptive parents don't "see color," the children wouldn't feel like they didn't belong. The only problem with that is that it wasn't true.
When I was adopted from Colombia in 1993, my parents were one of many that believed in this colorblind ideology. The adoption agency they used and what they learned about adoption from the media made them believe that giving a child a loving home was all that was necessary. So for most of my life, we didn't talk about my race and ethnicity, to the extent that I was not aware of my true racial identity until I was 19 and found paperwork confirming my adoption. My parents firmly believed that if they raised me as Latina, I would be treated differently than the rest of the family.
The unfortunate reality is that despite their plans to ignore race, it still became an issue. Not talking about race made me very aware when people questioned where I was from ― particularly when my family wasn't around. When I was out with my white parents, I was included under their umbrella of privilege. But the moment I was out on my own, people treated me differently.
Many BIPOC adoptees eventually learn that the world is divided into how we are perceived with our families versus alone. And this is especially true in today's climate where an Asian adoptee shopping for groceries can be attacked, a Black adoptee pulled over by police is potentially in danger, or a Latina adoptee walking in their town is told to go back to their own country. Adoptive families can think that it will never happen to their child, but for most of us, it does. It's just part of the reality of being a person of color.
Transracial adoptees do not have the privilege of believing in colorblindness. It can be fatal for a Black adoptee to "forget" that they are Black. If that adoptee approaches a police officer the same way their white parents do, they could find themselves in danger. When our adoptive parents do not properly prepare us for a racialized world, we are left playing a game of catch-up that we hopefully can win before it costs us our lives.
As I grew older and connected with other transracial adoptees, I learned that my experience was not unique. Many of us had struggled within our families because we did not have parents who had been properly educated about the importance of discussing race and having racial mirrors — mentors of the same ethnicity — in their children's lives.
Current policies disallow considering race when placing children in adoptive homes. This is due to laws like the Multiethnic Placement Act (MEPA), which prevents child welfare agencies that receive federal funding from denying or delaying a child's placement based on race. MEPA was amended in 1996 to establish that states could be fined for using race in placement decisions. While MEPA also requires agencies to "diligently recruit families that reflect the racial diversity of the children in need of homes," it does not fine states that fail to do so.
One key issue with this act was that, while it made it significantly easier for white middle-class adoptive parents to adopt children of other races, it neglected to require anti-racism and transracial adoption education before or after placement.
And while race is not supposed to be used as a consideration in placement, adoption fees are often higher for white children, compared to Black, brown or multiracial children.
Only recently have a few agencies spoken out against the status quo. Bethany Christian Services, one of the largest agencies to date, suggested that the law be updated to ensure the proper education of parents before a transracial adoption.
So much of the adoption industry perpetuates the idea that adoption ends in a beautiful happily ever after. But when we think of adoption as an ending, we forget that it has a lasting, constant impact throughout the person's entire life, not just their childhood. Race should not be an afterthought in adoption.
It can be exhausting for adoptees who try to bring awareness to the complexities involved in growing up as a BIPOC in a white family. Adoptees are often pressured to be grateful and simply happy that we have families, and to forget the challenges and trauma that we experienced.
When you are a person of color, you know how the world sees and treats you, and when your family refuses to be open to simple conversations about ethnicity and race, you start to wonder what's so negative about acknowledging your identity. It impacts how we see ourselves and how we feel our families see us.
In my family's case, avoiding conversations of racial differences led to feelings of rejection and shame as I struggled to understand how my parents and relatives could love all of me, when they refused to acknowledge a big piece of my identity. This is especially important considering that adoptees are four times more likely than non-adoptees to attempt suicide, and have a higher risk of developing mental illnesses.
This is why adoptive parents need to get comfortable having uncomfortable conversations about race, and so do agencies. Parents need to remember that while race is a construct, its ramifications are very real. And from the moment parents decide to adopt, it should be a given that agencies provide a comprehensive education to all parents interested in adopting transracially.
If the agency you are considering does not prioritize transracial education, it is important for adoptive parents to push to get it. The entire system was created on the basis of helping children in need. It's time to do what is best for them.
Do you have a compelling personal story you'd like to see published on HuffPost? Find out what we're looking for here and send us a pitch!