San Francsico 49ers quarterback Colin Kaepernick will reportedly stand for the national anthem in future games ending his season-long act of quiet but visible protest that polarized not just sports fans but political pundits.
ESPN, citing unnamed sources, reported that Kaepernick "no longer wants his method of protest to detract from the positive change he believes has been created."
Sources also told ESPN that the dialog Kaepernick's protest facilitated, along with solidarity from other pro athletes, affirmed his message.
Representatives for Kaepernick could not immediately be reached for comment.
The 29-year-old quarterback first refused to stand for the national anthem during a pre-season game in August citing his protest at the way minorities are treated in the U.S., particularly by law enforcement.
"I am not going to stand up to show pride in a flag for a country that oppresses black people and people of color," Kaepernick told NFL.com's Steve Wyche at the time. "To me, this is bigger than football, and it would be selfish on my part to look the other way. There are bodies in the street and people getting paid leave and getting away with murder."
Kaepernick's critics burned his replica jerseys and Supreme Court Justice Ruth Bader Ginsburg called his actions "dumb" ― though she later seemed to apologize for her remark after admitting she was unfamiliar with the full context of the situation.
Plenty others supported Kaepernick's decision, including several teammates, pro athletes in the NBA who made similar protests in solidarity and, most notably, U.S. veterans who said via social media that they served their country to protect the very free speech Kaepernick was expressing.
Kaepernick also founded and funds the "Know Your Rights" campaign, which helps guide youth on how to interact with law enforcement in different scenarios while also promoting higher education and self-esteem.
Before You Go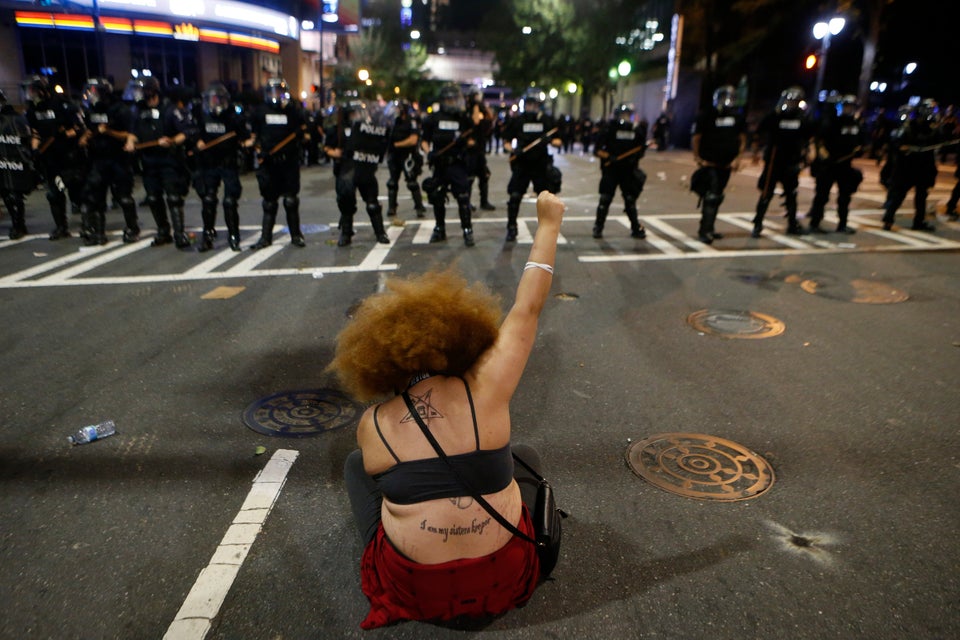 Protests Break Out In Charlotte After Police Shooting
Popular in the Community