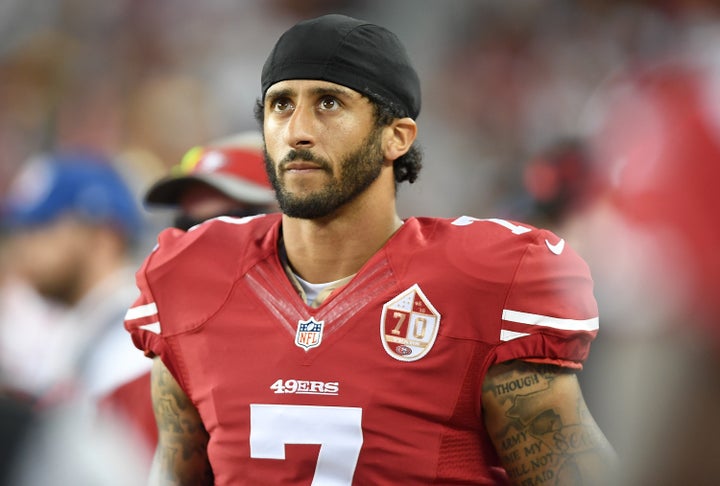 San Francisco 49ers quarterback Colin Kaepernick came under fire in recent weeks for refusing to stand during the national anthem at games in protest of discrimination against people of color in the U.S.
It's a statement he says he hopes will bring attention to police brutality and social injustice against minorities. Or, as the bigots out there would have people believe, it's because Kaepernick is secretly Muslim and must hate America.
Kaepernick gracefully responded to the rumor on Wednesday, saying to USA Today, "I have great respect for the religion, know a lot of people that are Muslim and are phenomenal people. But I think that [rumor] comes along with people's fear of this protest, as well as Islamophobia in this country. People are terrified of them to the point where Trump wants to ban all Muslims from coming here, which is ridiculous."
Those attacking the NFL athlete claimed he was influenced ― both in his protest and fictional conversion ― by his girlfriend, radio host Nessa Diab, who is Muslim. Kaepernick rejected this notion, too.
"She is Muslim, her family is Muslim. I have great respect for them. I have great respect for people's right to believe what they want to believe," he said, according to USA Today.
Aside from being untrue, the rumors of Kaepernick's supposed conversion to Islam highlights the widespread distrust toward the religion by many Americans. It's the same reason nearly one-third of Americans still think President Barack Obama is Muslim, and the same sentiment that led Donald Trump to say, "Islam hates us."
ThinkProgress wrote on the origins of the Kaepernick rumor: "The racist implication behind Bolling and the Daily Caller's allegation is that the very act of being Muslim somehow explains behavior they perceive to be anti-American." 
But as Kaepernick's protest aims to highlight, the freedom celebrated in the American national anthem isn't one that always welcomes or includes black, brown and Muslim bodies.
Calling all HuffPost superfans!
Sign up for membership to become a founding member and help shape HuffPost's next chapter
BEFORE YOU GO
PHOTO GALLERY
Must-Read Books By Muslim Authors