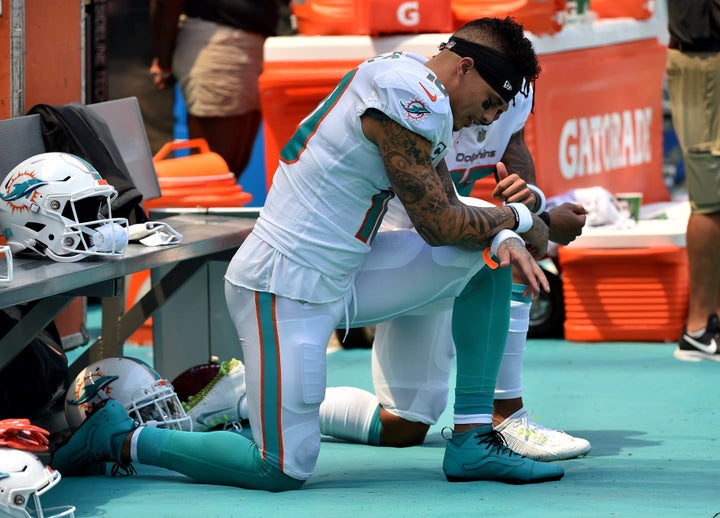 Miami Dolphins wide receivers Kenny Stills and Albert Wilson took a knee Sunday for the national anthem prior to their game against the Tennessee Titans. Their act of civil disobedience is the first highly visible player protest in the 2018 NFL season.
That follows a more low-key moment Thursday, before the Philadelphia Eagles squared off against the Atlanta Falcons in first game of the NFL season, in which the Eagles' Michael Bennett sat down near the end of the anthem.
Now, the man who launched the wave of player protests in 2016 is weighing in. Colin Kaepernick, the former San Francisco 49ers quarterback and current Nike spokesman, praised Stills and Wilson in a tweet on Sunday.
"My Brothers @kstills and @ithinkisee12 continue to show their unwavering strength by fighting for the oppressed!" the tweet said. "They have not backed down, even when attacked and intimidated."
Kaepernick received both praise and criticism when he began sitting, and later kneeling, during the national anthem in 2016. Kaepernick said he was drawing national attention to the issue of police brutality against minorities.
"To me, this is bigger than football and it would be selfish on my part to look the other way," Kaepernick told NFL.com in 2016. "There are bodies in the street and people getting paid leave and getting away with murder."
President Donald Trump has been perhaps the loudest critic of Kaepernick and the protests he inspired. Trump reiterated his feelings before kickoff Sunday, even attempting to connect the act of kneeling for the anthem to the NFL's television ratings.
"Wow, NFL first game ratings are way down over an already really bad last year comparison," the president tweeted, asking if ratings would improve "if the players stood proudly for our Flag and Anthem."
For Kaepernick, it was never about the military or the flag, but rather what the flag is supposed to represent.
"When there's significant change and I feel that flag represents what it's supposed to represent, and this country is representing people the way that it's supposed to, I'll stand," Kaepernick told media outlets in 2016.
Kaepernick is currently taking legal action against the league for allegedly blackballing him out of a job, and recently became the face of a Nike campaign that says, "Believe in something, even if it means sacrificing everything."
The NFL is reportedly not going to implement a new national anthem policy for the 2018 season. A previously passed anthem policy, voted on by the owners back in May, has been on hold to allow the league and players' union time to discuss the issue.
CORRECTION: This article previously misstated the Philadelphia Eagles' opponent on Thursday.