Amnesty International on Saturday named former San Francisco 49ers quarterback Colin Kaepernick its 2018 Ambassador of Conscience for his kneeling protests against racial injustice. 
The award, given to Kaepernick in an Amsterdam ceremony, is handed out each year to "individuals and groups who speak out for justice," Amnesty says on its website, with an aim to "create debate, encourage public action and raise awareness of human rights issues." Past recipients include Nelson Mandela, Malala Yousafzai and U2. 
Kaepernick famously caused a stir by taking a knee during the national anthem at NFL games to protest racial inequality, and by refusing to stop. Other players later joined his protests.
No team has picked him up after he became a free agent after the 2016 season ― although an Adidas executive recently said the company is interested in sponsoring Kaepernick if he is signed. A large number of NFL managers reportedly "generally hate" Kaepernick for his activism, and he publicly earned the scorn of President Donald Trump.
Kaepernick operates a charity, the Colin Kaepernick Foundation, which marked a milestone in January when it finished donating $1 million to organizations that help underprivileged communities ― a pledge he made in 2016. 
"The Ambassador of Conscience award celebrates the spirit of activism and exceptional courage, as embodied by Colin Kaepernick. He is an athlete who is now widely recognized for his activism because of his refusal to ignore or accept racial discrimination," Salil Shetty, secretary general of Amnesty International, said in a statement.
In a speech at the award ceremony, Kaepernick touched on the death of Tamir Rice, the 12-year-old shot by police in Ohio, along with what motivates him and other social activists.
"We protest because we love ourselves and our people," he said.
He echoed the sentiments in a statement issued by Amnesty: "While taking a knee is a physical display that challenges the merits of who is excluded from the notion of freedom, liberty, and justice for all, the protest is also rooted in a convergence of my moralistic beliefs, and my love for the people."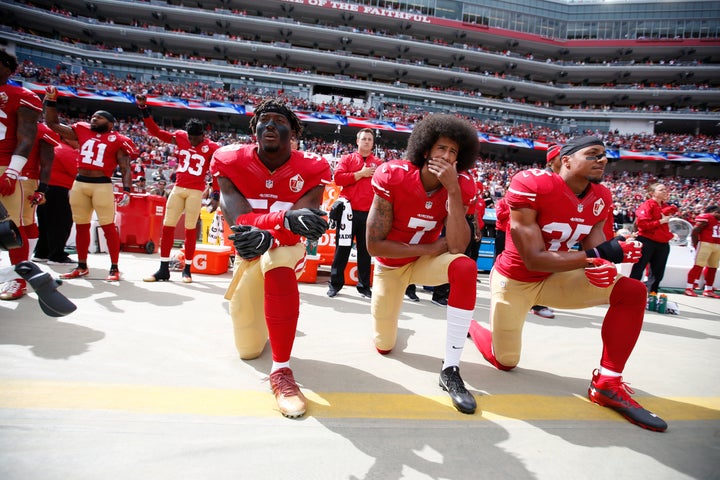 Calling all HuffPost superfans!
Sign up for membership to become a founding member and help shape HuffPost's next chapter