When the NFL's ratings began to decline during the 2016 season, a popular narrative took hold ― primarily among conservatives ― that former San Francisco 49ers quarterback Colin Kaepernick and his national anthem protests were to blame.
A new survey, however, shows that likely wasn't the case.
In fact, just 3 percent of sports fans said they watched fewer NFL games a season ago because of Kaepernick's protests, according to the survey from J.D. Power, a global research company.
The survey, first reported by ESPN, asked more than 9,200 people who had ever attended at least one major sporting event about their sports-watching habits ― a pertinent topic, given that the NFL experienced a 9 percent television ratings decline in 2016, and other leagues and sports networks like ESPN have felt the crunch too.
ESPN framed its story around the fact that national anthem protests were the number one reason fans said they were tuning out, since 26 percent of respondents who reported that they had watched fewer NFL games blamed Kaepernick and the other players who kneeled or raised their fists during "The Star-Spangled Banner" to protest police killings of black people.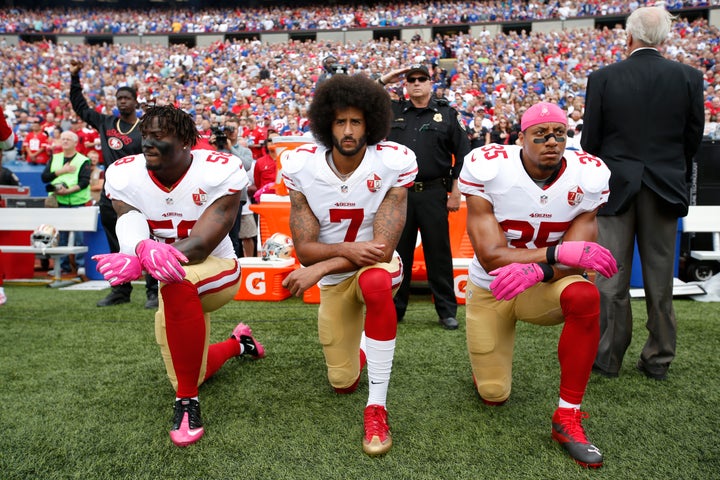 But that framing doesn't tell the full story.
The majority of the survey's respondents actually said they had either watched more (27 percent) or the same amount (62 percent) of football, while only 12 percent of respondents reported watching less.
Twenty-six percent of those 12 percent ― or about 3 percent of total respondents ― blamed Kaepernick, meaning the number of people who tuned out over his protests was in fact fairly small.
A similar number ― roughly 2.8 percent ― said they had watched less football because of issues like domestic violence, according to ESPN. However, it's not clear how much attention that will receive from the people ready to place the blame on Kaepernick, who is still looking for a new team to play for.
And even though Kaepernick's protests were the top reason those who watched less football gave for doing so, it's worth remembering that self-reporting surveys tend to be less-than-perfect gauges of actual behavior ― especially when they focus on why people make the decisions they do.
The NFL has long been a ratings behemoth, and its sudden decline in 2016 is certainly noteworthy. So, too, are the struggles of major sports networks like ESPN, which has lost millions of subscribers ― and billions of dollars in revenue ― over the last few years.
But while it has become politically expedient for some to blame Kaepernick and the so-called "politicization of sports" for those declines, there remains little evidence that's the case ― especially when there are far more plausible explanations, with far more evidence supporting them, for the ratings struggles the NFL and the broader sports world are facing.
Popular in the Community