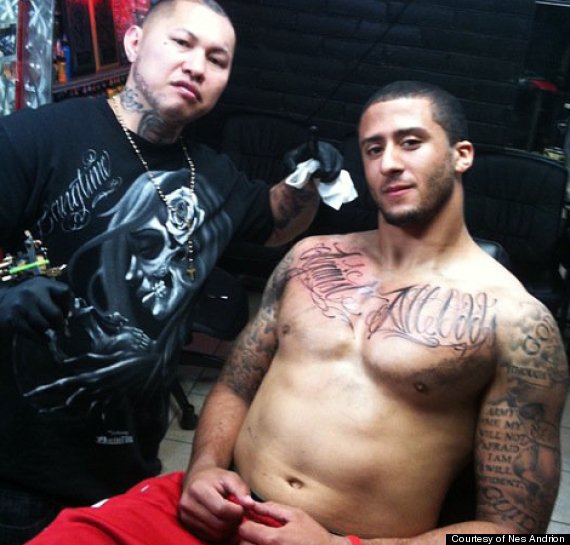 Both of Kaepernick's arms are tapestries of tattoos, displaying psalms and other phrases. The QB's tattoo artist, Nes Andrion of Reno, Nev., told The Huffington Post that the inside of one of Kaepernick's biceps reads, "My Gift," and the inside of the other reads, "Is My Curse." The top of his right bicep features the word "FAITH."
Andrion, the owner of tattoo shop Endless Ink in Reno, estimated he's done "93 percent" of the player's tattoos, over nine sessions in Reno and Las Vegas while Kaepernick was playing for the University of Nevada. He said Kaepernick liked the depiction of opposing forces, such as good and bad and Heaven and Hell. Thus, the tattoos on Kaepernick's back -- more a skin mural, really -- have an angels and demons motif, according to the artist.
"When I put my touch to that tattoo, it's not just a tattoo cause I'm getting paid for it," Andrion said. "It's got meaning."
The psalms tattooed on Kaepernick's arms address his competitive instinct, according to Sports Illustrated. Psalm 27:3, on one arm, reads: "Though an army besiege me, my heart will not fear though war break out against me, even then I will be confident."
Psalm 18:39, on the other arm, says:, "You armed me with strength for battle; you humbled my adversaries before me."
Kaepernick asked his parents for help picking the passages to inscribe on his arms, according to the Nevada Sagebrush. "They are about asking God to help kick somebody's butt," his mother, Teresa Kaepernick, told the student-run university outlet. "When you look at them, it's not surprising to see that an athlete chose those two verses."
Quarterbacks aren't normally known or their tats, but Kaepernick seems comfortable in his skin. And whether he starts or not, the 2011 second-round draft pick already has his fill-in success summed up in a tattoo on his chest. The handwriting reads: "Against All Odds."
"I had so many people saying I wasn't going to be successful," Kaepernick told Sports Illustrated. "For me, it's trying to prove those people wrong. They won't tell me whether I'm going to be successful; I'll determine it by how hard I work."
Related
Popular in the Community