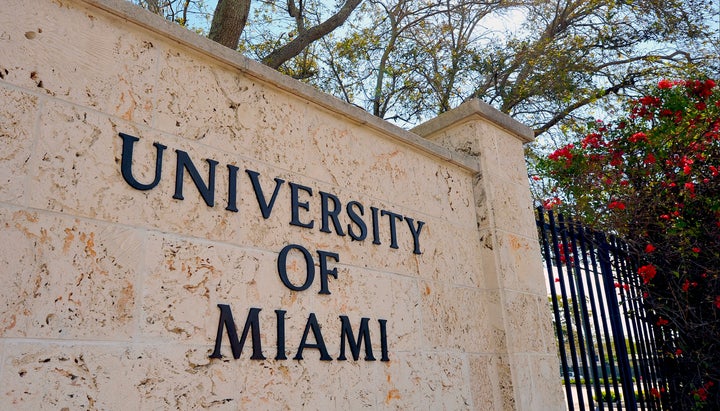 When Monica Morrison gave the University of Miami copies of explicit emails and text messages she'd received from star philosophy professor Colin McGinn, the school got him off campus, but didn't charge him with sexual harassment.
McGinn had told the university in fall 2012 that the messages he sent Morrison -- complimenting her legs, discussing his erections, floating the idea of having sex with her and asking to kiss her -- were not a problem because they were in a relationship, though Morrison said otherwise. The university charged him with failing to report a consensual relationship and he resigned in 2013.
Last week, Morrison filed a federal lawsuit against the university over its handling of the case, partly because it failed to charge McGinn with sexual harassment. She also sued McGinn for sexual harassment and civil assault.
The suit came just days after the University of California, Berkeley defended its own handling of harassment allegations against astronomy professor Geoffrey Marcy. Like The University of Miami, UC Berkeley said it crafted an agreement that led to a quick resolution and the resignation of a tenured faculty member.
Both schools made similar points: It's difficult to simply fire a tenured professor, even if there's strong evidence of their guilt. They avoided a lengthy investigation, and in the end, they got a problem professor off campus.
"It's the culture of employment management bumping up against the Title IX realm," said Peter Lake, director of the Center for Excellence in Higher Education Law and Policy at Stetson University. Lake believes increased scrutiny over how schools handle campus rape has led advocates to demand more public condemnation of sexual harassment offenders.
"I could see where you might see it as a great victory to eliminate the problem from campus," Lake said. "But I think [advocates] really do want, and come to expect, the public justice. They want to be able to see them openly and visibly punished for their wrongdoing and not be able to walk away with a slap on the hand."
Eric Isicoff, a lawyer for the University of Miami, defended how the school handled the McGinn case. The school reached a "very positive" and "very efficient" outcome, he said.
"In academic circles, it is very difficult [to terminate someone], particularly when you're dealing with a tenured professor," Isicoff said. "The extraordinary thing about this case, it was a very good and prompt resolution that was achieved at stellar speed."
"It's ironic," he added. "If this is being put in a bad light, I don't know any situation where you have one in a good light."
Supporters of the students reporting sexual harassment say that the schools have let professors like McGinn off too easily for egregious behavior.
"If the offender is no longer there, then the university feels they are no longer responsible, and the next university can justifiably claim they had no knowledge," said Heidi Lockwood, a philosophy professor at Southern Connecticut State University.
When news of McGinn's resignation became public -- along with suggestion he was forced out -- philosophy professors from other top universities defended him, and some still think he was treated unjustly.
Esa Saarinen, a philosophy professor at Aalto University in Finland, wrote a letter in 2013 saying he was astonished over the "utterly unfair treatment" of McGinn based on "false allegations." He predicted McGinn's ousting would set "a landmark for unfairness that is likely to become historic," and recently said his opinion has not changed.
Steven Pinker at Harvard University said he still believes "that the academic equivalent of the death penalty was excessive in McGinn's case."
Philosophy professors Stephen Schiffer at New York University and Stephen Neale at the City University of New York raised concerns in 2013 that McGinn was denied due process. "Since then, new evidence has emerged which I'm not competent to interpret, nor have I tried to interpret it," Schiffer said this month.
McGinn declined an interview request from The Huffington Post, but has discussed his situation on his blog. He's shown a keen interest in other faculty who lose their jobs and compares himself to Steven Salaita, who lost an employment offer from the University of Illinois at Urbana-Champaign after he tweeted about the conflict in Gaza.
"There is a clear lesson here about excessive power in university administrators, as well as lack of basic understanding about free speech," McGinn wrote. "I find many analogies here to what happened to me." McGinn also said that Tim Hunt, the English scientist caught up in a controversy over sexist comments, "is still being excluded from positions that are rightfully his."
McGinn added that he and other philosophy professionals "have been subject to administrative actions that have seriously damaged our careers and lives, in ways that are politically motivated, heavy-handed, and fundamentally unjust."
Since McGinn's resignation, there are some "pretty notorious sexual harassers in the philosophy land that are cooling their heels," according to Brian Leiter, director of the University of Chicago's Center for Law, Philosophy, and Human Values.
"I am certainly one of those people who think there was an awful lot of unpunished sexual harassment in academic philosophy that's been shrouded in so much secrecy," Leiter said.
Jennifer Saul, who teaches at the University of Sheffield and is director of the Society for Women in Philosophy UK, believes few supporters of McGinn remain. "There is, from what I can tell, near universal agreement that he acted appallingly," she said.
Coming forward as a victim of sexual harassment in the philosophy world is incredibly risky, Saul said, but she believes things are changing.
"There's an increasing understanding of these dynamics, and so I think a lessened tendency to view victims as 'troublemakers,' and actually increasing admiration for their bravery in speaking out," Saul said.
"I have worked behind the scenes to help some victims move from one department to another and I've found that there are a lot of people -- and not just women -- very eager to help, to welcome them and help them to get their careers back on track."
Related
Popular in the Community