 UPDATE II: Quinn clarified his remarks in a tweet this evening, writing, "To all media etc.. Will Ferrell was not on drugs at snl! I never even saw him smoke a joint! Is this what it's come to???"
Of course, he also earlier tweeted media reports of his initial comments, so he's had fun encouraging and then discouraging reporting on his tweets. Which, presumably, is the whole point: having fun.
UPDATE: In a bit of meta journalism/comedy, Colin Quinn retweeted the link to this article. Which mostly likely proves that he's joking, and thrusts this article into being part of the story. Fun!
PREVIOUSLY: Colin Quinn is well known for his facetious Twitter persona, writing sarcastic commentary and then promoting the angry tweets he gets from fans. Which begs the question: is his latest rant for real?
The former "SNL" star, Comedy Central host and recent stage star ripped fellow "SNL" alum Will Ferrell in a series of tweets on Tuesday afternoon, accusing him of doing drugs and stealing ideas.
"No,I'm happy for Will....we never really got along at SNL because he took so many of my ideas, but.." he wrote after asking fans if they had seen Ferrell's Mark Twain Award ceremony. "Will was into a lot of bad drug stuff and I don't know if he still is. Actually, not true I happen to know he still is very much so."
Quinn continued, saying, "The years I was at SNL Lorne was really kind of messed up over various things and I was the shot caller. And that's real."
After his characteristic retweeting of angry fans, he added, "Feel bad about the Will Ferrell comments. I'll never mention him again if he pays me my residuals for the WHOLE ANCHORMAN CONCEPT!" and then retweeted a number of people ripping his comments. Next, he wrote, "If success is measured in awards and that jazz, I guess it's true, I'm not where I want to be. ( still hoping lol ) but it is what it is."
So, what does it all mean? Is Quinn really angry, or just doing a bit of public performance art (which would be pretty hilarious, given his MO)? What do you think?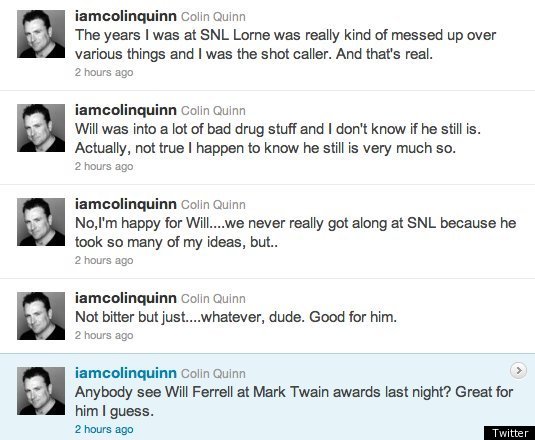 Popular in the Community