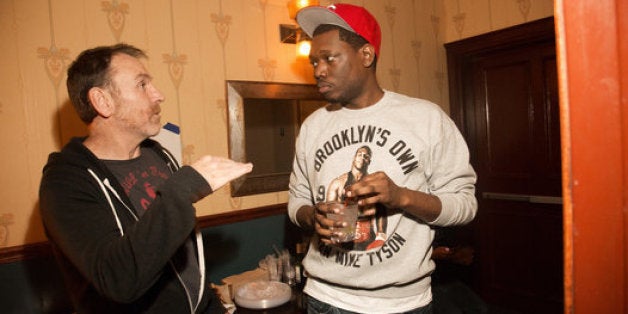 As a former "Weekend Update" anchor, Colin Quinn is one of the few people who knows what's in store for new hire Michael Che. Of course, he has nothing but jokes for him.
The Huffington Post: This is one my favorite times of year, when "SNL" announces their cast changes. So obviously I have to ask, what do you think about Michael Che joining "Weekend Update?"
Colin Quinn: I think it's a mistake.
CQ: I don't know, I just wanted to say something controversial! I've known Michael Che a long time from the comedy clubs and he's great ... I gave him three horrible suggestions for sign-offs, on Twitter. You know, "Che all the way," the kind of things that would ruin his career after two episodes.
HP: What about Pete Davidson joining the cast?
CQ: That's a mistake, too. Pete Davidson, first of all, we get it. You're adorable and impish, now take it down. Ugh, so annoying [laughs]. But yeah, he's another one I've known for a long time. And he really is impish! They're both great ... All the stand-ups are happy when one of us gets on ["SNL"] because we all know each other. We're always rooting for that."
HP: And they're also both New York guys, like yourself.
CQ: Oh yeah! That's right. I always forget to count Staten Island [laughs]. One time, I was telling Horatio Sanz this, the differences between the improv and the stand-up people [on "SNL"]. Stand-ups come from New York, usually. Then you've got the improv people from Chicago and then you've got The Groundlings which used to big in LA. So, one time I was yelling at Horatio, I said, "I'm sick of you and your improv nerd friends!" And he looked at me -- it took him a minute to realize it -- and he goes, "Well you're nothing but a mean nerd." And I said, "Ohhh, man. You really nailed me with that one." A mean nerd. Exactly.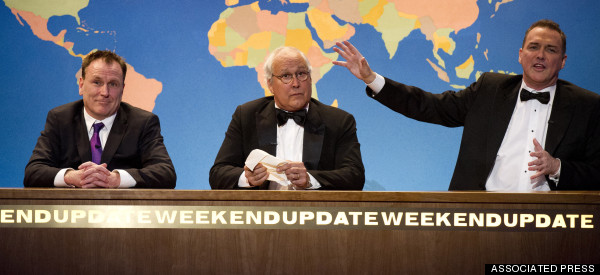 HP: When you're doing "Weekend Update" as opposed to just being on the cast, how is it different, other than being busier? Do you feel like the "chosen" cast member?
CQ: It's more like a weird responsibility. In some ways [being on "Update"] has less pressure because you know you're getting on all week. Nobody else is guaranteed to be on. But what gives it the most pressure is that everyone wants to know what "the joke" is that week. And nowadays, with "The Daily Show" and all the talk shows and Colbert and Oliver and -- well, Oliver has it tougher because he's on Sundays now -- But everyone else gets to tell jokes all week. By the time Saturday comes, you have to have the joke that nobody else has ... So, it's kind of a weird position in that way, especially now.
CQ: It's really about growing up in New York, about a time gone by in many ways, but it's also got a lot of what I call, "cultural anthropology." That's what it has. Instead of what other people would call that, "racism." But I call it cultural anthropology.
HP:Well, when you put it that way ...
CQ: But it is true, I do feel that way. I think nowadays if you're a cultural anthropologist you could be called racist. Just the fact that you're trying to distinguish between anyone's ethnic characteristics or behavioral things ... I've lived in New York for 40 years so I talk about that.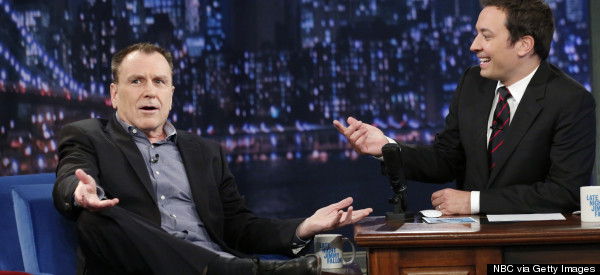 HP: What's the biggest change you've seen in New York since you were a kid?
CQ: That Brooklyn is like 100 percent white now, which is kind of startling. The big thing, which I talk about in my act, is the L train. That's the biggest difference today. The L Train. Bushwick used to be the South Bronx of Brooklyn. There were wild dogs, there were gangs roaming the streets, you just wouldn't go there.
HP: Then it burned down in 1977... And now Bedford Ave. looks like SoHo!
CQ: SoHo is another level of nauseating. It's crazy. It's all rich European shoppers. I live down by Ground Zero.
HP: Did you know that people call it FiDi now?
CQ: FiDi, for Financial District? I like that. I like FiDi. It's kind of a cool name. See, I'm on the border of FiDi and TriBeCa, so I'm actually near what I call CiHa, which is City Hall. I don't like saying I'm from TriBeCa because that has a negative connotation to it. Everyone thinks, 'Oh God, you're as rich as De Niro!' I like a little more authenticity.
REAL LIFE. REAL NEWS. REAL VOICES.
Help us tell more of the stories that matter from voices that too often remain unheard.
BEFORE YOU GO
PHOTO GALLERY
Sweet 10th Anniversary Shows