We've all heard a bedtime story, a sob story, and a tall story. We know about a likely story, a cock-and-bull story and a cover story. And what about West Side Story? Forget about those same old stories. Now we've got Colin Quinn: the New York Story.
Indeed there are lots of NY stories to tell, and stuff to riff, from the Bronx to the Battery, from the historical to the hysterical; from Peter Minuit's purchase of the Manhattan island sliver for $24 to the Golden Age of Trump.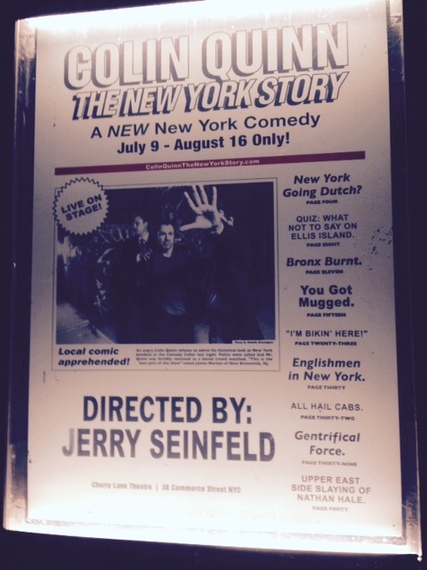 Let's face it. We're overdosing on Uber wars, Trump tirades, and De Blasio-Cuomo duels. We're toppling over and knuckling under from the crackling New York summer heat, Central Park horse & carriage debates, and MTA madness. We're all in desperate need of laughter.
Enter Colin Quinn -- laughmaker extraordinaire and comic genius -- who's turning Manhattan on its neurotic head, urging us to replace Timid Tan with Passionate Pink, hoping to bring back the color, grit and personalities of New York City.
So what better way to face July temps and tempers than Colin Quinn wowing the crowd at the Cherry Lane Theatre, nudging New Yorkers to do the ultimate in multi-tasking: think and laugh. What a concept!  
Quinn is the essence of New York: the real Big Apple deal, the true enchilada, buzzing with the adrenalin of a Riverside Drive sunrise marathon jogger, a Bushwick barista slurping a quick pre-dawn doppio, or a Tribeca middle school teen-ager on his first prom night date.
Billy Joel, eat your heart out. Quinn's World is a savvy, sociological, and ethnological New York state of mind. Quicker than you can say Coney Island, the comedian takes us on a rollercoaster ride down Manhattan 's immigrant memory lane. Colin cuts to the quick...or should I say to the Quinn. It's about New York neighborhoods THEN and NOW: the questions, the quirks, the qualities, the quarrels. After all, New York insanity is as thick as a juicy rib eye at The Old Homestead.
Take one Brooklyn kid spilling out a quirky, 75-minute run-on sentence; an out-of-breath, unstoppable delivery and a can't-pause-now-because-we-have-no-time-to-waste patter that falls somewhere between Jackie Mason and Jackie (Ralph Kramden) Gleason. He speak-thinks so fast that he barely finishes a sentence before starting a new one.
From Geek to Greek
From Aristophanes to Zack Galifianakis, comedy's been around since ancient Athens ("Three guys named Gus walk into a Greek diner"). Not that it's easy to be funny. Just ask any open-mike comedian who's been heckled. Or the guy on match.com who's been rejected by a flurry of potential dates because he's "just not funny enough." I'm guessing in Ancient Egypt there was a coin toss; whoever lost the "Funniest Punchline in Hieroglyphics" contest had to go hunt down dinner.
The word comedy is derived from the Greek word komoidia: "a comedy, amusing spectacle" from komos: "revel, carousal, merry-making." If Colin Quinn doesn't arouse or carouse, it's simply not his fault. He's giving us all he's got. And that's huge. It's all part of the revelrous Colin Quinn: The New York Story:
Sociology or Crayon-ology - As a kid, I couldn't wait for the next size Crayola box of crayons. It started with a box of 8, expanding to 32, 64 and finally 100. Half the fun was discovering breathtaking names like periwinkle, cornflower blue and magenta.
Colin seems fired up by those Crayolas (this play is based on his recently published The Coloring Book - A Comedian Solves Race Relations in America). I'm thinking Colin was one of the lucky ones who had the box of 100, since his chapters include Ellis Island Indigo, Quiet Ochre and Picante Papaya. Quinn's Observation 101: Communities are now described as colorless, bland and blah, because we've simply gotten way too cautious. Spefically, he compares two mayors: Hizzoner Bill de Blasio seems Crayola beige, whereas former Mayor Ed Koch was more about Brick Red, Violet, or Burnt Sienna.
Salsa, Tarantella, Irish Jig or Minuet - A nimble Quinn, dancer/raconteur, seems to choreograph his comic story-telling like a witty Baryshnikov. Stoop-sitting, squatting, loping across the stage, leaning on banisters, porch-perching, or sitting on Dutch East India Co. boxes, his lithe body breathes and channels New York City. His dark humor is a blend of Jack Black and Jack Nicholson; his charm 1/2 The Little Prince , 1/2 Holden Caulfield, and his bizarre observations a brilliant mix of Mad Max and Madagascar.
U.S.C. or U.C.B. or U.B.C. - U. of Sophisticated Comedy, Upright Citizen's Brigade or Urban Breakfast Chops -
Quinn has fine-tuned his comic urban chops in comedy clubs, on SNL, and at local diners, chatting and brainstorming over breakfast with Master mentor Jerry Seinfeld (director of this very show).
Colin Quinn: The New York Story is a freshman college seminar in Manhattan-ology without a final; a University lecture-demo in Diversity without the dreaded term paper. It's a historical, hysterical approach to the island's evolution -- and the gradual influx of ethnic groups.

ABC's of Colin-omedy: Mix a teaspoon of Aziz, Buddha, & Chaplin with a twist of Colin...and presto! You've got the perfect summer cocktail: Colin & Tonic, a remedy for the NY blahs.
The Island According to Quinn
He's the essence of NY - bursting with facts, stories and Quinn-ecdotes about our cherished island - then and now. Quinn meanders onstage, helping us wander and ponder, prancing from THEN -- Peter Minuit and his $24 bargain purchase of Manhattan from the Lenape Indians -- right up to NOW (the bland, technological days of Siri and WebMD).
True Grit, Fit or Wit
He's the guru of Gowanys, the Confucius of Canarsie, the Woody Allen of Woodside, the Mel Brooks of Bensonhurst. In fact, I'd say go cancel Barre Burn immediately and sign up for Quinn Zen 'n Zumba.
Solo Polo - Like his fellow explorers Vasco da Gama, Chris Columbus and Marco Polo, his is a one-man tour de force, charting new territories on land, in the mind and on the humor landscape. He's a solo Talk Stoop.
Tom Tom or Tom
Quinn blurs the lines between the 3 Toms. He's a confident, mischievous and news savvy blend of Tom Brady, Tom Sawyer, and Tom Brokaw. And yet, his crinkly eyes and soulful expression seem to merge E.T. and Marcel Marceau in a sort of ethno-contemplative sadness.
Colin of Oz - Quinn's not just a wordsmith, but a comic performer with a brain that would've made the Scarecrow proud. In between ramblings about mugger money; Canarsie Indians; and old, earthy Port Authority "pimps lined up like Citibikes"....he yearns for the good ol' days when we could speak our colorful minds.
Dinosaurs & PTS - Quinn's description of a school field trip to the Museum of Natural History is reminiscent of my own chilldhood schooldays when I'd be so worried about getting bus sick that I'd sit in the first row, clutching my saran wrapped pretzel sticks. Post-Traumatic Stress....nope. For Colin, it's about some kids making out in a P.rehistoric T.ortoise S.hell.

Give me Liberty or Give me Wikipedia
Quinn's clever pop culture parallels (Taylor Swift and The Brits) pop up in surprise places; he sprinkles obscure references throughout the evening, poking fun at the audience for not really remembering what they learned once upon a time ("Nathan Hale's that great patriot you're trying to remember right now").
Paint by Adjectives - The ultimate comedic shrink, Quinn assigns a personality trait to each ethnic group (e.g. Dutch/abrupt; British/arrogant, Jews/persevering (aka Relentless on Rivington). His infinitely ingenious mind observes that Puerto Ricans were interior designers, practically inventing fung shui, making the "stoop" or fire escape an extra room.
Geographic Decline of the Manhattan Empire - Through his savvy Google search, Colin informs us of a historical landmark sadly replaced by a modern major java chain. I'll let you do the guessing.
ABC's of A.lbanians, B.rits & C.abbies - A Quinn-esque description of how not to get certain ethnic groups pissed off; the role played by long white royal gloves in Taylor Swift's Ambassadorship to NYC; and the disappearance of cabbies whose throats were coated with fat cigars and dairy....
SUNNYSIDE UP or Walking on Eggshells - We love our NYC brunches, from Mexican huevos rancheros to Jewish bagels & lox. Whether it's frittata or eggs Florentine, we 're forever whispering, wondering what we can say, and ...we're always walking on eggshells.
Subway, Statues & Liberty: Underarmed & Overjoyed - In a quick demo, posing as a subway straphanger and a rough replica of the Statue of Liberty, Quinn finds an amazing similarity in the two human curved arms and graceful elbows. His quirky comparisons are as refreshing as a clear day on the Staten Island Ferry, sailing towards Lady Liberty.
Berman Survey vs. Quinn-ipiac Polls
Stand-up Colin Quinn stands out amongst the real dudes of comedy -- the profound wits, the sage intellects -- the George Carlins, Mel Brooks', Lenny Bruces, Larry Davids, and Woody Allens. With apologies to Auguste Rodin, these are the thinker comics, who have great appeal to both sexes. Just ask most New Yorkers what their priority is for a life partner. Sense of Humor's at the very top of the list. On a recent survey -- conducted by yours truly -- of over 500 New Yorkers (Question: Who would be your dream fantasy date?), 497 chose Jon Stewart over Bill Gates; 488 said George Carlin over George Clooney, and 484 chose Amy Schumer over Kate Middleton.
NYC Landmark Preservation
Colin is, in a sense, the Quinn-tessential New Yorker, and we're all better off for it. True, we may have lost Roseland, Rizzoli, and the Domino Sugar Factory, but this is one urban landmark comedian we cannot afford to lose.
Yup. I, like Colin, love the ethnic communities, the characters, the color, the chaos, the moods. As a nice Jewish girl from Bayside, Queens, I'm sorta like that NYC girl we hear at the opening of Colin Quinn's show, in the contagious lyrics of disco hit Native New Yorker, sung by Odyssey: "New York girl, runnin' pretty, you're the heart and soul of New York City."
But that's another story.
REAL LIFE. REAL NEWS. REAL VOICES.
Help us tell more of the stories that matter from voices that too often remain unheard.