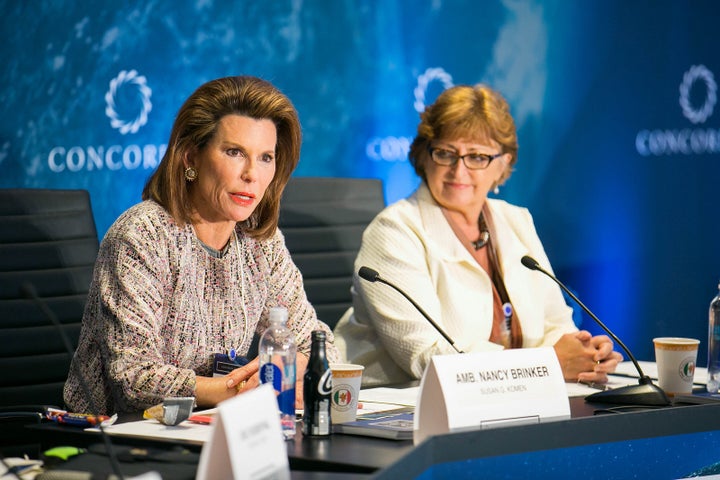 Matthew A. Swift, Co-Founder, Chairman & CEO, Concordia
Nicholas M. Logothetis, Co-Founder & Chairman of the Board, Concordia
In fiscal year 2016, $5.21 billion was allocated to cancer research in the U.S., and over the last six years, America has spent an average of $4.9 billion annually in our fight against cancer, according to the National Cancer Institute. Yet despite this massive funding machine driving our efforts, cancer continues to be one of the world's leading causes of death, accounting for one in seven deaths worldwide — more than HIV/AIDS, tuberculosis and malaria combined. In the U.S., cancer is second only to heart disease in fatalities, accounting for nearly one of every four deaths. Given these startling facts, we must seriously evaluate the challenges to overcoming this chronic disease that go beyond money.
At the 2016 Concordia Annual Summit, we assembled a group of top scientists, researchers, policymakers and clinicians led by co-chairs Susan Braun, Nancy Brinker and Eric Rosenthal. The group was tasked with addressing the challenges to and opportunities for collaboration in the cancer community, with the goal of identifying new avenues for partnership in the fight against cancer. Much to our surprise, the participants did not highlight funding as a major challenge. Rather, they spent approximately three hours discussing the need for information-sharing, data management and improved communication between governments, organizations and medical professionals. It became clear that what the fight against cancer needs above all else is not more funding; it needs further collaboration on a global scale.
Too frequently, we approach cancer as an American problem. In his State of the Union address in January 2016 introducing the Cancer Moonshot initiative, President Barack Obama expressed his desire for "America [to be] the country that cures cancer once and for all." While this is an admirable goal, we must take a more global and inclusive approach to move the needle on eradicating cancer. This disease is one that does not discriminate based upon race, sex or ethnicity, and no country or person is immune to its wrath. It's time to combat this disease on a global scale, and the U.S. has a unique opportunity to lead this cause. Today's interconnected world is ripe for collaboration in cancer research, but we are lacking in implementation. Over the next decade, the fight against cancer needs to be global in scope and in reach.
This will require that we harness the resources of the private sector, the infrastructure of the public sector and the knowledge of the global medical community in an all-encompassing, coordinated offensive. Moreover, it will require a transnational effort to increase access to treatment, improve detection and prevention methods and implement open-source data systems for sharing research.
True progress also will require public, private and nonprofit leadership coming to the table, keeping in mind the real reason why all this research is taking place: the patient. Leaving organizational baggage aside, leaders must bring their personal knowledge and experience to engage in conversations about how we can leverage each organization's unique strengths to improve the delivery of better patient care.
We are getting closer to understanding how to prevent and actively manage cancer, but this isn't a fight we can win alone. This is a fight that requires cross-sector partnerships and global collaboration to integrate resources from around the world into a streamlined system conducive to mutual advancement. America is equipped to lead the charge, but the global community must be fully engaged. I can't think of a more admirable goal for America to accomplish over the next decade than to work toward more measurable solutions that lessen the severity of one of the leading causes of death worldwide. We have 10 years. Let's get to work.
For more information on Concordia's cancer focused work and upcoming roundtable in Miami on March 29, 2017, entitled "Prevention, Screening & Early Detection: The Cancer Burden in Latin America," visit our website here.