Fail, fail and fail again.
No executive wants to hear these words, let alone report them to his or her boards, or worse, shareholders. But when you look at the new product failure rate--a stunning 85%--and realize new products often generate 30%-50% of best in class company revenues, it's easy to understand why many executives are scrambling to fill their pipelines with a constant stream of fresh offerings.
Yet in today's complex world, companies can't do everything they need to alone. Cisco's leaders realized this more than five years ago with a benchmark study on collaboration, noting that partnerships enable companies to act faster, work smarter and improve value to create economic growth.
Today, it's clear this was one of the tipping points for the rise of collaborative innovation. Such innovation-focused alliances between companies transform business and drive growth, says the World Economic Forum in a report issued in August. Although collaboration can bring together a variety of companies, the authors note, these partnerships often involve firms of young, dynamic individuals, who use new ways of working, collaborating with larger, established companies.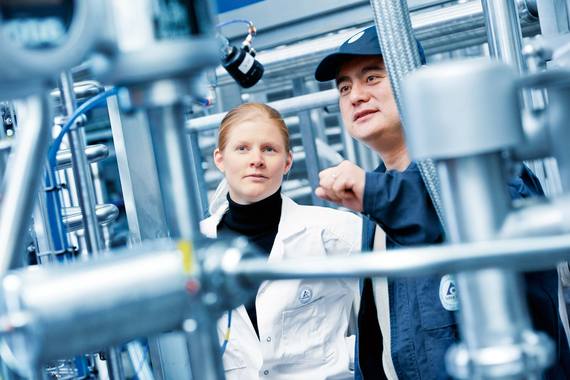 Apple pioneered this model with the iPhone, which spawned hundreds of global partnerships through its apps. Now developers are creating apps for various operating systems and platforms, taking collaborative innovation to new heights. For instance, this year, Fly Labs' mobile iOS video editing apps--Fly, Clips and Crop--ranked No. 1 on two lists: Apple's Best New Apps and Fast Company's Most Innovative Companies of 2015 in Video. Earlier this year, Oracle won Facebook's Excellence in Innovation award for using Datalogix's Relevancy Engine to reach grocery stores' current customers on Facebook with personalized coupons, recipes and deals.
Today, this collaborative model extends into nearly every business arena, not just tech, and makes companies more successful. DuPont's CEO Ellen Kullman notes, "global partnerships ... are the key to meeting customer and consumer needs in critical areas such as food security ... the protection of people and the environment."
It also can focus on intrapreneurship, says Mark Esposito, business professor at Harvard University Extension School. For example, Kraft's Lunchables redefined its brand in 2013 with in-house partners, such as Oscar Mayer, and external partners, such as Pringles, to win a new market with Uploaded, a version of its popular lunchbox meals targeted at teens, and raked in $125 million in sales that year, notes Ad Age.
Collaborative Innovation Drives Growth
Collaborative innovation drives growth through new or improved products or services that tap into marketplace demand, creating additional value for companies and consumers, and increasing each partner's productivity, says the World Economic Forum. It also lets companies leverage creativity, experience and resources to fuel better ideas; lower innovation costs; and improve decision-making, execution and speed to market, notes research from innovation consultancy Kalypso.
Collaborative innovation can also result in differentiation, which often leads to growth. In today's crowded marketplace, where products must stand out on the shelves or even small smartphone screens and pass product reviews, companies must work to differentiate new products and make good on marketing messages to rack up sales.
Collaborative Innovation Creates Value
In my industry, food packaging and processing, a quick stroll down an American retailer's crowded beverage aisles shows an array of flavors, sizes, nutritional niches and package offerings. How do consumers decide what they want, and how do companies tap into those wants and needs?
Those points form the basis of a collaborative innovation between my company, Tetra Pak, and JUST, a new brand with an ethos based on responsibility, transparency and inclusiveness. JUST needed a unique package reflecting its tenets for its first product, spring water from the Glen Falls watershed at the base of the Adirondack Mountains, which is supplied through a community-based ethical-trade agreement that uses only a small amount of the community's excess water supply.
Tetra Pak's Tetra Top carton bottle is a perfect fit for the JUST Water proposition. It is made of more than 50% paper, a renewable resource from sustainably managed forests; is water and energy efficient; and is recyclable. With its extra-wide mouth and streamlined shape, it blends the functionality of a bottle with the environmental profile of a carton. And in a collaborative innovation journey Tetra Top was enhanced to package water and ensure the pure taste of JUST Water was preserved.
Collaborative innovation, by driving growth and creating value, benefits not only the partnering companies but also consumers. Every day, it leads to breakthroughs in a range of industries. We know such a business model is not only pivotal to the future of our business--it's indispensible to most companies. Any CEO worth his or her salt should have a collaborative innovation strategy in place. Do you?
Related