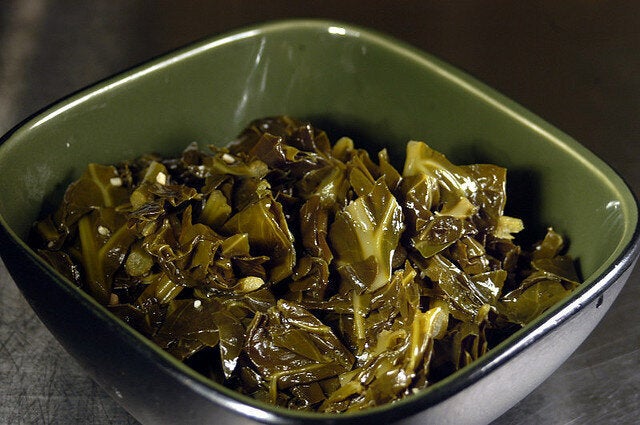 The Southern Foodways Alliance documents, studies, and celebrates the diverse food cultures of the changing American South. Its members are a dedicated group of southern food diehards, and we've heard from numerous sources that if you attend the annual symposium (happening this weekend in Oxford, Mississippi), you'd better be able to hold your whiskey. This year's theme is Cultivated South; events range from a lecture about "The Punk Rock Farmers' Market Aesthetic" to a "Green Peanut Boil." One of the activities in the amazing lineup is an opera devoted to collard greens, to be performed Sunday, October 30 at 10am. Yes, you did read that correctly. HuffPost Food is thrilled to have the full lyrics of Leaves of Green below.
The opera is composed by Price Walden, an undergraduate student at the University of Mississippi, where he is a member of the wind ensemble, orchestra and percussion ensemble. The opera is dedicated to his grandparents. Walden admits, on his blog, "I literally can't say the words 'collard green opera' without laughing." He shared further in the text for the opera:
When the Southern Foodways Alliance first approached me with the idea of a "collard green opera," my first instinct was to immediately run the other way. However, the more I thought about it, the better the idea seemed to me. The Southern tradition is full of things that are grandiose and larger-than-life; why not apply that notion to such a peculiar and beloved vegetable?
Below, an excerpt of Leaves of Green from a poem by Annie Vondohlen. For the full text, click here to download.
When I was real little, my mama would say,
"Child eat your collards, don't push them away."
But that word made me shudder, and I'd beg and say "Please
I don'y even like Spinach, don't make me eat these."
But after my pleading, bad becomes worse.
"You don't eat your collards, you get no dessert!"
So I mustered enough courage to take the first bite
And I found out then that my mama was right.
So now when I look at a table that's spread
with casseroles, pastas, fish, meat, and bread,
I search through the bounty and say, "By all means
Fill up this plate with them Collard Greens."
UPDATE 11/2: Here's the full performance.
Popular in the Community