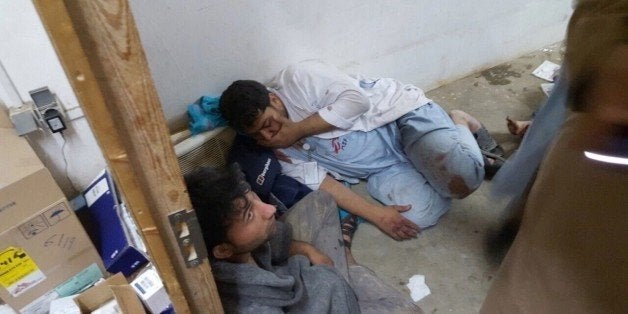 On the night of October 3, 2015 an American attack helicopter bombed and strafed a Doctors Without Borders hospital in Kunduz, Afghanistan. At least 22 medical staff and patients, including three children, were killed. Twenty-four are still missing. The U.N. High Commissioner for Human Rights suggested it might be a war crime.
On October 15, almost a year and a half after he announced the war's end, President Obama again extended American military operations in Afghanistan. Now our soldiers are to remain at least into 2017.
Over 26,000 Afghan citizens have been killed as a result of our invasion, adding to the growing number of the world's people who hate Americans. The killing will continue.
The US Army initially claimed that the assault in Kuduz was an accident. Then, that it was done in order to protect American soldiers. Then, in order to protect Afghan government soldiers. Then, that the US forces may not have sufficiently followed the Army's "rules of engagement," although so far it has declined to tell us exactly what those rules are. The President and the US commander in Afghanistan apologized and promised an investigation that "will hold those responsible accountable."

Don't hold your breath. As Amnesty International has reported, throughout this war the US government has consistently stonewalled investigations of the thousands of Afghan civilians killed in "night raids by US Special Operations forces, air strikes, drone strikes and torture". The episodes are shrugged off as "collateral damage", the unintended consequences of warfare.
Implicit in this notion of collateral damage is that war absolves its participants of murder. The moral logic is that you cannot blame a 20-year old recruit who is trained to kill, armed with savagely destructive weapons, and sent into the terrifying fog of war, for mistaking a wedding guest for an enemy sniper. But the excuse of collateral damage also lets those who sent him or her to war off the hook. And it reinforces the illusion that it is actually possible to wage a crime-free war, i.e. that with more human rights training in the military, better battlefield discipline and smarter weapons we can invade a nation without murdering and maiming innocent civilians.
Wars of aggression never were and never will be free of atrocities. The decision to invade another nation is a decision to kill those who resist and get in your way -soldiers or civilians. Smarter bombs can certainly slaughter with more concentrated effect; in Kunduz, the hospital's emergency and intensive care units were obliterated, while a ward ten yards away was untouched. But such systems are hardly precise regarding whom they kill. As classified Army documents for 2011-13 just made public by Wikileaks reveal, the "vast majority" of US drone strike casualties in Afghanistan were not the intended targets.
The real crime in Afghanistan lies in continuing a war that has long lost any legitimate purpose. A honest search for "those responsible" therefore would follow the evidence up the chain of command through the Pentagon to the Democratic White House and the Republican Congress that keep our troops in a conflict that cannot be won and cannot be continued without raining more death and destruction on an impoverished faraway land that poses no threat to the American people. The inquiry would go even one step further: to the ultimate authority in a democracy - we citizens.
After 14 years of fighting -at a cost of over 2200 American lives, 20,000 seriously wounded, countless mentally damaged and a trillion dollars - it is obvious that we cannot accomplish our stated objectives. The Taliban cannot be destroyed and the Afghan people will not support a US-imposed government. Yet virtually every evening, whether it's on Fox News or PBS, pundits and politicians tell us that with just a little more military training our corrupt, dysfunctional, and opium-dealing puppet Afghan regime could achieve victory.
You don't have to be a military expert to know that this is nonsense. The problem isn't that Afghans don't know how to fight; they are a culture of legendary warriors. The problem is that they don't want to fight for us.
Today the Taliban controls or is contesting more territory than at any time since the war began. Outside Kabul and a few other areas where mountains of our money buy molehills of temporary allegiance, the government's army and police are hated for their oppression and human right abuses. Its courts are crooked and criminally unresponsive, while Taliban justice -- although harsh -- is swift, works without bribes and legal fees, and is honestly administered. Warlords, paid for and armed by the CIA and the Pentagon, indulge in brutal behavior toward their people, including a delight in raping children, which the US army orders its soldiers to ignore. Just more unavoidable collateral damage.
This wretched experience tells us that unless we are willing to remain fighting forever in Afghanistan the major force in that country's future is likely to be the Taliban, whose Muslim fundamentalism, by the way, was not a problem for us when the CIA was supplying it with weapons to fight a Russian supported secular regime in Kabul.
Moreover, the longer we stay, the greater are the chances that what comes after us will be much worse than the Taliban. ISIS, with its truly savage Wahhabi fanaticism (exported from our allies in Saudi Arabia), is now operating in eastern Afghanistan near the Pakistani border.
Today prospects of our governing class pulling out after Obama leaves the White House are nil. The potential Republican presidential candidates are balloons of patriotic bombast, demanding that the war be further escalated. The Democrats speak more moderately, but in the recent debate among them, none of the candidates were willing to say, "We've had enough. Time to go home."
As for the voters in whose name this war is being fought, a majority tells pollsters that the war in Afghanistan was a mistake. Yet they support the decision to keep out troops there.
There are many reasons why we have no serious anti-war movement in this country, why we Americans who claim to despise and distrust big government are willing to give it the right to murder in our name. One is the absence of a draft, which allows us to keep our own children safe.
Still, we consider ourselves an exceptionally moral people. Our presumed good intentions allow us to rationalize destroyed hospitals, pulverized houses and children's corpses as preventable accidents, so long as we promise to try real hard to avoid such errors during the next blitz. The atrocities are therefore conveniently removed from the implicit moral cost/benefit calculation for which citizens in a democracy are responsible when it comes to issues of life and death.
If the war is morally costless, it matters less that it has lost its purpose. Our consciences are thus cleared for maintaining the cynical and soulless post-Viet Nam bargain between we voters and those we vote for: they will not draft our children; we will not oppose their wars.
So, by all means, let us urge the President to find out what happened that night in Kunduz. But let the search continue up the ladder of power. When the investigation reaches those ultimately responsible, we will find ourselves looking in a mirror.
Popular in the Community