This week, tens of thousands of collectors, specialists and curators converge in the Dutch town of Maastricht for the annual art and antiques fair, TEFAF. Over thirty thousand objects will be showcased by some 275 art dealers (March 11-20).

One of the most intimate displays at this year's fair isn't for sale. Organized by Rotterdam's Museum Boijmans Van Beuningen, "Collecting Collectors" features thirty jewels from the museum's storied Print Room. Though many of these works on paper were created as preparatory aids for paintings, all are works of art in their own right.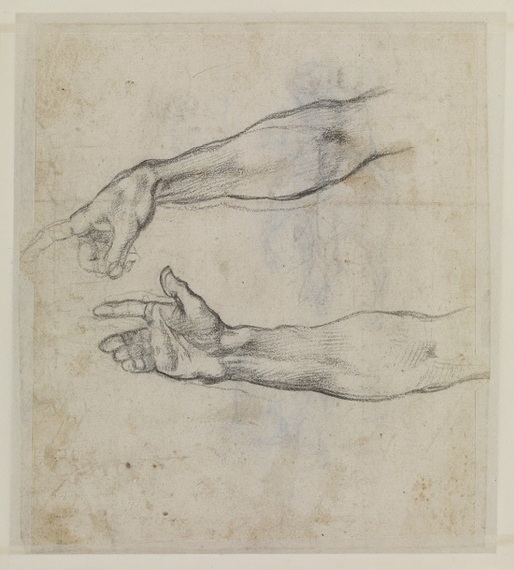 Michelangelo Buonarroti, Studies of an outstretched arm for the fresco 'The Drunkenness of Noah' in the Sistine Chapel, ca. 1508-1509. Black chalk. Museum Boijmans Van Beuningen (Collection F. Koenigs)
Hands and feet are a recurring theme. From Michelangelo comes a beautiful sheet, Studies of an outstretched arm for the fresco 'The Drunkenness of Noah' in the Sistine Chapel. There's an exquisite Study of Two feet for the Apostle Paul in the Heller Altarpiece by Albrecht Dürer and red and black chalk Woman with Folded Hands by Peter Paul Rubens. Fast forward three centuries, we meet Salvador Dali in a self-portrait with his arm outstretched.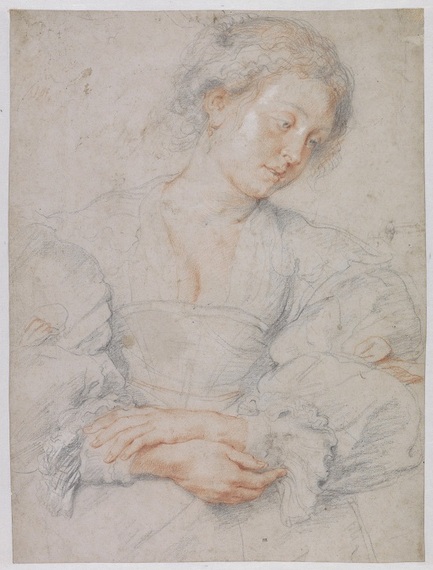 Peter Paul Rubens, Young woman with Folded Hands, ca. 1629-1630. Red chalk, black chalk, heightened with white. Museum Boijmans Van Beuningen (Collection F. Koenigs).
Alongside these works are three equally remarkable drawings by a lesser known contemporary of Michelangelo. Fra Bartolommeo, son of a Tuscan mule driver, became a Dominican monk after watching the charismatic preacher Savonarola being dragged off to prison. Reportedly burning his non-religious works, Bartolommeo resumed painting at Florence's convent of San Marco, focusing exclusively on religious subjects.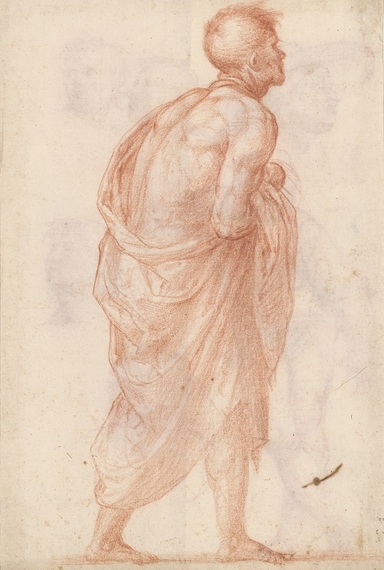 Fra Bartolommeo, Man Walking to the Right, Study for a Bystander in the painting 'Madonna della Misericordia', ca. 1514-1515. Red chalk. Museum Boijmans Van Beuningen (Collection F. Koenigs).
One sheet with red chalk drawings relates to Fra Bartolommeo's late altarpiece, Madonna della Misericordia (Lucca, Museo Nazionale di Villa Guinigi, 1515). A third drawing in black chalk is a study for St. Bernard in the 'Carondelet Madonna' Altarpiece (c. 1511-1512). It's been remounted for this exhibition in its original gold-tooled, red leather-bound album, assembled in 1729 by Florentine collector Niccolò Gabburri. In 1989, some 500 drawings on 400 sheets by Bartolommeo were removed from Gabburri's two luxurious albums to help conserve them.
According to Albert Elen, senior curator of drawings and prints at Museum Boijmans Van Beuningen, black chalk was Fra Bartolommeo's predominant drawing medium. The artist started using red chalk in 1511 for preparatory drawings for the Pala del Gran Consiglio in Florence's Palazzo Vecchio. With its warm tone, red chalk soon became his preferred medium for detail studies of nude figures.
A master draftsman, Bartolommeo left nothing to chance. He drew preparatory studies for his compositions, making numerous pentimenti, and often elaborated his figures and groups in separate studies. He'd transfer these scale drawings onto canvas, and then painted with a rich Venetian palette and subtle blending of color, known as sfumato.
The drawings are a sneak preview of an upcoming exhibition in Rotterdam marking the 500th anniversary of the artist's death. "Fra Bartolommeo - The Divine Renaissance" (October 15, 2016 to January 15, 2017) will feature 150 drawings and eleven paintings, from a small diptych for private devotion (Uffizi, Florence) to the 13 foot tall Madonna of Mercy recently transferred from panel to canvas. The Museo Nazionale di San Marco is lending Bartolommeo's portrait of Savonarola.
Displayed together, the preparatory drawings and paintings will offer unique insights into Fra Bartolommeo's working process. "It's an opportunity to experience the creative process leading up to these magnificent paintings," says Elen, "by an artist who belongs to the Fabulous Four of the High Renaissance: Leonardo da Vinci, Raphael, Michelangelo and Fra Bartolommeo."
Susan Jaques' biography, The Empress of Art: Catherine the Great and the Transformation of Russia will be published in April by Pegasus Books.
Popular in the Community