Though Fashion Month is a full four weeks, the best collections are seen at the very end during Paris Fashion Week. The biggest designers like Karl Lagerfeld, Hedi Slimane and Riccardo Tisci present their collections, and the most over-the-top shows are put on. With a gaggle of amazing garments being sent down the runway, it can be difficult to keep up with it all -- unless you have countless hours to devote to clicking through images on Style.com.
To help you stay abreast of the important goings-on in Paris, we've rounded up the 10 most important collections of the week. Stop worrying, start reading and catch up on all you need to know from PFW below.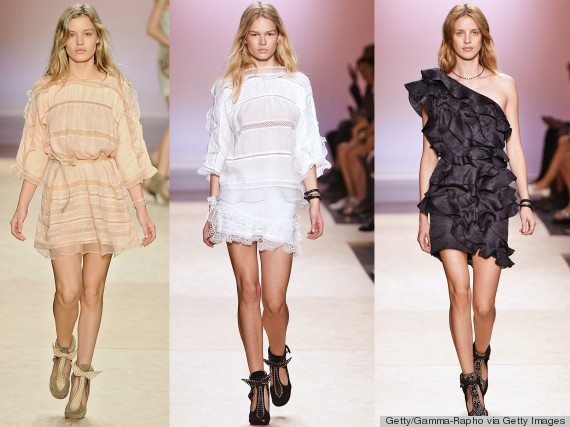 It's safe to say if you want to know the trends for the upcoming season, you can look to Isabel Marant. The designer herself has become an icon for all things French and chic, and everything she puts down the runway becomes instantly coveted by all (we're all familiar with the sneaker wedge). And it appears as though next spring, we are going to want to stock up on ruffles, ruffles and more ruffles.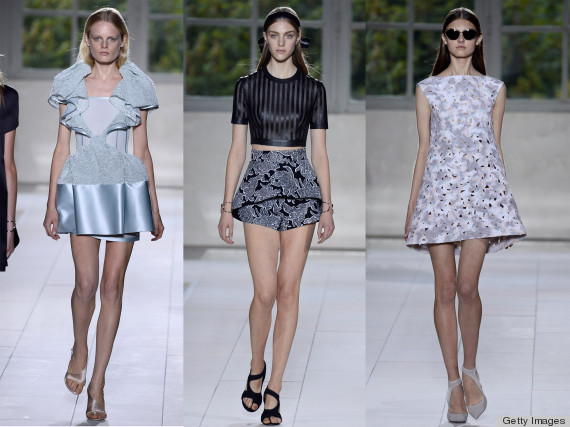 After Alexander Wang received positive feedback following his first collection at Balenciaga, it left him room to play. Though the classic Balenciaga aesthetic was present throughout his collection, we couldn't help but notice subtle nods to his namesake line through relaxed tanks and sporty shorts -- now this is a Wang we can get on board with.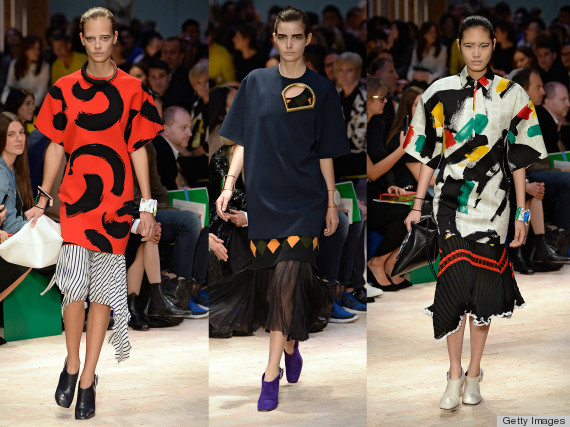 Phoebe Philo, the creative director of Céline, single-handedly revived the ailing French brand a few years ago with her minimalist approach and love of neutrals. But this season, she sent a color-splashed collection down the runway, proving that maybe orange really is the new black.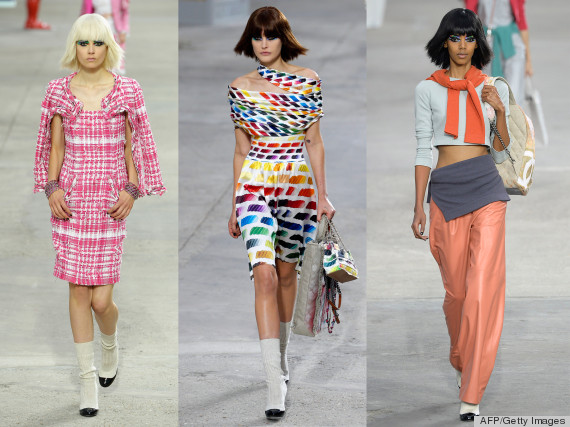 It's not Paris Fashion Week without the Chanel show (or extravaganza, in this case). With a life-sized robot in the shape of a Chanel No. 5 bottle, it's hard to imagine how anyone could focus on the clothes, but thankfully the some odd 89 looks were more than enough time to soak it all in. Of course we saw Chanel classics like tweed suits and white booties, but there was also a healthy dose of streetwear in the form of orange leather trousers and denim vests.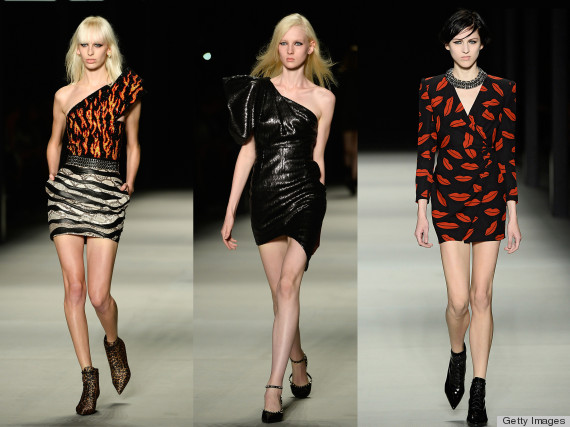 Rock 'n' roll meets Las Vegas was the theme at the Saint Laurent show. Red lip motifs were seen on dresses, tight leather skirts came down the catwalk a mile a minute and there was enough animal print to last a lifetime. Looks like Hedi Slimane spoke with the Mulleavy sisters before creating his collection, as his garments bore an uncanny resemblance to the looks we saw at Rodarte's Spring 2014 show.

Givenchy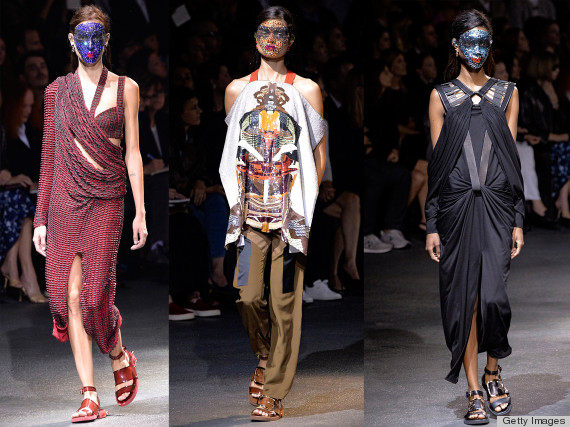 Probably one of the most talked-about shows during PFW was the bizarre collection that came down the runway at Givenchy. Some deemed it brilliant, while others were left scratching their heads at the smoking pileup of vintage cars in the middle of the runway and the sequined face masks.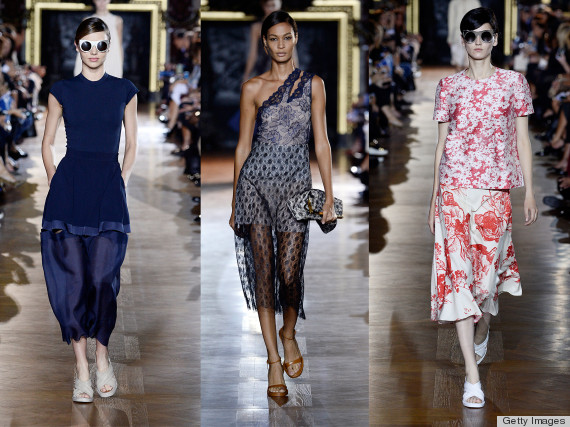 Sleek, fashionable, practical and wearable are always the main themes running through McCartney's collections, and this spring was no different. Her easy-to-wear separates, luxe fabrics and expert tailoring will always make her every editor's go-to designer.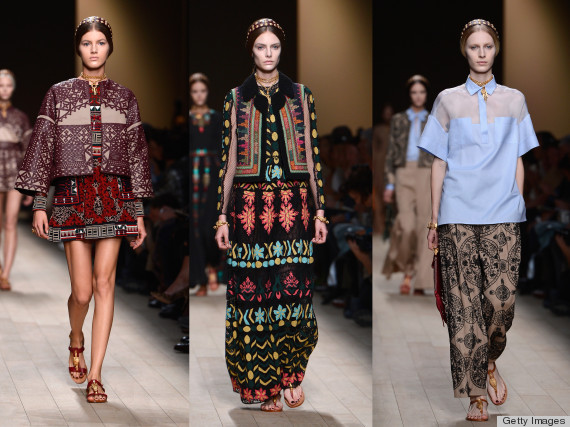 Opulence was the name of the game at Valentino. Embroidered dresses, tapestry skirts and embellished sandals flooded the runway and showed us why sometimes more is more.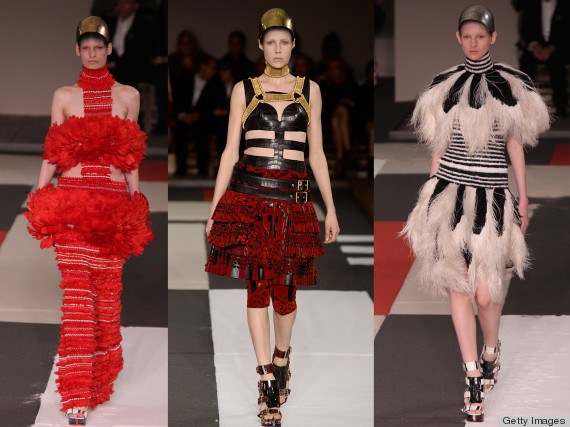 Creative director Sarah Burton cited early twentieth-century modernism as the inspiration behind her latest collection and what we saw was a mix of leather bondage bralettes, shoes that resembled violent weaponry and feather turtleneck dresses -- perhaps this is Burton's liberal take on modernism?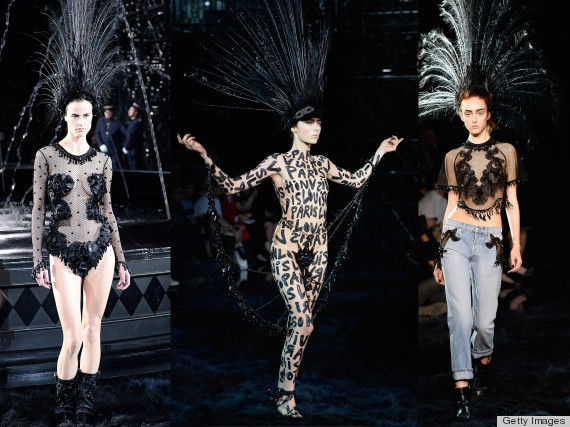 With news breaking this morning that Marc Jacobs is officially leaving Louis Vuitton, his last collection for the venerated French house clearly marked the end of an era. The all-black theme seemed appropriate, as in some ways, we are mourning a great loss. Though the air might have been sad, there is no denying the beauty in Jacobs' garments. The menswear-inspired collection was full of over-the-top embellishments, lavish textures and ornate headdresses. He sure did go out with a bang.
Check out some more memorable moments from PFW: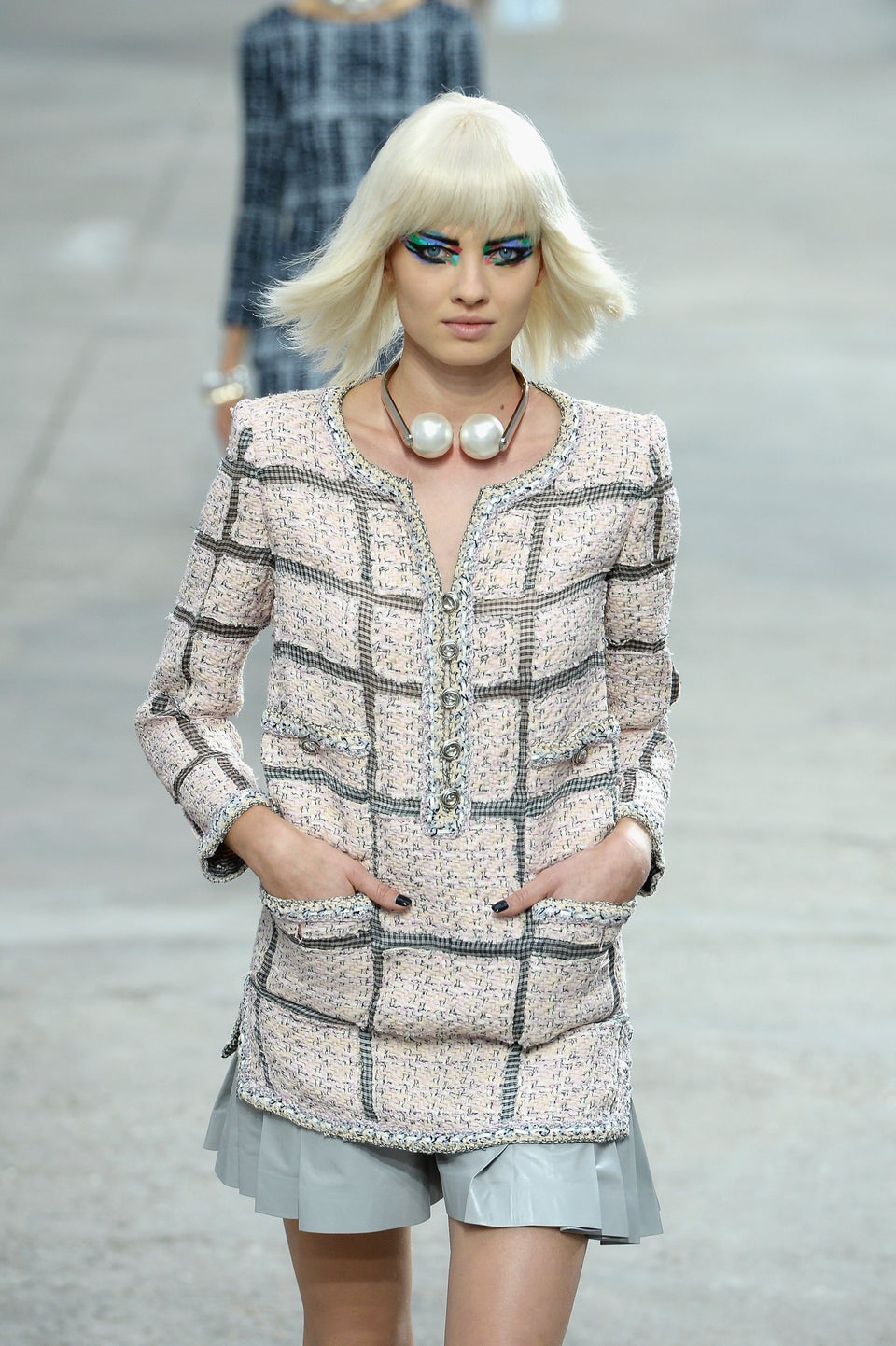 Paris Fashion Week Spring 2014
Related