I got on my plane to NY after 48 hours in Detroit with tears in my eyes. Why was I so moved by the people, entrepreneurs, and start-ups I met during such a short visit? Trips to London, Milan, Los Angeles and San Francisco have never affected me in such a way. I realized what I was feeling was complete admiration for all of the people whom I met-- from new college grads who had forsaken six-figure jobs in major cities to grown-and-bred Detroiters who have refused to give up on their beloved city.
For many of us who have experienced failure, it's much harder to come down the higher you have risen. I've been to the Philippines recently to mentor start-ups and judge a Hack2Hatch competition in Cebu. Though poverty still exists in the third world country, the excitement and economic growth is evident by the amount of buildings under construction, clogged automobiles on the streets, and highways being constructed. In downtown Detroit, there are multitudes of majestic buildings unoccupied, boulevards with barely any cars, and traffic lights controlling traffic for a few cars and a handful of pedestrians. Imagine Madison Avenue with only 3 stores remaining or Park Avenue with only a few partially occupied buildings while the rest are vacant... that is Detroit.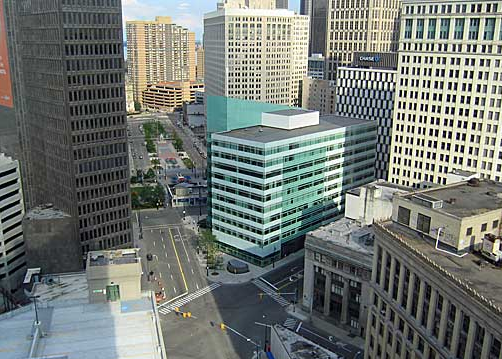 The fall of Detroit has been blamed on many things--NAFTA, unions, gang wars, bankers, white flight, corruption, Bush, Clinton, and the Japanese. I had never been to Detroit. I was invited to visit by Brian Bosche, Dartmouth grad and a Venture for America fellow whom I met last summer at VFA's training camp at Brown University and is now working at Bizdom. Venture for America is founded by my friend Andrew Yang and is modeled after Teach for America where talented college grads are encouraged to work for two years at re-emerging cities such as Detroit where bright minds are most needed. Bizdom is founded by Dan Gilbert (Founder of Quicken and owner of the NBA franchise Cleveland Cavaliers) and is a start-up accelerator program that provides the support and resources necessary for aspiring entrepreneurs to get their businesses off the ground in Detroit and Cleveland. Brian invited me to mentor five of them (Visify, foodjunky, Canopi, Wedit, and Cookie) as well as give a presentation to a roomful of entrepreneurs from the community during a luncheon. I had zero expectations.
What I did notice was that the people at Bizdom, from staff to entrepreneurs, are different from the people I saw on the streets of Detroit. They held their heads up high, smiled, and were in a rush to go places. Many Detroiters I saw on the streets and in coffee shops lingered and wallowed, as if they had nowhere to be and no one waiting for them. Each entrepreneur was full of hope, from Sanket Shah, CEO of Visify who emigrated from Mumbai and just graduated from University of Michigan's Masters in Entrepreneurship program to Sarah Brithinee, a transplant from LA who was initially brought on board as Director of Marketing and then wound up taking over as CEO of Wedit after the founder gave up on it (she turned around the business and tripled sales in one year), to musician and sax player Jeff Ponders, a local Detroiter who graduated from Wharton and whose start-up Cookie has recently been selected to be a part of Bizdom.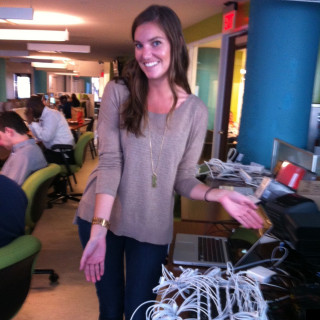 There are currently twelve VFA fellows in Detroit mostly working for Dan Gilbert-funded projects with fifteen more coming in the Fall. The first twelve are already making an impact to the local economy and the community of Detroit. Two, Brian Bosche and Brentt Baltimore, even created a non-profit, Startup Effect, in their spare time to mentor and give hope to middle school students so that they too can become entrepreneurs. Gabby Bryant, who is my official VFA mentee, graduated from Harvard and decided to come back to her hometown of Detroit and give back. She now works for Dandelion, advising community organizations on strategy and operations so they may succeed and better serve Detroit.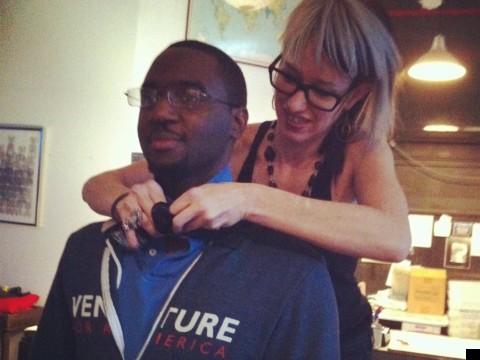 Before I left for the airport, my friend from Summit Series Bethany Shorb, a 14-year Detroit resident and founder of "Ties That Don't Suck" Cyperoptix took me to visit Ponyride on the outskirts of downtown Detroit.
Ponyride is a formerly foreclosed 30,000 ft. warehouse bought for $100,000 by Phil Cooley and which he rents to artists and designers for $0.20 per square foot (yes, the decimal point is in the correct spot). Participants (they are not called tenants) in Ponyride are encouraged to serve Detroit communities by sharing their craft and expertise. Residents in the warehouse include Detroit Denim, Smith Shop Detroit, Stukenborg Letterpress Studio to dance space for Runjit and workout space for En Garde! Detroit, which teaches youths fencing as another way to keep them healthy and off the streets.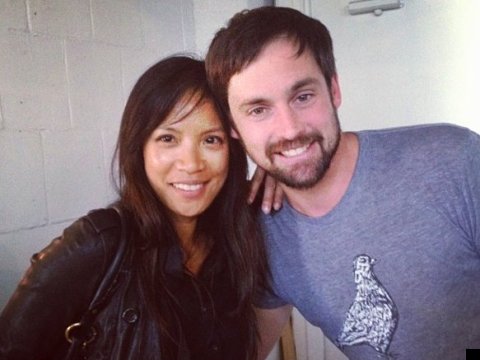 As my plane back to New York was taking off, I knew I would come back to Detroit. So much more needs to be done. Philanthropists like Dan Gilbert and Phil Cooley and organizations such as Venture for America are making an impact but what is currently happening is a tiny drop in the bucket. I will continue to be involved with the startups I've met and will be making introductions on behalf of the CEOs to potential investors and customers who are in my network. I encourage everyone to support Detroit businesses (Cyberoptix, Detroit Denim, Ghostly, Wedit, Canopi, and Ponyride) and bright new grads to apply to VFA where your talents can be shared and your impact can be felt immediately. Oh, and ESPN/NBC, please award the Summer X Games to Detroit. They could really use it. I'm planning on going back again in a couple of months, who wants to join me?
Related