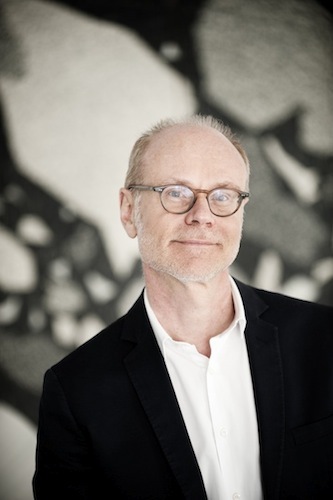 On the occasion of the 33rd edition of Art Brussels, one of Europe's most popular contemporary art fairs, we caught up with Frédéric de Goldschmidt, an influential yet discreet, French collector living in the Belgium capital.
De Goldschmidt actively supports international and local emerging artists through his collection and involvement in many artistic happenings around the city. This has established him as one of the key players of the Brussels art scene, where he keeps and shares his collection, by appointment. He sat down with us to answer 10 Questions about his "eye" and vision for collecting.
Q: When and why did you start collecting art ?
de Goldschmidt: I bought my first pieces of artwork when I was a teenager. They were two prints, one by Hans Hartung, one by Zao Wou-ki. The first original piece of contemporary art I bought with serious consideration was a work by Benjamin Sabatier in 2007. I had seen a work at FIAC that was sold and I wrote down the day of his next opening in order for me to be there at the beginning of the opening - which I successfully did. The work was made with ice cube trays filed with crumpled magazine pages. A few months later, I decided to take a year off and spend my time visiting museums, exhibitions, art fairs. It was my grandmother who made me appreciate art and she was a collector, so I decided to « recycle » into art part of my inheritance from her. It is a kind of homage. I hope I'll be able to transmit a taste and a collection to my grandchildren too... And in the meantime to be challenged by art and artists.
Q: Is your collection more based on the subject rather than a certain artistic movement ?
de Goldschmidt: Works from the ZERO group and related artists of the 60s were among my first acquisitions during my "sabbatical." I don't follow a concept, but I keep a strong attraction to the simple and unconventional materials they used: cardboard with Schoonhoven, nails with Uecker, corks with Henderikse, styrofoam balls with Manzoni, I appreciate contemporary artists with the same inspiration. I buy works that speak to me more than I follow than artists or movements.
Q: What are the key artists in your collection ?
de Goldschmidt:I started collecting works that struck me when I was only visiting museums and shows. I was sensible to Arte Povera in Italy, so I bought works by Alighiero Boetti, a large piece by Kounellis,...One of my first major acquisition of a 21st century artist was a piece by Mike Kelley, a very multifaceted artist whose Memory wares particularly attracted me. I now concentrate on current production, works out of studio. The names of the artists will hopefully be recognized in a few years.
Q: Do you collect any kind of mediums, including video and performance ?
de Goldschmidt: I have a problem with video because I am not patient enough to set up the equipment, sit down and stay quiet for 20 minutes... And I don't even own a TV... I nevertheless bought my first video, by Amélie Bouvier, this year, because it was a large edition and at a low price. I think that videos should be published as they were at the beginning, without limitation, and sold at a reasonable price, like a DVD or a film on iTunes. More people could thus look at them on their computer when they have some free time. I would like to collect performance, it is easier to store but it is even more difficult to show...
Q: You are very close to young artists and often support them. Do you consider it is important to be in contact with tomorrow's artists and help them develop ?
de Goldschmidt: Yes, this is part of what I consider a duty: use part my grandmother's inheritance to support contemporary creators. It makes much more sense to buy the work of a young artist who must eat today...than from a dead collector. In a period when state support is diminishing, collectors could take over part of this responsibility.
Q: You regularly organize exhibitions of your collection's works, on the occasion of which you work with emerging curators. Can you talk about the show "Break it out!" organized by Julian Elias Bronner and Benjamin Faust on the occasion of the Art Brussels fair ?
de Goldschmidt: I asked two young New Yorkers, Julian Elias Bronner, an art journalist and Benjamin Faust Weber, an artist, to build a show around a piece by Alighiero e Boetti, "Zig zag," and draw some lines between this sculpture made of a multi-color lounge chair and aluminum and other works from my collection, They tried to push a bit the aesthetic framework of the collection by inviting young Belgian or American artists not (yet...) represented in the collection. I am very happy with it.
Q: Last year, you contributed to the exhibition "Stalactica" and you took part in the funding of a monumental piece of art made by the artist trio Clairenadiasimon at the CAB. Were you involved in other events this year during Art Brussels?
de Goldschmidt: No production this year, but I was involved in three shows : "Break Out!" at my space, "Do you have barbaric taste?" at Poppositions with over 40 works and I also lent a work to a show of Japanese art curated by Nathalie Guiot at Hangar18.
"Do you have barbaric taste?" was organized by the young curators, Les Commissaires Anonymes and Nicolas de Ribou, who wanted to bring together a selection of works acquired for less than 8,000 euros over the past 10 years from a group of five Brussels-based collectors. They wanted to combine established and emerging artists to reflect on the role of collectors as defining cultural judgments and forming artistic hierarchies. It should be quite exciting to see how the rearrangement of our collections will look like -for us and for the public.
Q: You took part in the Solo prize as a juror, which rewards an artist's ambitious project. How do you relate to Art Brussels?
de Goldschmidt: Art Brussels is great and I believe it is important to support your hometown fair. Though I am French, Brussels is where I keep and show my collection. It is thus a responsibility to show the best possible images to foreign visitors, galleries, and artists by attracting and rewarding those who make the effort of putting together an ambitious booth.
Q: You are a very active and hard-working collector. What are your basic ideas for collecting art?
de Goldschmidt: Collecting art is both an impulsive egotistic pleasure and an altruistic social responsibility. It is fun to acquire and keep in your home a work in which an artist has put all his feelings and savoir faire. But it is a responsibility not to keep it for yourself and to maintain it for the future generations. Collectors need to help art to be made by acquiring works from the artists of their time and also be custodians for the future .
Q: What do you think the role of a collector is in the making of art history ?
de Goldschmidt: Collectors give artists the mean to create the works. The variety of taste among collectors should allow all artists to express themselves. Collectors (like all those who look at art) can see things that artists don't even see in their works - and make them look better by creating a dialogue them with works by other artists. But it is what the viewers of the future will see in today's works that will decide if they made it into art history - and if the collector did.
Constance Breton is an ARTPHAIRE contributor. She is also a the founder of The Art of this Century, which is a platform that offers bespoke experiences and journeys in the art world for a private community of members.
PHOTO GALLERY
Collector Spotlight: 10 Questions for Brussels' Frederic de Goldschmidt
REAL LIFE. REAL NEWS. REAL VOICES.
Help us tell more of the stories that matter from voices that too often remain unheard.