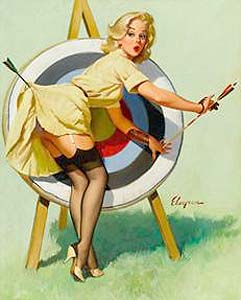 Charles Martignette loved illustration art. So much that his collection included not just a few pieces, but thousands. His prized possessions hung on the walls, were kept in storage rooms and in a large warehouse space.
Martignette was enamored with pin-up girls (Bettie Page) to great works by noted artist, Norman Rockwell.
Martignette's collection of over 4,000 works go on the auction block in Dallas, Texas today at Heritage Auction Gallery.
Up for bid are a variety of works such as original illustrations for the cover of the Saturday Evening Post to paintings used as the cover of calendars and paperback books.
It has been said this is the most important collection of illustration art to ever become available on the market at one time. In 2002, Illustration Art began reaching prices at auction never seen before. Norman Rockwells "Rosie The Riveter" painting sold for $4.9 million dollars.
Martignette was a very savvy buyer. He had a great eye, and new the art of negotiating a deal.
He began collecting art in the 1970s from his home in Florida. He was known for being cheap. While owning an important art collection, he was known for shopping for clothing at thrift stores.
When Martignette passed, he had no will in place. His entire estate went to relatives, who sold the art collection to an investment group (who in turn, consigned it to Heritage).
To learn more about pin-up art, pick up a copy of either book Martignette co-authored: The Great American Pin-Up and also Gil Elvgren: All His Glamorous American Pin-Ups.

Check out the sale, and prices realized by going to www.ha.com