You might not know her by name, but costume designer Colleen Atwood's visual impact on the silver screen has hardly gone unnoticed. A frequent collaborator with heavy hitters Tim Burton, Jonathan Demme and Rob Marshall, Atwood has lent her creative talent to more than 60 feature films, including "Edward Scissorhands," "Beloved" and "Silence of the Lambs." She's picked up three Academy Awards for Best Costume Design ("Chicago," "Memoirs of a Geisha" and "Alice in Wonderland"), with another seven nominations. And she shows no signs of stopping there.
"I moved to New York in 1980 with $800," she told The Huffington Post. "I sewed labels on for bespoke designers in SoHo." Her technical skills would quickly improve as she's become known for inconceivably intricate designs and brilliant, one-of-a-kind pieces. Honored recently at the Middleburg Film Festival, Atwood received the Distinguished Costume Designer award.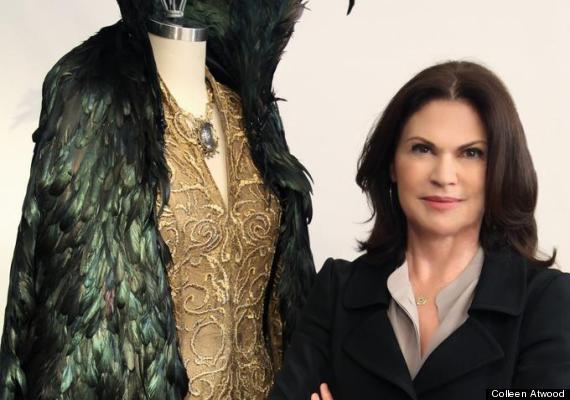 Atwood's latest project embodies her strengths, creating far more elaborate designs than fans would recognize from a stage production of Stephen Sondheim's "Into the Woods." "The trickiest aspect of about 'Into the Woods,' and the thing that changed when it became a Disney film, is that Little Red was played by an adult [on Broadway] and in the film she is played by a child," Atwood explained.
Rob Marshall, director of the ambitious and star-studded adaptation of "Into the Woods," in theaters Dec. 25, has had the good fortune to join forces with Atwood on numerous occasions.
"Johnny [Depp] was actually very involved in the creation of [his costume]," Marshall told HuffPost, "because he is a creative force, obviously. He was very inspired by the wolf of the cartoons of Tex Avery from the '40s, where the wolf is dressed in a zoot suit and a fedora, and it's like a wolf in sheep's clothing."
"In costuming, a lot of actors dread the fitting -- a new form of punishment -- but once they're in the room they love it," Atwood said. "It's about presenting a point of view. In a fitting, you can see right away whats not working for an actor."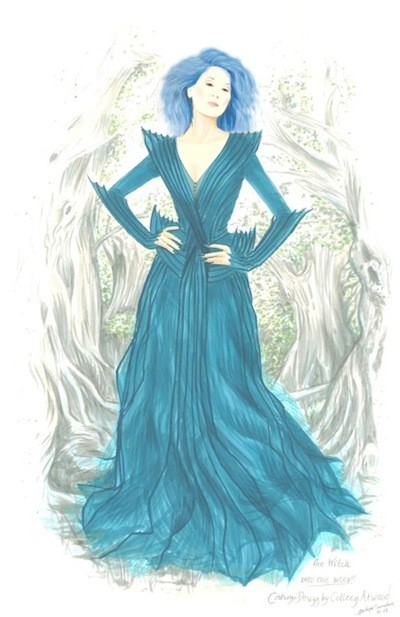 For "Into the Woods," Marshall used Atwood's longstanding relationship with Depp to his advantage. "[Atwood and Depp] have worked together on everything from 'Edward Scissorhands' to 'Alice in Wonderland,' they've done a million movies together and I've done a million movies with Colleen. So, we were able to find our stylized version of the Wolf, and let Johnny play it."
Atwood reiterated Depp's influence in the design process: "Johnny has a certain intuitive sense of style and character that is definitely something he owns," she said. "I've known Johnny for 20 years, so I've seen Johnny become Johnny, in a way. In designing for him, I try to give him little magical things: for instance, when I did 'Alice,' thimbles for his fingers and a pin cushion ring I found on eBay."
These "magical things" foster the talent's eccentricities, Atwood explained, offering something more prominent costume pieces do not. "I don't particularly like films where I have to go shopping and go through 25 people to decide which white blouse is the right white blouse," she said. "That's not for me."
She's managed to avoid being pigeonholed throughout her decades-long career, designing costumes for everything from ballets to commercials. But Atwood admits her most remarkable creations have appeared in Burton's films, and that she's turned him down just once. "The only time I've ever said no to Tim was 'Charlie and the Chocolate Factory,' for personal reasons, but initially I was supposed to do it," Atwood explained. "It was very tough, but its strange, because at the same time, right after I said no, which was heartbreaking because I really wanted to do it, they called me to do 'Memoirs of a Geisha,' which was a blessing in a different way," she said. (Atwood's work on "Memoirs of a Geisha" was recognized with an Oscar for Best Achievement in Costume Design -- her second.) "In my career I've been extremely lucky."
Not every film Atwood has worked on earned an Oscar nod, but that's not what drives her work. "The Martian Girl dress [for Burton's 'Mars Attacks'] went through many evolutions. But it was the most awesome kind of costume, because it was so low tech," she said. Known for fantastic, hand-made designs, Atwood proves that sometimes all it takes a little glitter and glue to pull off a showstopper. "People just didn't get ['Mars Attacks'] at the time and it's such a cool movie. I remember the premiere was very industry. It's a shame that the reaction wasn't more positive -- like one finger clapping -- and I was really bummed for time. We went across the street to the party and Jack [Nicholson] and he looks and me and says, 'Who cares! It's a great movie,' and I think he's right and I'm really glad I did it."
Though often months of planning goes into a single design, a somewhat abbreviated conceptualization has produced exceptional results at least once for the designer.
"I did that mask [worn by Hannibal Lecter in 'Silence of the Lambs'] and it was loosely based on a hockey mask -- and originally it was going have a different surface, but a sample came in to try on Anthony [Hopkins] and it was in raw fiberglass, which looked like skin, and I said, 'Well, I think it's done.' It was so creepy that way that it worked," Atwood explained. "We had no idea it would be so creepy."
The impeccable severity of the costumes for "Gattaca," 1997's absorbing sci-fi flick starring Ethan Hawke and Uma Thurman, were a testament to the designer's resourcefulness. "'Gattaca' had a really low budget, but I found a lot of really beautiful '30s men's suits, and I recut some '80s suits with modern fabric to make it work," she said. "I could dress that way myself in that it's urban timelessness, almost like a uniform."
Amused by the notion that she'd ever imagine herself in, say, seductress Velma Kelly's shoes, however, Atwood described her design philosophy as it relates to the dazzling pieces she created for "Chicago," Marshall's 2002 musical adaptation that collected six Oscars of 12 nominations (including Atwood's for the costumes). "When I design costumes, it's an external thing," she said, "not something that I see myself in. It's a vision that I have of other things. My wardrobe, I tend to keep it rather simple." In her own closet, Atwood reaches for Saint Laurent, and "usually something black."
To emerging costume designers with aspirations to work in Hollywood, Atwood offers sound advice: "It's different now, but it's not different. If you get a job on a film, even if not in the department you want to be in, take it. If you're good at your job and you work hard, people will notice -- it's a foot in the door. [...] At the end of the day, I'm proud to say that I experience continual joy in what I do," Atwood said, racking up Oscar nominations along the way.
Related
Popular in the Community