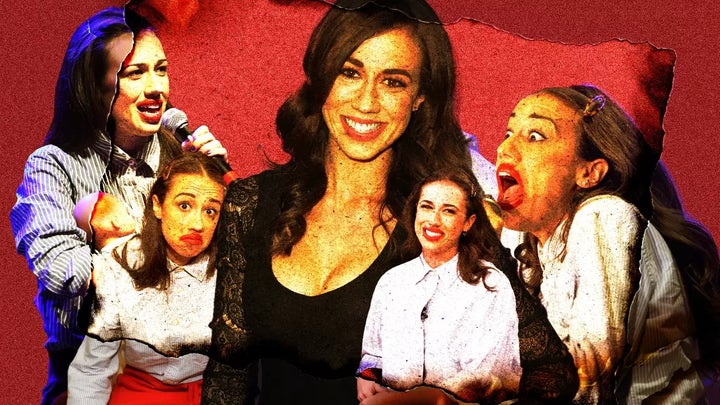 Colleen Ballinger, a children's YouTube star accused by several of her longtime fans of "grooming" them when they were teens, is facing new allegations this week that she sent her fans nude photos and videos of another influencer without the woman's consent.
Two of Ballinger's fans — who told HuffPost last month that Ballinger fostered inappropriate and emotionally abusive relationships with them when they were as young as 13 years old — claimed on Twitter Monday that Ballinger sent them lewd texts when one of them was a minor. The texts allegedly included nude photos and videos of Trisha Paytas, another YouTuber. One accuser posted screenshots of the alleged messages.
Paytas, who started a podcast with Ballinger earlier this year, called the texts "disgusting" in a video she posted to YouTube on Monday after HuffPost reached out.
"I do not condone it," Paytas said in the video. "I think it's the most disgusting thing. And above all else, illegal."
Revenge porn — the act of posting someone's intimate photos online without their consent — is illegal in California, where Ballinger is based. There was no immediate confirmation Monday that Ballinger had violated the law or that she was under criminal investigation.
On Monday, one of Ballinger's former fans, Johnny Silvestri, 27, posted several text exchanges that he said were from Ballinger, dating to when Silvestri was 22. Adam McInytre, who was a fan of Ballinger when he was a minor, corroborated Silvestri's claims on Twitter and said Ballinger also sent him nude photos of Paytas.
The messages show Paytas posing in various states of undress, in photos and videos originating from other social media platforms. Paytas has been a sex worker for several years, and sometimes charges for nude photos of herself on her own website and on OnlyFans.
In her video Monday, Paytas said the nude images were behind a paywall on her sites, where users had to be 18 years old to view them. Ballinger, she said, had sent the explicit material to fans, including one minor, without Paytas' consent or knowledge.
Ballinger and Paytas started a podcast this year called "Oversharing With Colleen and Trish," and had been friends for years, Paytas said in her YouTube video. They're no longer associated, Paytas said.
"I don't stand by [Ballinger]," she said in the video. "I'm embarrassed to be associated with her. I'm embarrassed for the fans that she messaged those to. That should never have happened. And again, this really hurts sex workers as a whole. This is out there and it looks like we're some deviants because this is used in this way."
In another tweet on Monday, Silvestri posted more screenshots of alleged texts from Ballinger, featuring what appear to be pornographic videos from Paytas' paywalled sites. Silvestri described the texts as "viewing parties for Trisha's porn." In her video, Paytas referenced the "viewing parties" and said Ballinger sent the videos around "to make fun of me."
In a HuffPost investigation, several former fans of Ballinger said that now, as adults, they look back on their relationships with the YouTuber as inappropriate. Ballinger would allegedly talk about sex to fans who were minors, and encourage them to find out what people were saying about her on gossip sites.
Paytas said in her video Monday that just months before the texts were allegedly sent, Paytas was in Ballinger's home recording a mukbang with her.
"I'm not going to speak on this again," Paytas said. "I will never speak on Colleen again. She just does not exist to me anymore."
Ballinger did not immediately respond to a request for comment for this story.
Support HuffPost
The Stakes Have Never Been Higher
Popular in the Community