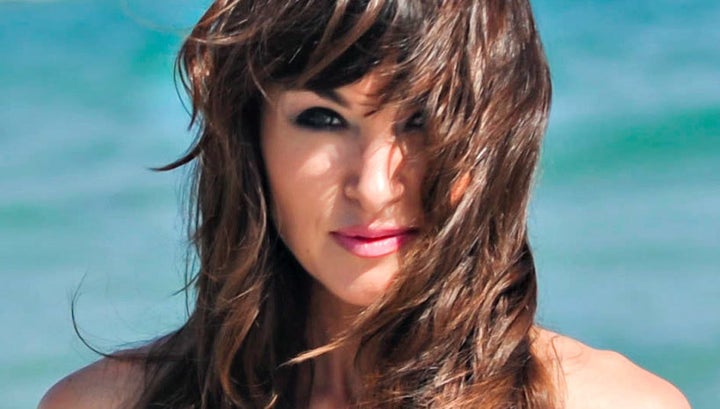 This interview is part of the Real Talk Real Women interview series, where we bring you the life-changing, heart-warming and inspirational stories behind the most successful women in health and fitness. Make sure to follow us on Instagram for the latest interviews! For this installment, we are joined by Colleen M. Holiday.
Let's start off with a general introduction. How would you describe yourself, what are you all about and how did you get involved in health and fitness?
I would describe myself as strong, resilient and motivated. I am all about giving women (I train men too however) the tools they need to become the best version of themselves. I am not your typical trainer where you training stops when you leave the weight room. Really feeling good about yourself involves more mind than body. If you don't have the right mindset to train-your body will never respond to training or be open to nutrition changes or life changes.
I first got involved in health and fitness when I was just a teenager. A pretty lost one that found solace in the weight room. I was 87 pounds when I graduated high school. I was a terrible student but attended college hoping to find something that I loved as much as working out. After years of failing high school (almost every year) I Majored in Psych and business, then legal studies and the graduate courses in resiliency and counseling.
Every semester I would take weight training as my elective. Suddenly my father passed away and my mom and I were virtually homeless. I had to make a career out of something and long before people hired trainers I threw two weights the trunk and so my career began.
I started with a meager hourly salary but it wasn't until after about 15 years and my observation that after 30 women's self esteem literally tanked. I wanted to train a few women for free to advertise my program but none would actually do it! I live in the 6th most overweight city in the USA. Health wasn't so popular. So I did my own before and afters at 45. I had a photo shoot and was featured on Bodybuilding.com. I've sold posters and calendars.
I have combined my education and fitness expertise to help women make a comeback after 30, after a divorce, or gaining weight after having children. I build an environment that makes them feel as if I am walking them to the finish line of their goals. Yes it is possible to be awesome at 50 and beyond.
Where does your motivation come from?
My motivation stems from a pretty tough childhood. My environment all together was negative. I felt like the ugly kid all the time. My family had their problems, so I was never prepared for school. I didn't have a lot of clothes-had no idea about make-up, we never brought home books or had time to study. All this left a pretty poor image of myself in my head.
Those images are hard to let go of and what I found was many women have this same problem at points in their lives. My motivation behind my business is a result of combatting that feeling. When your life isn't going the way you want it to you have to re-invent yourself. I always think of that question-Who would you be had no one told you couldn't? That motivates me everyday. I am dedicated to giving women the environment they need to be the best version of themselves.
As you decided to make a career out of your passion - what were your biggest stumbling blocks along the way?
I didn't fit into any fitness mold. You have the bodybuilders and the cliques in this field like any other. I love to workout but doing the stage thing just didn't speak to me. I like to describe the look I like between Victoria's Secret and wonder woman. LOL, the contest women, those weren't the market of people I wanted to help. I want to help the client that's been divorced, or overweight or cheated on. I ask every client when is the last time you really felt awesome? Some say never or a day back in their 20's. I have 30 year olds that say never! I get up excited working for the day they feel awesome.
What's your perspective on the importance of self-care?
When I first heard of "self-care" in my 20's I thought it was one of those clichés that meant to go get your nails done or have a pedicure. lol! It always makes me laugh (now that I am in my very late 40's) and have learned a few things. In my family self-care was looked at like it was a very selfish trait.
Self-care is probably the most important aspect of my training. Putting yourself first, taking time out for your health, doing the things that make you feel good mentally, being around people that are positive, choosing to avoid bad behaviors or just toxic people, are all forms of self-care.
It can feel selfish to put yourself first, but it teaches you that you are important and more importantly, it teaches others that too. Self-care teaches OTHERS how you want to be treated. Self-care is the very best form of self-respect.
What are some of the biggest misconceptions about women lifting weight?
Of course they will get huge by lifting heavy weight and all of the time it will take.
Many young women who want to lose weight believe that not eating is the way to do it, without realizing the consequences of that kind of behavior.
Why do you think this is and what's your perspective on educating society on healthy nutrition habits?
Really not eating is easy. Working out and building muscle takes dedication. We as a society always take the easy way out. But extra weight comes back twice as fast and it is much more difficult to get off. Building the muscle back after your body has used it up is even harder.
What are the most unexpected lessons you've learned on your health and fitness journey this far?
You cannot do it for your client. They must want to lose weight and be open to a whole new life of healthy behaviors. I used to have to try to persuade the wrong clients to do their homework and follow a healthy eating plan. I won't do that now. I interview clients and take a select few. I do not take every client. I want them all in, and ready to be awesome.
What do you do to maintain balance in your life?
Meditation and visualization which I include in my programs.
How do you stay productive?
I laughed when I read this. I am a type "A" I am over productive. But I do have problems on which production I am doing at any given time. LOL
If you could only choose one thing, what would you tell your younger self?
Believe in yourself. Don't trust anyone with your life. You are worth it. People are going to be mean, unfair and it will hurt. But it's about them, not about you. Keep giving love, it will come back. Stay with your goals.
Can you give a breakdown of your current diet, training and supplementation regimen and the thinking behind it?
I have no diet. Rule number one, I make a promise to myself. I ask my clients to do the same. After 30 and 40 there is not a lot of standard deviation with diet. Meaning not a lot of room for mistakes. You are worth eating nutritiously with every meal. Prescriptions are a road to worse health and it is so worth it to try to avoid them. I take no prescriptions. I eat no meat. I eat fish and cage free eggs and fruit and veggies. That's about it.
What are your biggest life goals for the year?
Oh wow...I always have a ton. well I'll be 49 in just a few months. I always make the goal to be more fit than the last year. I want to build up my business even more so to extend more to other states. I love traveling and doing workshops and building a team of women to help each other. I'd like to become more national.
Where can people go to learn more about you online?
You can stay up to date by visiting my website.
Related
Popular in the Community