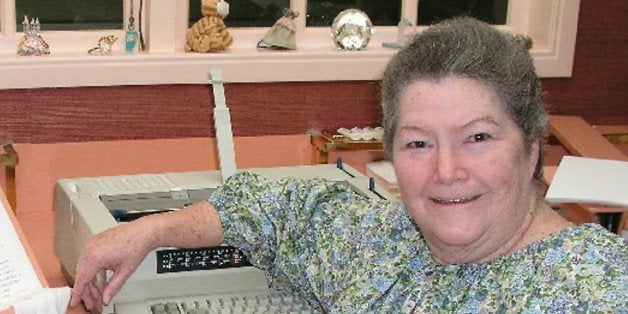 When a notable figure dies, it's typical to lead an obituary with that person's remarkable achievements. When famed Australian author Colleen McCullough, who penned the megahit The Thorn Birds, recently died, The Australian took a shockingly different angle.
The major Australian newspaper, which is owned by Rupert Murdoch's News Corp Australia, opened its obituary for the beloved author with a description of McCullough's physique, remarking: "Plain of feature, and certainly overweight, she was, nevertheless a woman of wit and warmth. In one interview, she said: 'I've never been into clothes or figure and the interesting thing is I never had any trouble attracting men.'" A reader might be forgiven for thinking McCullough's main accomplishment lay in appealing to men without the benefit of conventionally beautiful looks.
While other newspapers, such as The New York Times, led with and thoroughly discussed her years as a neuroscientist and her authorship of an international bestseller, The Australian's obituary puts the author's status as a sexual object front and center.
A number of keen-eyed readers responded to the sexist implications of the article's lede with a humorous Twitter hashtag, #MyOzObituary. The Guardian rounded up a number of the snarky tweets, which poked fun at The Australian's inappropriate focus on sex appeal with comments such as, "Short & dumpy with an extra chin, she nevertheless wrote books novels & articles & was occasionally allowed 2 appear on telly."
Prominent authors rushed to condemn the apparent sexism of the obituary's focus on McCullough's looks, taking to Twitter to comment:
Even after moving on to discuss McCullough's career, the article from The Australian is littered with similar small jibes; she is described as "ingenuous" and "the supreme egotist" for giving interviews, and her decision to write a novel to supplement her income showed "breathtaking self-confidence." In noting her decision to build a 26,000-square-foot house, she is quoted: "Yes, I know that is big, but then so am I."
The obituary, which was not bylined, has been attributed to a former obituary writer for the paper who has since died, according to Crikey; insiders at the magazine alleged that the piece was prepared some years ago and was published without sufficient editing.
Related
Popular in the Community