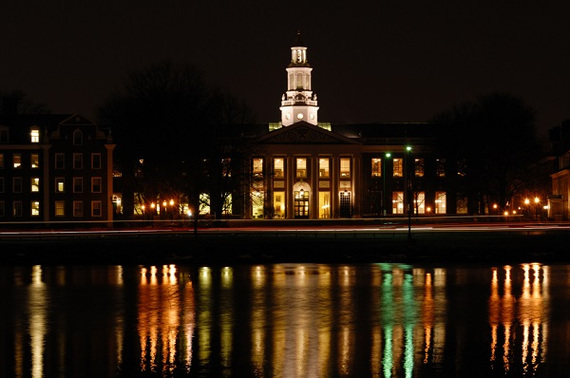 The way in which universities admit students can seem like a bit of a mystery -- even after completing the process yourself. Misguided assumptions and well-circulated rumors litter mainstream thought. Don't allow yourself to fall for them! Here are six common college admissions myths to avoid:
1. "A college sent me information, so they are likely to accept me if I apply."

While many schools distribute a plethora of informational posters, calendars, viewbooks, and other advertisements, these should be recognized for what they are: marketing tactics. You may be sent information for a university for which you are not well qualified just so that you will apply so the school can reject you. This practice can increase a school's rankings by decreasing the percentage of students it accepts. Although it may be accepting the same number of students from year to year, if more apply than in previous years, a college appears more selective via percentages accepted.
2. "High scores on the SAT/ACT are all I need to gain acceptance into a selective school."

This myth is especially prevalent. While excellent test scores will aid in making you a stand-out candidate, your academic transcript is one of the most important components in your application. Why? It demonstrates your diligence and commitment (or lack thereof) over multiple years, as opposed to one test score from one day. The same debunking applies to "my interview will make up for my poor grades and test scores." Sadly, this is not necessarily so. If you are a decent student who is currently filed in the "maybe" pile, then a strong interview may help tip you into the "yes" bucket. However, counting on an interview to save you after blowing off high school for four years is ill-advised.
3. "The application process begins when I start my senior year."

Your application process begins when you start high school, not when you begin your senior year. In your first year, you should develop an academic plan with tangible goals, as well as the appropriate strategies necessary to succeed. You will need to use all four years of high school to become an applicant who is well-rounded and well-matched to the schools you choose. Do not try to cram every extracurricular activity and honors class into your senior year! It's all about balance and consistency, so you must allow yourself a strong start freshman year. That way, you aren't scrambling to bounce back from a shaky beginning. Give yourself time to build your list of activities throughout your four years, and allocate the summer in between junior and senior years to select and apply to schools when you have free time to craft your essays. Effectively using your summer will mean much less stress come mid-year crunch time for scholarship applications.
4. "The listed tuition price is what I must pay."

With the way tuition continues to increase, thank goodness this is a myth! Many schools have scholarships for students with exceptional grades that are automatically applied upon acceptance. Other colleges will award scholarship money to families who have more than one student attending the institution. Still, others have scholarships awarded through the university for which you must fill out an extra application and/or complete an interview. There are also many outside scholarships for which you can search and apply, as well as federal aid through FAFSA, so take advantage! Great test scores can often garner automatic awards. For instance, schools often compete over National Merit Scholars, an award garnered through achieving a top score on the PSAT. Taking PSAT practice tests may increase your chance of receiving this award and ultimately of receiving scholarship awards.
5. "My social media activities aren't being monitored by admissions officers."

Guess again. Admissions officers often research prospective students, especially if they are applying for prestigious scholarship awards at their school. Any and all information that is publicly available about you (yes, this includes the internet) is fair game for an admissions team; think of social media as an extension of your activities list or resume. This means you need to clean up your Facebook, Twitter, Instagram, and any other social media outlet you utilize. Any lewd pictures, objectionable comments, or generally unkind posts should be deleted, as they can cost you scholarship money or even admission into your first-choice school. An excellent rule of thumb: if you would be embarrassed to show your grandparents any comment, post, Tweet, or picture currently adorning your account, remove it.
6. "All I have to do is complete and submit an application."

Believe it or not, colleges often track the number of times you have contacted them, whether or not you have arranged a campus visit, if you have asked questions of your assigned admissions counselor, etc. Generally speaking, colleges accept a certain number of students knowing that only a portion of that pool will actually matriculate (attend the school). The closer the number of acceptances sent and the number of matriculations are to each other, the better the school looks and, oftentimes, the higher its rankings climb. If you are a student who is "on the bubble" in terms of grades and test scores, but has your heart set on attending a specific university, extra effort on your part can be a tremendously useful way to convey your interest (and hopefully garner you that much coveted acceptance letter).
REAL LIFE. REAL NEWS. REAL VOICES.
Help us tell more of the stories that matter from voices that too often remain unheard.