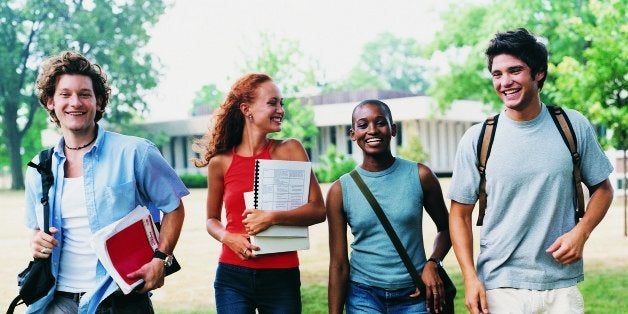 We know hindsight is always 20/20, but it becomes particularly practical when that hindsight can be used to benefit someone else's foresight.
It's easy to say "If I'd only known this" or "Things would have been different had I known that" when referring to the decisions we made in college, but graduates have the unique opportunity to change the experiences of college newbies. We asked HuffPost editors to share the advice they would give to their freshmen selves, and hopefully those in or new to college will learn lessons from our hindsight.
Don't let the fact that a class starts as early as 9 a.m. deter you from taking it. (We could've been such good friends, Art History ... )
-Lance Gould, Executive Education Editor
Ask that guy out. Seriously. (Backstory: I'm engaged to the guy I had a crush on in college. The feeling was mutual, but we went over six years without finding that little piece of information out. Could have saved tons of trouble on that one.) Also, never cut your own hair. Or let a friend do it.
-Brie Dyas, Senior Editor, HuffPost Style/Home
If this is for me upon graduation: You know nothing. Good luck.
-Mike Sacks, Host/Producer HuffPost Live
Make friends, but get comfortable hanging out by yourself. Teach yourself to get up early, nothing good happens super late honestly. Treat school like it's a job and try to build a solid work ethic. Becoming friends with professors is a good idea. Explore every inch of your campus. Don't tolerate a bad dormmate, it's not worth the stress, get out if you can.
-Andy McDonald, Editorial Fellow
Calm down. Don't get Zooey Deschanel-esque bangs. Stop procrastinating. When you go to a party, don't throw your black North Face behind the couch with everyone else's.
-Taylor Trudon, Associate Editor, HuffPost Teen
Budget and avoid credit cards. It's OK to not go out on the weekends or on "Thirsty Thursdays," but don't beat yourself up for going out and having fun either.
-Tyler Kingkade, Associate Editor, HuffPost College
First, find a teacher you like during your first or second year. Take all of their classes and get coffee with them. It's amazingly rewarding, and then the time comes you won't have to scramble to find teachers to write you recommendations. Second, don't be afraid to ask for help. Third, spend as much time outside as possible. Fourth, make good friends that you can lean on, and be a friend that they can rely on in return. Fifth, never, ever, go drinking if you've skipped dinner. And lastly, don't let your parents move you in. It's stressful trying to balance starting a new life while also paying attention to them. They're going to want to do everything for you and you will fight. Move in yourself and then give them a grand tour during Parent's Weekend when you actually have your life/friends kind of figured out.
-Yasmine Hafiz, Editorial Fellow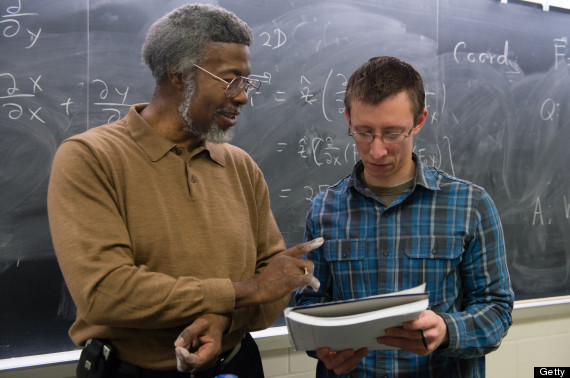 Befriend people who make you feel good about yourself, who are kind to you and enrich your life in new ways and don't hold you back. Don't befriend those who you feel like you should be friends with because everyone else is. Those tend to then take you for granted, because they have friends to spare.
-Liat Kornowski, Associate Editor, Celebrity
Make mistakes. Hook up with assholes, drunk dance on tables (or walls) and fail a quiz. After college you are supposed to pull your shit together, so take advantage of having the excuse of "learning experiences." Value the friends you have, because at the end of it, they're all you'll have. You may not realize it now, but they have and will having everything to do with who you will grow up to be.
-Nile Cappello, Editorial Fellow
You will not make as much money as you think you will after graduating.
-Robin Wilkey, Editor of HuffPost San Francisco
This advice ruined my life for three years: "Find a job you love and you'll never work a day in your life." I wish I had never heard it. The obsession with finding bliss in a job where I could change the world, put a dark cloud over everything I did -- nothing was good enough because I couldn't find the job that gave me the epic satisfaction I was always told to go and find. My advice to my 21 year-old self: get to work. Do work. Whatever you are tasked with -- do it well, do it better than everyone else. Hard work is not always fun, it's daunting and never ending and you have to choose to be happy doing it. You are not Steve Jobs. Find happiness in whatever job you can get and in the fact that you have one. Don't dwell on not being totally in love with your first or second or fifth position. Finding your way both professionally and personally is a messy, broken road -- your first wobbly steps after school are not going to lead you directly to utopia, stop expecting them to. If I could tell myself anything when I graduated it would be, get to work. The happiness will follow. Oh, and don't speed when you drive off campus tomorrow, it'll take you the entire summer to pay off that 90 in a 55.
-Caroline Weller, News Editor
If your student loans are starting to look like they're going to be around 17.5K a year and you plan on pursuing anything other than finance and don't have any brilliant patents pending, know this: 17.5k x 4 years = 70K. Sallie Mae will likely give you 30 years, at most, to pay all of that back. Given the 30 years, your monthly payments will likely be about $700 per month.
-Brynn Mannino, Homepage Editor, AOL.com
Life experience is just as important as your formal education, if not more so. For many fields, employers care more about the initiatives you took and the experience you gain than your GPA or what classes you took. Plus it makes you a more well-rounded person and more able to handle different types of life challenges. When I finally figured this out after college, I wish I hadn't killed myself trying to get A's in classes I knew I wouldn't need ultimately. Take time to experience new things and learn about yourself! It's the best time to do it.
-Rebecca Searles, Social Community Editor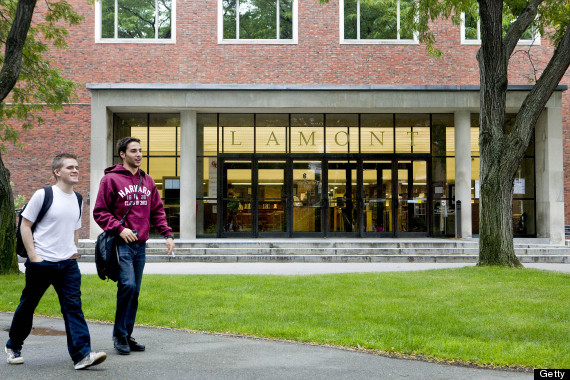 Adulthood is overrated, because after you somehow manage to make it through those weeks that feel like finals week, you don't get those awesome things called winter, spring or summer breaks to decompress.
-Danielle Cadet, Black Voices Editor
If someone gives you the choice of discussing work prospects over coffee or drinks, choose drinks. You'll feel more like a friend and peer than like a job applicant, and that's important when you're just starting out. Be sure to eat a sandwich first, though, and only order beer -- no hard liquor. Be home by 8:30pm, no exceptions. Help your classmates and friends find jobs. If you come across a job that doesn't interest you, don't just dismiss it. Take a minute to think of anyone you know who might be well-suited to it, and if someone comes to mind, reach out to that person to let them know the job is available. If you can make it a habit early on to think about your colleagues' goals and prospects, and not just your own, you've developed one of the most important traits of a successful career.
-Christina Wilkie, Political Reporter
Don't be afraid to go out of your comfort zone. Try new things. Remember everyone is in the same boat as you are and they're just as nervous!
-Debra Lipson, Editorial Fellow
Those email thank you notes are a good start, but send written thank you notes after job interviews, too. Yes, through old-fashioned snail mail. Also, keep a few good ideas you'd like to work on someday on the back burner in your mind. You never know when you'll meet the right person to talk to about them. And you don't want to meet the right person and have nothing to say. Finally, don't stop saying "wicked" just because everyone points out you MUST be from Boston when you say it. It's part of what makes you you, and you'll miss it later.
-Sarah Klein, Health/Fitness Editor
Actually go to class! Each class costs roughly $350 -- that's like a month's worth of groceries. Plus you'll never get to just soak in cool information like that ever again.
-Carly Schwartz, Deputy National Editor
I think if I could tell freshman year me anything it would be, "You know almost nothing." I can distinctly remember thinking, "Well, this is the person I'll be for the rest of my life," when I was 18. I thought I was an adult who had all her values and ideas of the world figured out. I'm not sure if 18-year-old me would understand this, but something I've learned since then is you're never going to stop changing if you keep your mind open. The world is much more interesting when you view each person you meet as someone who can teach you something, big or small.
-Megan Griffo, Assistant Editor, Social Impact/Good News
I was actually given this advice and it has stuck with me -- don't compare your successes with others and don't chase anyone else's dream but your own. We each have our own journeys in life, so just make sure yours counts!
-Jacqueline Howard, Associate Editor AOL/HuffPost
This is actually a quote I've seen around a lot but don't know who to attribute it to. "Life isn't about finding yourself, it's about creating yourself." Don't wait to start living the life you want to live. Follow what makes you happy, you won't regret it. Live to regret the things you did, never what you were to afraid to do. You dictate your worth. The things that are most worthwhile in life tend to be the ones you were afraid to try.
-Carolina Moreno, Associate Editor Latino Voices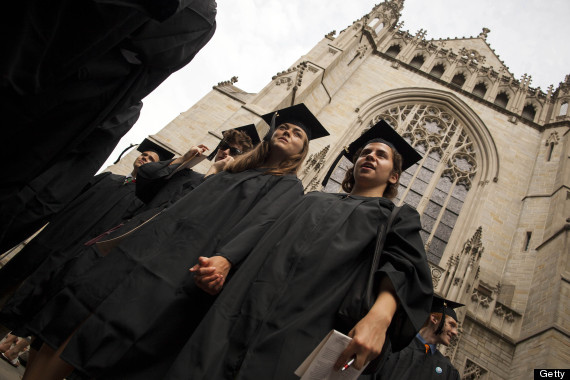 Your hangovers will never be the same.
-Cavan Sieczkowski, Associate Editor Trends
I would tell my college self to go ahead and take a gap year instead of being so frantic to enter the work force. And by gap year, I mean strapping on a backpack, buying a Eurail or Asia rail pass, and hitting the road. It's amazing how you wind up finding yourself when you are open to the idea of losing yourself for a little while. Go seek some adventures. And maybe when you come back, the economy will actually be able to cough up a job for you.
-Ann Brenoff, Senior Writer Los Angeles
Intern as much as you can while you're in school. It can help you land a job with that particular company, or with a related firm. At minimum, it can offer some fantastic references. It can also help you decide whether your studies are suited for you -- getting real-life experience in what you 'think' you want to do with your life can make all the difference in whether you actually understand and enjoy what your career path will look like. I interned at the New York Daily News as an undergraduate and realized how much I loved being in a newsroom and around creative, boisterous, news-driven individuals. If this is possible, study abroad. It may be your only shot at living like a local in a foreign country, and getting a look at what it would be like working in your field abroad. Take a class in the language of the country where you're studying. I studied abroad in the Czech Republic, Cuba, Poland and Greece between my undergraduate and graduate studies, and published news and travel stories for various publications (and got paid!) while there. It will open your world to not only attending classes for a semester, but interacting with the community you're living with.
-Suzanne Rozdeba, News Editor AOL.com
You don't have to decide what you want to be for the rest of your life. You just have to decide what general direction you want to take and what you want to do for your first step. When you look back on your life it will seem linear and logical, but while you are going through it it's all haphazard and serendipity. And that's the fun of it.
-Lisa Belkin, Senior Columnist Life/Work/Family
Calling all HuffPost superfans!
Sign up for membership to become a founding member and help shape HuffPost's next chapter
BEFORE YOU GO
PHOTO GALLERY
The "First" Colleges