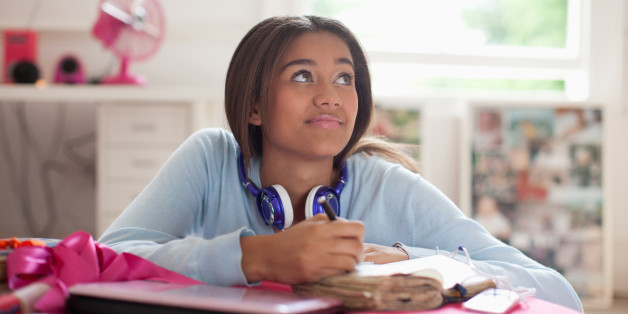 By Kate Moriarty
Now that senior year is underway, only one thing stands between you and your totally awesome collegiette years: college applications. Sure, they may seem scary (Writing about yourself? Easier said than done.), but at the end of the day, the college essay is the best way to show your top schools what you're all about, so the key is to be unique. Check out the easiest ways to avoid the seven worst college app clichés. With these tips in mind, you'll be in the clear and decorating your dream dorm in no time!
1. Starting your essay with a famous quote
Let's pretend for a second that you really do live by one of Shakespeare's old adages, or that JFK's patriotic appeals to the people really did inspire you to change your life (color us impressed!). It might seem like a great idea to share their wise words of wisdom -- after all, they're smart people, right? -- but college admissions officers want to hear from you, not from famous people.
"Kids are used to trying to doing that [for] a paper for an English class," says Michelle Podbelsek, co-owner of College Counseling Associates, an independent college counseling service for students and their parents. "In that case, they're trying to start with something universal and then get into the topic. But for a college essay, it's sort of the opposite. You want to get really personal at the beginning." The first voice that the admissions officer reads should be yours!
If you really do feel a strong connection to a quote and want to incorporate it into your essay, Michelle suggests pulling only a single phrase. "Don't just give us this dead quote and then start talking about it afterwards, though," she advises. "Try to put in that same sentence with the quote something about why it's important to you right away." Link it to a personal experience, like a strong reaction to first hearing the quote or a loved one who used to repeat it to you. Most importantly, choose a decent quote (if you were considering quoting Miley Cyrus, for instance, we really can't help you.).
2. Writing about volunteer work... and not being the least bit original about it
We get it -- your service trip to South America was the best thing that's ever happened to you. You made the best friends, had the best time, met the most amazing people and learned so, so much (insert more gushing superlatives here). We believe you! And it's super impressive that you enjoy helping others. The problem is, so do a ton of other awesome applicants, and they're writing the exact same essay as you are. How the heck is a college admissions officer supposed to tell you all apart? They're only human, after all!
Even so, Hillary, a freshman at UC Berkeley, says that, like most rules, college essay rules are made to be bent. "It's a known concept that you're 'not supposed' to write about trips, or community service projects, etc.," she says. "I didn't follow this advice, because I knew what I had to write for myself. [I] ended up writing about my journey to [San Francisco] for the first time, and how I spent $10 on a luggage cart to maneuver my way to the community service summer program in which I was partaking. It was theoretically breaking the 'rule,' but I knew it's what I needed to write, and it worked."
Why did it work? Likely because Hillary chose a unique detail about her experience -- the luggage cart -- and wrote insightfully about its significance to her. "It's understanding how to write deeply about something so they can really put us in that moment for them and we can see [the applicant's] perspective," says Podbelsek. "For every one kid that's done it in the most boring way, other kids will take that exact same situation and they'll find some sort of nuance that truly connects with them more deeply and put it in the essay, and then it works perfectly."
She says to avoid focusing on ideas like "'I went to Guatemala and I helped people and I never realized how great my life was until I did that.'" Instead, dive into a particular poignant moment or conversation. When you think about your topic, ask yourself, "Could anyone else but me write this?" If the answer is yes, head back to the drawing board!
3. Over-exaggerating commitments
If you haven't done a lot of community service, you aren't the star athlete and your biggest role in the school play was that of the silent elm tree, you shouldn't try to exaggerate or pretend you've played a bigger part than you have. Insincerity will earn you a one-way ticket to the rejection pile! "It's [the same] for any writer," says Podbelsek. "Don't try to write about something that you don't know intimately, because it's not going to come off very natural or just really expressive of you."
Don't be afraid to talk about something true, even if there wasn't a trophy involved. "Most people write all about their accomplishments or something great, etc.," says Shira, a junior at Franklin & Marshall. "Instead, I wrote about coming in last all the time [on] my high school cross country team and the lessons it taught me. It was a cross between being a bit humorous and showing some growth. One college distinctly remembered me based off of my essay about coming in last and said that they loved it because it was so unique."
Podbelsek suggests reading over your essay and underlining any vague or general phrases like, "It's so interesting that..." or "I felt so good about myself." If you find a lot of them, it might be that your topic isn't allowing you to write in the way that you're supposed to be writing. Ask yourself: "Do I really have something meaningful to say about this?"
4. Turning in a gimmicky application supplement
We've all heard the urban legends. One girl turned in a flip-flop with travel destinations written on the sole! One guy sung his way off the University of Michigan waitlist by posting an ode to the Wolverines on YouTube! There are a million and one crazy ways that high schoolers have worked their way into a college, but in the eternal words of He's Just Not That Into You, bear in mind: these are the exception, not the rule.
"Anything bizarre like a shoe or a cake or something... that is just highly discouraged," says Podbelsek. "They're just not going to take you seriously. They're going to think you're some over-the-top person who's going to start stalking them." Trust us, the last person a college admissions officer wants to admit to their school is a proven stalker.
Plus, do they really want a bulky flip-flop lying amongst the papers on their desk? Nope, they do not!
Click here to read the full story on HerCampus.com.
REAL LIFE. REAL NEWS. REAL VOICES.
Help us tell more of the stories that matter from voices that too often remain unheard.
BEFORE YOU GO
PHOTO GALLERY
Best Advice For Teens, According To Redditors