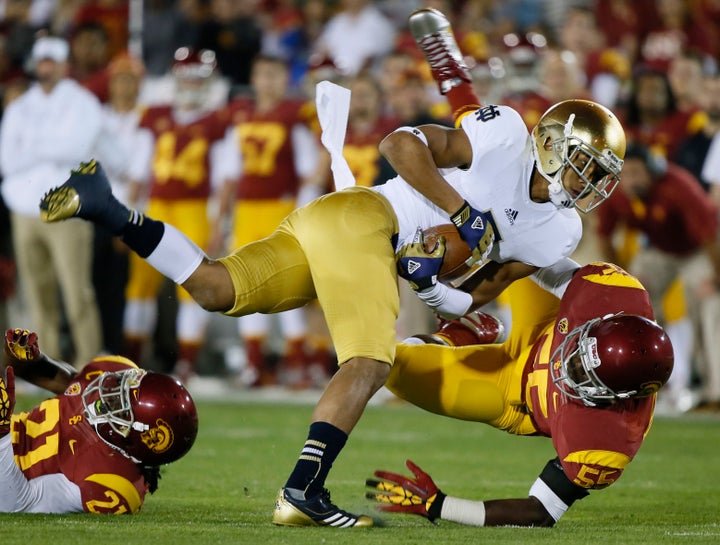 On Monday, a federal appeals court ruled against three track and field athletes who had sued the University of Pennsylvania and the NCAA on the grounds that they were employees who did not receive fair compensation under federal wage and hour laws.
The ruling from the 7th U.S. Circuit Court of Appeals was the latest setback for college athletes in their multi-front fight for compensation and labor rights. The panel of judges said the Penn athletes did not qualify as employees who were subject to federal minimum wage requirements under the Fair Labor Standards Act. A federal district court had previously ruled against them in February.
And yet, the outcome may have a silver lining for some college athletes. A concurring opinion from the court could point to a victory in a similar case filed earlier this year.
"If I was the NCAA, I would not necessarily be celebrating this ruling," economist Ted Tatos told The Huffington Post on Tuesday. Tatos specializes in antitrust and labor issues and has followed various NCAA cases relating to both.
Like other courts before it, the 7th Circuit relied heavily on the NCAA's "tradition of amateurism" in its ruling. Despite rule changes that have rendered the exact definition of "amateurism" somewhat ambiguous, it has remained a long-standing successful legal tool for the organization that governs college sports.
"The long tradition of amateurism in college sports, by definition, shows that student athletes ― like all amateur athletes ― participate in their sports for reasons wholly unrelated to immediate compensation," Judge Michael Stephen Kanne wrote in the majority opinion denying the Penn athletes' claim. "Although we do not doubt that student athletes spend a tremendous amount of time playing for their respective schools, they do so ― and have done so for over a hundred years under the NCAA ― without any real expectation of earning an income."
That segment of the decision rests a bit on circular logic ― amateurism remains legal, in part, due to the very existence of amateurism ― and ignores one of the basic realities confronting college sports right now: Numerous athletes have challenged the persistence of amateurism and made it clear they expect better compensation, or at least a greater voice in how they are treated, financially or otherwise.
Still, the judges' interpretation follows the NCAA's preferred legal argument as well as past rulings on amateurism, and appears at first glance to be yet another overwhelming victory for the current college sports model.
The Penn case was tilted in favor of the school and the NCAA in multiple ways. The athletes in question, unlike most of those who have challenged the NCAA or their schools and conferences in court, were not on scholarship (the Ivy League does not grant athletic scholarships). And as track and field athletes, they did not participate in a "revenue sport" ― in other words, men's basketball or football.
That weakened their argument from the beginning. However, for one of the case's judges, it also pointed to a potential path forward for scholarship athletes in revenue sports, who are facing a different "economic reality" than those in the Penn suit.
"Because the plaintiffs in this case did not receive academic scholarships and participated in a non-revenue sport ... the logic of their claim would have included not only any college athlete in any sport and any NCAA division, but also college musicians, actors, journalists and debaters. That broad theory is mistaken," 7th Circuit Judge David Hamilton wrote in his concurring opinion.
"I am less confident, however," Hamilton continued, "that our reasoning should extend to students who receive athletic scholarships to participate in so-called revenue sports like Division I men's basketball and [Football Bowl Subdivision, the top level of U.S. college football]. In those sports, economic reality and the tradition of amateurism may not point in the same direction."
That economic reality, Hamilton noted, involves athletes who generate hundreds of millions, if not billions, of dollars in revenue for their schools, while their scholarships only cover the cost of attendance.
"The nature of the relationship between kids who play FBS football and their schools, leagues and the NCAA ... is a business relationship."
Hamilton's lack of confidence could be good news for one athlete who filed a similar lawsuit earlier this year. In September, former University of Southern California football player Lamar Dawson sued USC, the PAC-12 conference and the NCAA, alleging that he and his fellow football players were employees who were not properly compensated under federal wage and hour laws.
The legal theory in Dawson's case ― a class-action suit ― is the same as that in the Penn suit. The difference is that Dawson's proposed class of athletes includes only those who were on scholarship and played revenue sports.
That could be key, as Hamilton hinted in his opinion and as Mark C. Rifkin, one of Dawson's attorneys, posited when Dawson's case was filed.
"I think there's something special about players in the big-revenue, big-money sports like [major conference] football," Rifkin told The Huffington Post in September. "It's a totally different relationship between the conference and the player and the NCAA and the player."
Dawson's case was filed in the U.S. District Court for the Northern District of California, so Hamilton won't get to participate in the "further debate" he said could be warranted in a case involving scholarship athletes in revenue sports. But Rifkin said he did "take some comfort" in Hamilton's views.
"I'm optimistic about Judge Hamilton's concurring opinion, because it shows exactly what we've been saying all along," Rifkin told HuffPost on Tuesday. "The nature of the relationship between kids who play FBS football and their schools, leagues and the NCAA ― which earn millions and millions of dollars from their labor ― that economic relationship is a business relationship."
Other cases have suggested there are looming changes in the NCAA's business model. A March 2014 decision from the Chicago regional director of the National Labor Relations Board ruled that Northwestern University's football players qualified as employees under labor law. (The full NLRB later punted on the Northwestern decision, ruling that the football players could not form a union as they'd hoped.) Former UCLA basketball star Ed O'Bannon also won a partial victory in an antitrust case against the NCAA.
Hamilton's opinion doesn't mean Dawson or other athletes will be successful challenging the NCAA on wage and hour grounds, and courts have applied different tests and standards to determine if athletes should be treated as employees. But the opinion does point to the possibility that future cases could challenge the status quo.
"He's really laid it out," Tatos said, "that if these were revenue sport athletes ― that if this argument had been brought forth by, say, football players at USC, football players at Alabama, or basketball players at Kentucky ― it may be a different story."
Before You Go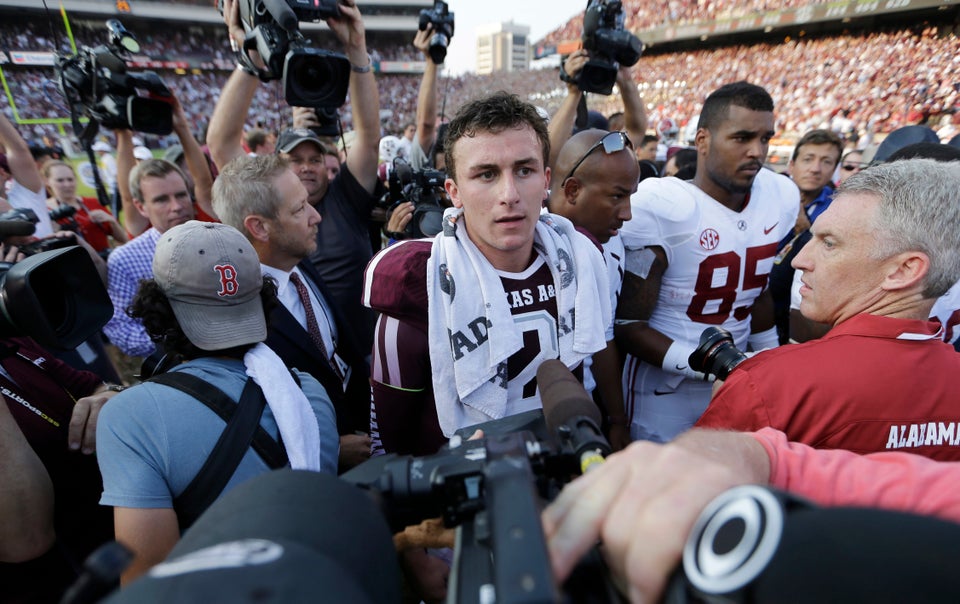 11 Ways College Athletes Are Treated Worse Than Unpaid Interns
Popular in the Community