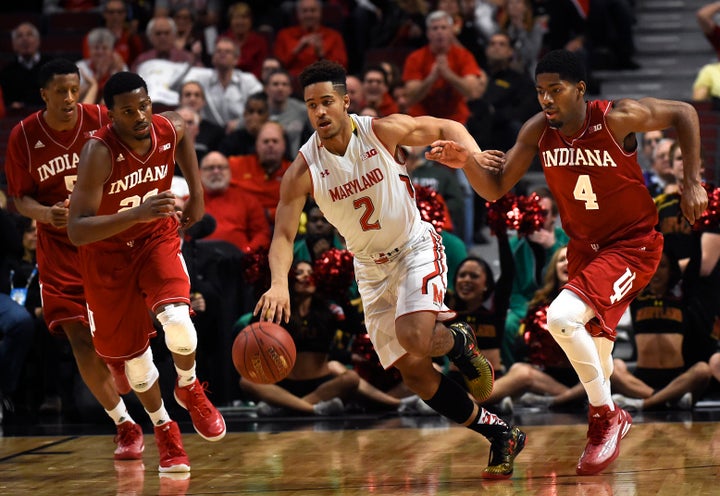 College basketball is back, which means the preseason debates and meaningless rankings can finally come to a close! The normal heavyweights are here, of course -- the Kentucky, Duke, North Carolina -- but mid-major powers like Gonzaga and Wichita State have something to say about that. LSU, with its prized recruit, Ben Simmons, might be the trendy upstart to dethrone Kentucky in the SEC, or maybe it's Vanderbilt. Speaking of dethroning, can Iowa State or Oklahoma actually supplant Kansas atop the Big 12 and break the Jayhawks' remarkable 11 straight conference titles streak? We really don't know the answers, and maybe that's the beauty of it all.
Here are the five reasons we are most excited about college hoops this season. (Also, read about my top ten seniors this season right here.)
By the time conference play rolls around, we're going to look back at the 35-second shot clock (installed in 1993) and wonder why it took so damn long to get rid of it. It was an ancient way to play the game, only rewarding bad offense and in turn, hurting good defense.
The new clock is 30 seconds. For comparison, the NBA uses a 24-second clock. The five-second reduction may not seem like much, but it will make a dramatic difference in how teams play both ends of the floor. We can expect to see more zone defense and more pressing in an attempt to force offenses to shoot late in the clock.
Luke Winn wrote a detailed piece for Sports Illustrated about the new clock's potential impact. It's not clear whether we'll see more scoring, but it is worth noting that scoring increased by more than 2 points per game when the new clock was used in the lower-level postseason tournaments last season. It could be a welcome way to address the glacial pace of games and sub-40 percent shooting.
The other key rule change is increasing the restricted area from 3 feet from the basket to 4 feet. Even the most casual college hoops fan can grow weary of referees' block/charge dilemma. Block/charge is a very tricky call for refs, and this will help make it easier and in turn, clean up the game. Ideally, we will have less charges. Moreover, it destroys the game when a defender slides into the restricted area at the last minute for a ridiculous charge call that should never have been called. It's not a basketball play, bottom line, and the bigger restricted area will decrease such nonsense.
You never really know what to expect from freshmen, but one thing we don't have from this year's crop -- at least not yet -- is a clear-cut superstar: Think Jahlil Okafor, Karl Anthony-Towns, D'Angelo Russell. Perhaps LSU's Ben Simmons can become that guy, or maybe it's Kentucky's Skal Labissiere, Cal's Jaylen Brown or Maryland's Diamond Stone. Simmons, who was the consensus top recruit in the class, originally hails from Australia, but prepped in Florida. At 6 feet 9 inches, the lefty possesses tremendous athleticism and versatility, two terms we seem to continually hear from pro scouts. What we don't know ,however, is what position will be most natural for Simmons.
Because of his ball-handling ability, Simmons excels on the perimeter, where he can use his size and power to pretty much make any play he wants. His 9-foot standing reach and 41 1/2-inch vertical will instantly help him on the glass, where LSU expects him to average double-digit rebounds as a freshmen. But whether or not he becomes a dominant collegian will depend on his offensive skills: Will defenses honor his perimeter shooting and will he consistently be able to get into the teeth of the paint and become a playmaker, both for himself and for others?
It's been quite some time since we've seen so many talented transfers entering new programs. In fact, over 600 players transferred since the end of last season. The University of Maryland seems particularly poised to benefit from this.
Perhaps the most notable new transfer is former Duke guard Rasheed Sulaimon, who has two years of eligibility remaining after being the first-ever player to be kicked off a team coached by Mike Krzyzewski. A former mega-recruit with the capacity to play both guard spots, Sulaimon -- teamed up with preseason All-American Melo Trimble -- helps provide Maryland with a premier backcourt. As a Duke freshman in 2012-13, Sulaimon averaged nearly 12 points per game. If the senior accepts his newfound role in College Park, he will make a massive impact right away.
The other new transfer to know is 6-foot-9 forward Robert Carter, who transferred to Maryland from Georgia Tech. Carter has slimmed down and is a terrific scorer whose size and immense skill level present matchup problems all over the floor. Mark Turgeon's Terps are thinking Final Four and nothing else.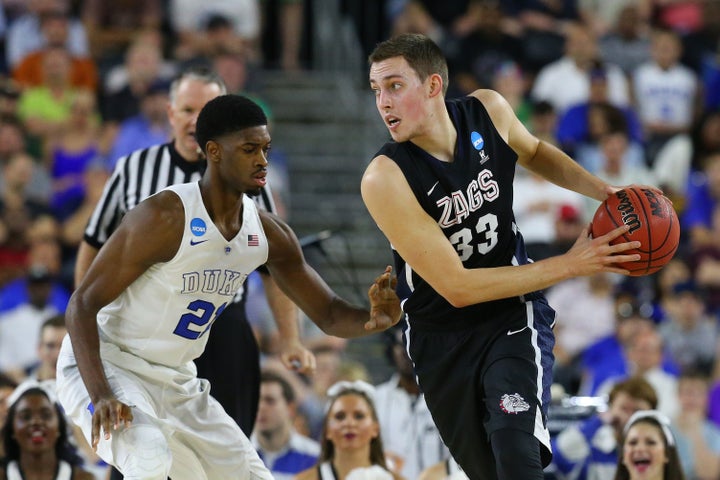 There is nothing mid-major about Gonzaga or Wichita State, both of which feature elite duos. The Zags boast a tremendous frontcourt, led by senior Kyle Wiltjer (a former transfer himself) and sophomore standout Domantas Sabonis. Wiltjer, at 6 feet 10 inches, is a matchup nightmare who can shoot the lights out (47 percent from the 3), but also beat you from either block, as well as the high post. Sabonis, much like his father, Arvydas Sabonis, has an excellent feel for the game. He is a splendid passer and a tenacious rebounder. At 6 feet 10 inches, with athleticism and a nasty streak, the surefire future pro should excel when Mark Few asks him to be a primary scoring weapon.
The Shockers' strength, meanwhile, lies in their senior guards, triggerman Fred VanVleet and combo man Ron Baker. VanVleet is as complete a point guard as there is because of how well he controls the game, even when he's not scoring. His next step is to become a true knockdown shooter (he shot 37 percent from the 3 as a junior and 43 percent from the floor) while upping his scoring production (14 points per game as a junior). VanVleet is flanked by Baker, who had a very strong summer helping guide Team USA to a bronze medal in the Pan American Games. A former walk-on, Baker loves the big shot and is a legitimate two-way guy, a rarity these days in college hoops. Both will also be aided by transfer Conner Frankamp, a former top-4o recruit and Kansas guard who can really shoot it from deep.
Coaches come and go at this level -- more than 40 head coaches were either fired or left programs during the offseason -- but 2015 has a slew of high profile ones on the hot seat. Nobody is more notable than Tom Crean at Indiana. Crean has gotten a pass on recent struggles, on and off the floor, because of the job he's done in resurrecting one of the country's most prestigious programs, but his leash is tightening. There are no excuses this year: Crean has an elite point guard in senior Yogi Ferrell, as well as a blue chip freshman in forward Thomas Bryant. 
Josh Pastner at Memphis is another name to watch, because unlike Crean, Pastner is a first-timer who's gotten every pass since coming on board in 2009. The Tigers are rich in basketball tradition and are coming off their first empty postseason in 15 years. Moreover, Pastner's 2-4 NCAA Tournament record, with no Sweet 16s, doesn't exactly thrill boosters -- nor does the fact that his best player, first-team All-AAC forward Austin Nichols, transferred to Virginia. 
Travis Ford, at Oklahoma State, is also in trouble. The Cowboys have become a middling Big 12 team while somehow failing to benefit from one of the top home court advantages around at Gallagher-Iba Arena. Following a measly 18-14 season, Ford -- whose contract has a considerable buyout -- likely needs to return to the NCAA Tournament to save his job in Stillwater.
REAL LIFE. REAL NEWS. REAL VOICES.
Help us tell more of the stories that matter from voices that too often remain unheard.