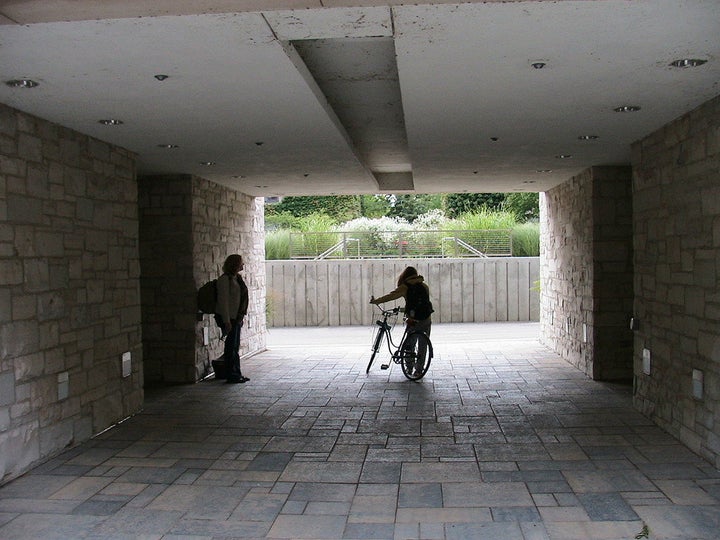 Last week, a Chicago Tribune article reported startlingly low arrest and conviction rates in cases of sexual assaults across a selection of six Illinois and Indiana universities and colleges. Sexual health advocates expressed frustration, but some local campuses continue to defend the way they handle sex crimes internally.
"It's the same thing, again and again," one victim told the Tribune, which found that less than 10 percent of the reported sex crimes occurring since 2005 at the schools resulted in either an arrest or conviction. "Girls are still getting victimized and guys are still walking away."
Just this week, the Tribune reported that a Marquette University student's sexual assault claim was virtually ignored by campus police, even though the school was required by law to report the crime to Milwaukee police. The school admitted that it hasn't been reporting these crimes to local authorities for the past 10 years.
Marquette's unofficial policy is not unique, as some students decide to seek justice through internal programs rather than deal with the criminal justice system.
At Northwestern University, there have been zero arrests or convictions out of 21 reported sexual assault cases in the past six academic years. While those numbers may lead some to believe the school is being soft on sex crime, Njoki Kamau, the associate director of Northwestern University's Women's Center said that is not necessarily the case.
Kamau described SAHAS as an option many survivors prefer because it can be less overwhelming than reporting directly to police. While she said the conviction and arrest rates reported in the Tribune were "not surprising," she said the story did not take into account the viability of this option for many survivors.
"Every individual woman is the one who makes the decision. It is her decision to make," Kamau told HuffPost Chicago. "They decide how to proceed and, in that way, it is empowering. I can see why more women choose SAHAS. It is not perfect, but it is very good in terms of using an approach that actually allows for the person filing a complaint to be able to find justice."
But how justice is actually served through programs like SAHAS remains a mystery. The system's administrator, Jim Neumeister, the university's assistant dean of students and director of student conduct, refused to answer any questions about the program itself -- including how many students it has served or how many cases led to arrest, suspension or expulsion. The one thing Neumeister would disclose about the program was when it was founded: 1991.
Katherine Hull, spokeswoman for the Rape, Abuse and Incest National Network (RAINN), the nation's largest anti-sexual violence advocacy organization, described such programs -- if they lack coordination with local law enforcement -- as part of a widespread campus culture that tends to downplay the importance of sex crimes.
"It's devastating that this crime is not being treated with the seriousness it deserves," Hull told The Huffington Post Chicago. "Sexual violence as a serious crime which needs to be handled by law enforcement, which allows for the perpetrators to be brought to justice. Instead, we're seeing crimes of sexual violence being treated on college campuses in the same way you'd deal with plagiarism or an overdue library book."
The SAHAS program's discretion presents benefits, as well as challenges, to the sexual assault survivors who seek it out, according to Amanda Mather, public relations chair for the university's Sexual Health & Assault Peer Educators group.
Regardless which system an individual chooses to pursue after surviving a sexual assault, Mather said larger questions and stereotypes in many ways taint the quest for justice. Stigmas surrounding rapes and sexual assaults, especially on college campuses, could deter some victims from seeking justice, Mather said.
Acquaintance rape can lead some victims to question what qualifies as consent, and others fear they will be ostracized for drinking or using drugs at the time of a sexual assault. Though Northwestern's student conduct handbook indicates that alcohol or drug use are not "mitigating factors" against a sexual assault complainant in a hearing or appeal, Mather said many individuals still count such factors against the "perfect victim" myth, which renders them less likely to report an assault.
"I don't think a lot of people know that and would be afraid as though they were doing something wrong, like they set themselves up for something or they were asking for it," Mather added.
Still, advocates like Hull remain uneasy should a programs like SAHAS fail to work closely with law enforcement. They hope new government initiatives will lead to justice being served in these cases.
The numbers, however, remain disappointing. When factoring in the estimated number of sexual assaults that go unreported, only some 6 percent of rapists ever spend a day in jail on account of their crimes. The Department of Justice estimates that one in four women between the ages of 16 and 24 experience rape.
RAINN operates the National Sexual Assault Hotline, which can be accessed online and at 800-656-HOPE.
REAL LIFE. REAL NEWS. REAL VOICES.
Help us tell more of the stories that matter from voices that too often remain unheard.