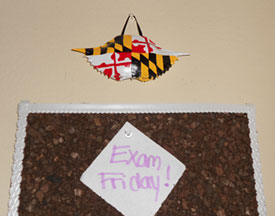 There's one college tradition that is honored and valued across the boundaries of sports divisions, housing arrangements and dining hall tables. Though this tradition often comes in an unassuming brown box and the contents are rarely known in advance, nothing slaps a college student silly with excitement like the arrival of a care package. You can go the easy route and ship your student their favorite snacks along with a letter and a forgotten memento, or you could amp it up and send them a nontraditional care package. Here are a few "non-"categories with suggestions for each to get you started:
Non-Perishables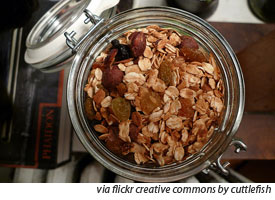 Perhaps the quintessential care package category, nonperishable items are great to keep students moving and remind them that pizza isn't the only thing available to eat. Microwaveable options like Easy Mac, Rice -A -Roni, and microwave popcorn are great for students who are on the go and those who are without a stove. But don't neglect to include healthy, homemade alternatives as well.
Non-Edibles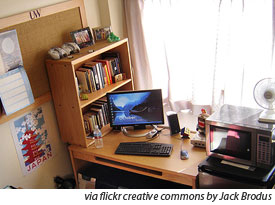 Perhaps some of the last things you'd think of, but sure to be among the most valued, are the non-edible items. Late nights and long hours are carried around by college kids like popular accessories. Unfortunately, their sleep deprived and malnourished state makes them more susceptible to catching anything and everything. Help your child stay on top of their health and away from the health center by including Purell's jelly wrap hand sanitizer that clips onto keychains and backpacks easily. It's also a good idea to include Clorox Disinfecting Wipes To Go Packs for desks, computer labs, dining hall tables and everywhere germs are likely to land.
Once you've ensured their health, help you student to get their work done. One thing every student needs is a reliable USB flash drive, and most students need more than one. The Patriot Memory 16 GB Xporter XT is fast and reliable, a must for those running from library to deadline, and was voted Best Performance USB Flash Drive by Bestcovery.com. If you have a film or digital media student working hard from sunup through the next sunup, opt for a reliable external hard drive. If you need help choosing the right hard drive, check out this external hard drive review.
Non-Stressors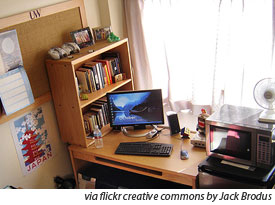 In January 2011,
Time
magazine reported that college students are
, and with good reason. Rather than sending statements from loan companies with projected payment breakdowns (these can be saved for another time) send items that can help ease the stress.
Most students don't have access to a bath tub so relaxing bubble baths aren't feasible, but Lush Cosmetics effectively solves that problem with their emotibombs, like bath bombs, but for the shower. Their
emotibomb is a great way to refresh the mind and awaken the positivity that has been pushed down by long nights, group projects and too much homework. Another thing students on campus can't do is burn candles, so instead opt for an aromatherapy diffuser like
diffuser, or for a more budget-friendly option, Pier 1's
. To protect school furniture or that fabulous IKEA find, send along a small plate to sit the diffuser on--these oils smell great, but will take the finish off of furniture in a hurry.
If your student likes to sweat the stress out, consider options like a new armband or
for their iPod. Just make sure you know which iPod they're using to blast music into their ears because iPods come in all shapes and sizes with accessories to match. You could also give gift certificates to classes at local gyms or a fitness accessory to help them track their de-stressing like
.
Non-Homesick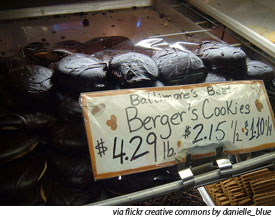 The title of this category may be a stretch, but the sentiment is right on the mark. Whether or not they admit it is irrelevant, every student misses at least one element of home. There are two ways to approach this with your care package. The first is to send "Regional Reminders." This will differ from state to state and even town to town. For me, a "Bawlmer" girl, nothing delighted me more than getting a giant container of Old Bay and a batch of Baltimore's famous Berger Cookies. But it's not just about the edible items. One of the best things I received was a Maryland Blue Crab shell with the Maryland flag painted on it. Non-Marylanders, please excuse the carnage, this is routine for us. Whatever it is that makes home, home, send it along for a comforting reminder.
Moving in the nontraditional vein, give gift certificates and gift cards to places found in your student's new town. Coffee shops and restaurants are great, but look for things like tickets to a sporting event, tours of the city, museums and any activity that can help your student escape being a student for a few hours and find some comfort in their new permanent, or semi-permanent, home.
It's been about a month since you've shipped off your offspring and there's still another month and a half before they'll start heading home for Thanksgiving. Now is the perfect time to send them a reminder to eat well, work hard and remember what goodies await them when they return, aside from your company of course. So start collecting your traditional and nontraditional items, grab a brown box, wrap it tight with packaging tape, and most importantly, love.
REAL LIFE. REAL NEWS. REAL VOICES.
Help us tell more of the stories that matter from voices that too often remain unheard.