The days of "no means no" are giving way to "only yes means yes."
People perked their ears in August when California passed the first state-mandated collegiate consent policy. All California colleges receiving state funds would need to adopt an "affirmative consent" standard in their sexual violence prevention education for students and in adjudication of campus rape cases. In short, affirmative consent means "only yes means yes," rather than "no means no," and it requires both parties to get unambiguous, clear, affirmative consent in sexual interactions.
The University of California system backed the bill; several months earlier, its 10 institutions already implemented affirmative consent policies. The California State University system supported the legislation as well and plans to have affirmative consent in place on all of its 23 campuses.
In fact, at least 800 colleges have some form of an affirmative consent policy in place, according to the National Center for Higher Education Risk Management. The only Ivy league school without it is Harvard University, despite pressure by student activists. It's practically endorsed by the U.S. Department of Justice, too.
"Schools are doing this in response to the heightened awareness [of campus sexual assault]," said Colby Bruno, managing attorney at the Victim Rights Law Center. "They are not necessarily doing it to adjudicate more sexual assaults. I think they're doing it as a gantlet for students who might not consider themselves perpetrators but who might be perpetrators," explaining it can help teach students before they get in a position where they might commit an assault.
Lisa Maatz, vice president of government relations at the American Association of University Women, said affirmative consent is preventive but can also improve campus disciplinary proceedings, by making it "even more clear what behavior is acceptable and what behavior is not."
"Affirmative consent policies can also ensure that those involved in disciplinary proceedings no longer ask survivors stereotypical and problematic questions like: 'Did you fight back?' or 'Have you had a relationship with the accused?' or 'What were you wearing?'" Maatz said.
Part of the reason many schools' policies haven't gotten as much attention as the California bill is because of how they've labeled them.
Whitman College in Walla Walla, Washington, states that consent under its policy is "a freely and affirmatively communicated willingness to participate in sexual activity," but you won't find the term "affirmative consent" on its website. That's because Whitman, like many schools, promotes an "effective consent" policy that isn't too far off from affirmative consent.
Whitman notes, "The absence of 'no' does not equal 'yes,'" and permission can be revoked at any time. "Oral sex does not give consent for intercourse and vice versa. Also, just because you have hooked up one time, it does not give permission for every other time -- even if you are in a relationship, even if it has happened many times before."
Wesleyan University doesn't have the phrase "affirmative consent" in its sexual misconduct policy, but describes something similar. Consent at Wesleyan must be demonstrated through "mutually understandable words and/or actions that clearly indicate a willingness to engage in sexual activity," warning students that "Relying on non-verbal communication can lead to misunderstandings."
An identical warning appears in Amherst College's policy, telling students not to rely on "non-verbal communication."
The policies are not without critics. The California legislation was formally opposed by activist group the National Coalition for Men, and the nonprofit Foundation for Individual Rights in Education, which has long opposed affirmative consent.
"The affirmative consent requirement adopted by California threatens students' due process rights by effectively shifting the burden of proof to the accused student to prove his or her innocence," FIRE Vice President Robert Shibley told The Huffington Post in an email. "FIRE is concerned by any requirement that amounts to 'guilty until proven innocent,' regardless of the nature of the offense."
Shibley did not respond to requests for an example where an affirmative consent policy has proved problematic.
Rebecca Nagle, founder and co-director of activist group FORCE: Upsetting Rape Culture, doesn't see why shifting from requiring a potential victim to have said "no," to an accused to have ensured there was an unambiguous "yes" is an issue.
"We're already holding survivors and potential survivors to standards that they have to be clear about 'no,'" said Nagle, whose group is known for consent-themed demonstrations, "So shouldn't we hold perpetrators to the same?"
Another issue many critics have noted is that affirmative consent is unworkable. They have said it would kill the mood and is unpractical: How can someone be expected to stop and ask? Nagle contends that doesn't make sense either.
"We live in a really sex-negative culture where sex is bad or weird or uncomfortable, so it's not something we talk about," Nagle said. "The one place it doesn't make sense to not talk about sex is with the people we're having sex with."
Related
Before You Go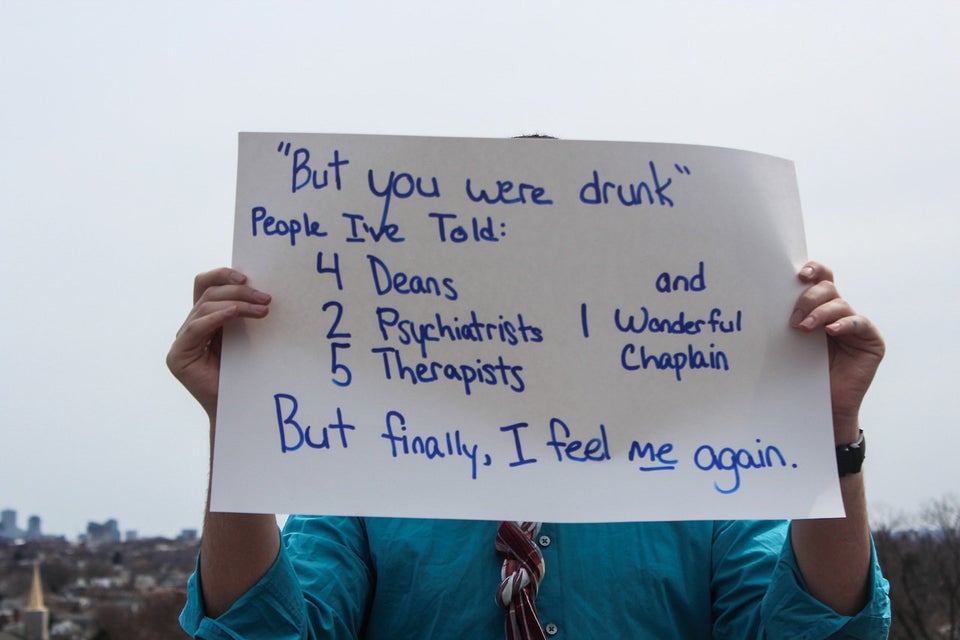 Surviving In Numbers: Stories Of Sexual Assault Survivors
Popular in the Community