A Mexican American studies curriculum that was banned in Tucson public schools is back, in the form of an after-school course for college credit.
Two former teachers of the program, Curtis Acosta and Sean Arce, announced Tuesday that they will team up with Prescott College to offer a Mexican American studies course based on the banned curriculum. Students who take the class, offered on Tuesday and Thursday afternoons, will receive college credit.
The independent course marks the reappearance of a controversial curriculum that has been credited by advocates and independent researchers for boosting student achievement. The class was outlawed by conservative state lawmakers, who claimed it politicized Latino students.
When the Tucson school board shut down the classes last year, Acosta volunteered on Sundays to teach Mexican American studies off school grounds at the John Valenzuela Youth Center in South Tucson.
"I started it because I couldn't imagine the idea of the classes being erased," Acosta told HuffPost. "As long as I'm still breathing, I'll be teaching this."
Those Sunday classes evolved into a pilot program to offer college credit through Prescott College in Prescott, Ariz., where education professor Anita Fernandez had taken a long-standing interest in the Tucson Mexican American studies program, or MAS.
"I was so impressed that every semester I would travel from Prescott to Tucson so my students could get to know what was going on with MAS," Fernandez said in an interview with HuffPost. "They center the curriculum around the lives of the students. They teach about a history, a culture and a literature that is generally pushed to the margins of a general class."
The first round of classes will be offered this fall to about 15 students, Acosta said. The organizers plan to raise funds independently so that students may enroll free of charge.
Acosta and Arce were among a group of about a dozen public school teachers who developed an experimental Mexican American Studies curriculum taught in different forms at some of Tucson's elementary, middle and high schools. The curriculum emphasized critical thinking and focused on Mexican American literature and perspectives.
But conservative opponents, led by current Arizona Attorney General Tom Horne, accused the teachers of encouraging students to adopt left-wing ideas and to resent white people. The teachers denied the charges.
The Arizona legislature responded by passing a law banning courses that promote the overthrow of the U.S. government, foster racial resentment or are designed for students of a particular ethnicity. Facing the threat of losing 10 percent of their annual funding -- some $14 million over the fiscal year -- for noncompliance, the Tucson school board voted 4 to 1 in January 2012 to shut the courses.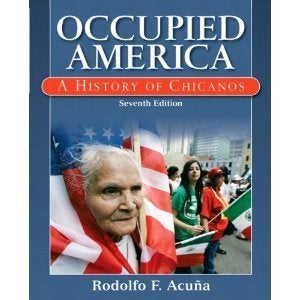 Latino Books Once Banned In Arizona