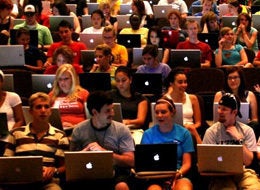 April is the apex of the college crunch -- as inevitable and seasonal as the holidays or hay fever. "The envelope please" are magic words not just at the Oscars, but at the "Ivies". These days the college envelope might be opened online -- but it hasn't lost its drama. For the winners it's the yellow brick road to fame and fortune. For the losers....well, at least they aren't forced to fake a smile in front of a worldwide television audience. But you can almost hear the sound effects in homes across America: hearts breaking, bubbles bursting, dreams swirling down the drain.
College crunch time is bad enough for a kid. It's far worse as a parent. Nothing hurts more than when your kid is rejected -- whether by a 4 year old on the playground or by Harvard. And once colleges make their choices, the kids make theirs. The SATs are over, but some face the first test of adult life -- when character is defined and strengthened not by acceptance -- but by rejection.
For parents, this milestone can feel like the make or break moment of your parenting career. Validation that you steered your kid in the right direction and set them on the right path. Parenting moves into a new phase, but it's far from over. In some ways, it's the most challenging test yet.
Personally, I did far better on the SATs.
Growing up in my home, it was all about education. The day I graduated from Yale as part of the first class that included women was one of the proudest days of my father's life. From the moment my first child was born, he talked about where she might go to college.

He didn't live to see that day. Still, I know he would have felt exactly the way I did when my daughter tossed aside her legacy, her stellar record and resume. She had formed her own ideas about choices. She turned down schools like UCLA -- and she chose UPS.
And not the UPS we were offering: Unlimited Parental Support to the college of her choice. She chose the better-known, brown version of UPS: United Parcel Service.
This wasn't a whim or a part-time job; she chose to move out, support herself, and find her own way in the world. I remember watching her move her heavy file cabinet down a flight of stairs and into her car. I refused to help -- because I refused to accept what was happening.
Though our family's experience was extreme -- many parents face challenges at this fork in the road ....accepting choices made by colleges, and choices made by their children. It's a time when parents can have tunnel vision, like I did. It took awhile for me to take my focus off college -- and keep it on my child. And to remember no matter what is in those envelopes, an education at an elite institution doesn't guarantee a successful life, no matter how you define success.
At the time, I wrote a magazine piece about this. And maybe my experience can provide some hope -- that despite the drama of the college crunch, the choices that work are not necessarily the ones at the top of the list.
When my daughter made her decisions, I thought they were all wrong. The irony was that in the end, her decisions turned out to be all right....for her.
And what more could any parent want? She chose her own path; proving that she was an adult who could -- and did -- take complete responsibility for herself. When she finally started college a few years later, she attended at night while working fulltime 6 days a week.
The first step in her ongoing education was a local junior college. As I watched her graduation, I thought of how far it was from the ivy covered campus I had once imagined. By then, the college drama was history; and I could not have been more proud of all my daughter has accomplished.

Which proves everything is relative.
And also proves the value of two important words for parents -- choice and acceptance:
Raising children who are equipped to make their own choices.
Being able to accept them.
I will always appreciate the life lesson my daughter taught me; it applies to college season, or any season afterwards. The choices belong to my children. My part is to advise, accept -- and applaud.