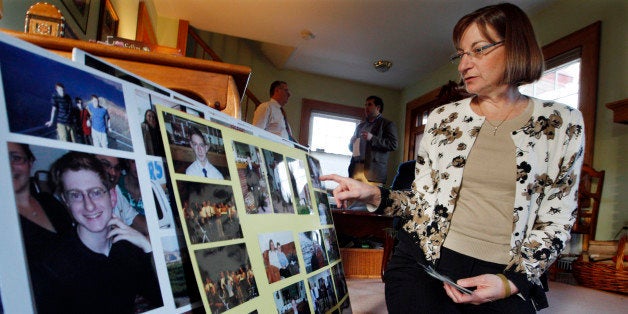 Sen. Patty Murray (D-Wash.), the top Democrat on the Senate's education committee, wants to require colleges to establish policies prohibiting cyberbullying and harassment based on sexual orientation or gender identity.
Murray, along with Sen. Tammy Baldwin (D-Wis.) and Rep. Mark Pocan (D-Wis.), unveiled legislation Wednesday they say would help mitigate harassment of lesbian, gay, bisexual and transgender students by requiring universities to adopt policies banning students from using online communication to taunt their peers. The lawmakers point to the death of Rutgers University student Tyler Clementi, who committed suicide in 2010 after being a victim of cyberbullying, as an example of what they hope to prevent.
The Tyler Clementi Higher Education Anti-Harassment Act of 2015 would force colleges taking federal money -- which is nearly all of them -- to establish policies that prohibit harassment based on actual or perceived race, color, national origin, sex, disability, sexual orientation, gender identity or religion. The bill would also require schools to have policies banning cyberbullying, which is defined as any harassment taking place through electronic or mobile communication services.
"LGBT students are more likely to be harassed in school, yet there is no federal requirement for colleges and universities to protect their students from discrimination based on sexual orientation or gender identity," Murray said in a statement.
The proposal already has the support of Clementi's parents, the Human Rights Campaign, the Anti-Defamation League, the American Association for University Women, the Gay, Lesbian, and Straight Education Network, the American Foundation for Suicide Prevention and Pride Foundation. However, previous proposals have attracted pushback from civil liberties advocates and higher education policy experts who worried the definitions of harassment based on a person's demographic were too broad.
Clementi, a gay student, committed suicide after his roommate rigged a webcam to record and broadcast an intimate encounter between Clementi and another man in their dorm room.
The roommate was found guilty of 15 criminal counts, including bias intimidation and invasion of privacy, and was sentenced in 2012.
A version of the federal proposal was first unveiled in 2011 and failed to gain traction in recent years. However, with Murray now the ranking member of the education committee, which is due to rewrite the Higher Education Act, the sponsors are hopeful there will be more movement this time around.
"Schools need to take bullying, harassment and humiliation seriously by making it official policy," Jane Clementi, Tyler's mother and the founder of the Tyler Clementi Foundation, said in a statement. "We support this legislation because no other student should have to feel the pain and humiliation that Tyler felt after he had been [filmed] by his roommate."
Laura Bennett, president of the Association of Student Conduct Administrators, told The Huffington Post that colleges should absolutely have anti-harassment policies, but they "should address a spectrum of behaviors and should adequately balance safety with First Amendment rights."
The legislation would also establish a grant program to support campus anti-harassment activities and programs, which includes trainings for staff and assistance for colleges providing counseling services to students who have been harassed.