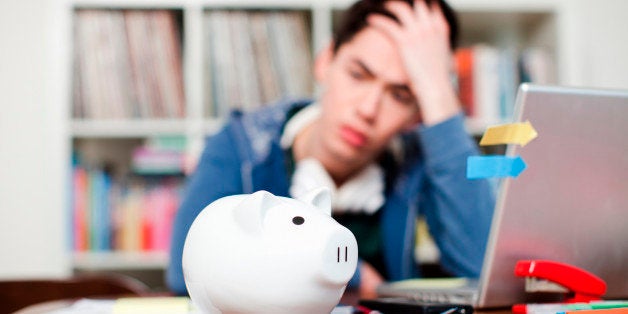 The terrific Broadway musical, Avenue Q, focuses on the struggles faced by 30-somethings who are coping with financial stress. As the song, "It Sucks to Be Me," puts it, "four years of college and plenty of knowledge have earned me this useless degree. I can't pay the bills yet `cause I have no skills yet."
Eleven years after Avenue Q debuted, the outlook for those born after 1980 is even suckier. More than a third of American millennials are living with their parents, according to a Pew Research Center study released August 1. When the recession began in 2007, 32 percent or 18.5 million of millennials -- defined as 18- to 31-year olds -- had not left the nest. Today, it is 36 percent, or 21.6 million.
Even those college graduates earning enough that they don't need to refill their parents' empty nests are finding that their college debt is disqualifying them for buying their first home. As a result, while first-time home buyers typically make up more than 40 percent of the home buying population, the share is currently at or below 30 percent. The amount of student debt has tripled since 2004 and stands today at nearly $1 trillion.
Students depend on loans because federal Pell grants are puny and most students don't get them: only 42 percent of students get federal grants and they cover less than one third the cost of a four-year-public school versus 69 percent in 1980 x. What's even more despicable is that only 22 percent of undergrads at flagship universities get Pell Grants according to a 2012 article in Money, "25 Secrets to Paying for College."
What's outrageous is many colleges have huge endowments that likely could subsidize much of the cost of getting a sheepskin. Currently 143 schools have endowments larger than $500 million--and about 25 percent of our nation's wealthiest universities are public institutions, according to Lynne Munson, President of Common Core, who testified before the Senate Finance Committee in 2012. Despite the fact that colleges are rolling in dough, the cost of a sheepskin has surged more than 500 percent since 1985: 538 percent compared to a 286 percent jump in medical costs.
What's even more outrageous: as of 2009 58 colleges now charge at least $50,000 a year, a huge increase from the previous year when only 5 colleges did. Among the 42 colleges that offered grants, the average was just over $13,000. It gets even more outrageous. At least 11 of these colleges had endowments of more than $1 billion in 2012.
Then we've got the colleges that are rolling in bucks from sales of football tickets. Penn State's Nittany Lions fans may have found disgraced coach Jerry Sandusky despicable but his crimes haven't kept them from going to games. In 2012 fans bought 68,000 season tickets, about the same as 2011, and donations tied to ticket purchases were projected to reach a record $17.5 million. Overall, college football's 10 most valuable teams generated $754 million in revenues in 2011, according to an article in Forbes headlined "Lucre Bowl."
Outside of the puny Pell Grants of around $5,500 a year, the only help parents get are tax breaks on saving for college called 529 plans, which--surprise, surprise--only benefit the affluent who don't need to be "incentivized" to save. According to a 2012 GAO report, less than 3 percent of Americans use 529 plans and those who do have households assets averaging more than $413,000. Chad Aldeman, a policy analyst at Bellwether Education Partners, told CQ Weekly that Congress should consider eliminating 529 deductions and use the savings to send low-income students to college, which could give a free ride to 268,000 students.
The liberal think tank Demos has proposed a Contract for College which would ensure that grants cover 75 percent of costs for those with household income below $25,000 and 40 percent for those with incomes ranging from $75,000 to $99,000. Household incomes above $100,000 wouldn't get grants.
How would we pay for these increased subsidies? Tea Partiers will hate this but I would suggest that we raise the top tax rate to 50 percent, as was the case in 1986, to boost federal grants. As observed by NBC News, the top 1 percent of earners collected more than 19 percent of household income in 2012, the largest share since the IRS started keeping records. Ninety five percent of income gains have gone to the top 1 percent.
President Obama has also proposed ranking colleges according to graduation rates, earnings of graduates, access for low-income students and other factors so that prospective students will make wise choices. And I hate to say it but perhaps Pell Grants should be limited to students whose majors are more likely to give them "the skills to pay the bills"--plentiful and decent paying jobs such as engineering or nursing, versus drama or sociology.
In the meantime, if you're a parent of a would-be college student who is not a millionaire, I would highly recommend the book "The Best Value Colleges 2013 Edition" published by the Princeton Review. It details 150 public and private and schools that offer high-quality education AND generous grants.
Popular in the Community